Training the stop instead of getting a harsher bit?
---
My appy mare has been ridden in a curb her entire life (she is 14) but I want to switch her to a snaffle for english and training. I am currently riding her in an argentine snaffle with a smooth copper mouth piece. I tried to ride her in an egg butt snaffle and I swear she laughed at me. She wouldn't stop and kept fighting me.
Any ideas how I can train her to stop instead of just giving up?
Posted via Mobile Device
Sounds like she's not respecful to the bit at all. How well does she stop in the Argentine?
First, you've got to get her listening to seat and leg cues, not relying on rein. When you want her to stop, first ease up your body language, then sit down and put your legs slightly forward, then say 'whoa,' and only then, if the hrose has not yet stopped, pull back with increasing pressure on the reins until the horse comes to a complete halt and relaxes a smidge.
Then, exactly then, and only then
, release the rein pressure. There's a definite progression and order in the cue, yet the sequence in its entirety takes less than a second. Repeat until your horse is stopping as you sit down and say whoa, with no need for the reins to be pulled.
As you're transitioning into the snaffle, too, I'd recommend double-reining your Argentine like a Pelham, so you can use it in the most effective way: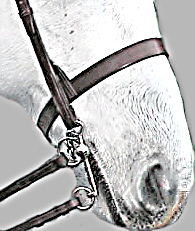 How are you asking for the stop? If you're pulling back on both reins, yes she'll keep laughing at you. I would suggest teaching her the one rein stop and using that initially to shut her down whenever she ignores your original cue to stop. The one rein stop is basically a hind end disengagement. You're stopping the engine instead of pulling on the face which does nothing. Once she understands and is listening to the very loud one rein stop, you can reduce it each time to the point where shutting her down just involves picking up the one rein and then replacing it altogether with just a normal cue. I'd go into more detail, but I'm at work and very busy. Just taking a 5 minute HF breather!
---
You just have to see your distance...you don't have to like it.
Is she light in the port bit? If she is lugging on the snaffle but light in the port then it may actually be a better idea to go with something with a little more bite like a slow twist or a wire (not a thin one - a thick one) and then work on the whoa. Once you have the whoa you can probably ride in any bit...
---
"Be a best friend, tell the truth, and overuse I love you
Go to work, do your best, don't outsmart your common sense
Never let your prayin knees get lazy
And love like crazy"
I ask for the stop by leaning back, saying whoa, and then using the bit.

She doesn't neck rein very well so I haven't used a ported curb yet.

I have been double reining using mainly the snaffle action and only the curb when I need it.
Posted via Mobile Device