tricks?
---
Howdy! I was wondering if you have taught you horse any tricks?
I've taught Kelo to give kisses, to half bow, give hugs, and now I'm teaching him this new one!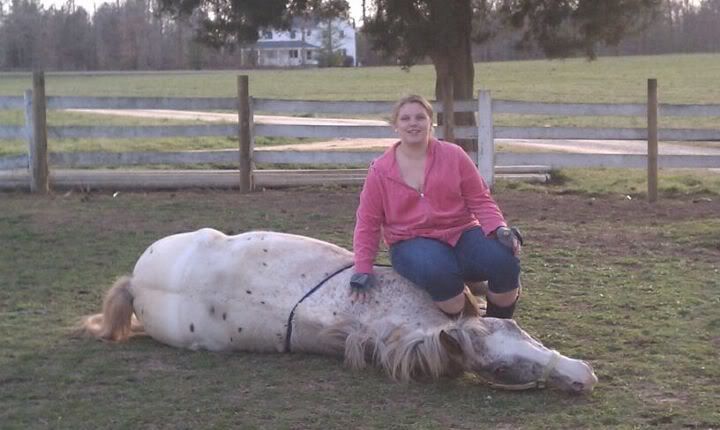 Huge trust milestone for us today. :) I couldn't be more proud.
Posted via Mobile Device
Great job getting your horse to lie down for you! That does require a lot of trust.

I've mostly taught tricks to my Mini horses. I did teach my riding pony to kneel down on both front legs in preparation for teaching him to lay, but one day when he was down on his knees I was just too tempted and I jumped on his back. He got up pinned his ears and looked at me like "You blew it sister!" and that was the last time he ever went down on a knee for me. He's a grumpy old fart!
Hahaha. That sounds like your horse has alot of character. I love horses like that. I was hoping to ask him to get back up after he's down while sitting on him. But that's cool you were able to have him do that. Does he know any other tricks? And thanks. :)
Posted via Mobile Device
My guy knows bowing and I actually just had success yesterday with getting him to lay down for the very first time!
* was actually really surprised how smoothly it went from the bowing to the actual laying down.*
He also can lift and hold up any foot that I tap using a buggy whip... also taught him to paw with said foot (getting to the point where we can do Spanish Walk lol)
Laying Down (this is his 4th time getting all the way down):
Bowing:
---
A canter is a cure for every evil. ~Benjamin Disraeli
I taught Blissey to hug! She doesn't have it completely mastered yet, but I'd say 2 times out of 5 she will hug me without seeing a treat first. :P Wonder what else I can teach her? Haha.
Snickers knows how to lay down, how to climb on any object and then paw, just pawing on command, rearing on command (be careful with teaching this, can be dangerous! ), kissing, backing up from tail, backing up from me backing up behind him
, carry my whip, follow me blindfolded. I want to teach him bowing now. :)
---
I have come a long way, to surrender my shadow to the shadow of my horse.
/James Wright/
Yearling
Join Date: Aug 2011
Location: Central Texas, easily mistaken for a big bowl of dust!!
Posts: 1,427
• Horses:
1
Tricks are so much fun :) but a warning, be careful with kisses. Some of those little treat monsters may run thorough all their tricks to try and get a treat and bite your face. But congrats on laying down, me and my coming yearling are working on bow! :)
Posted via Mobile Device
My Minis rear on command, one will even take a few steps forward walking on his hind legs, they both kneel, Spanish walk, stand on pedestals and one will lay and sit like a dog.
Thanks. :) I was thinking about mastering shake a hoof next after we work on this one for a while. Kissing has been painful a couple of times. Lol getting whacked in the head. Kelo also knows I love it so much he gives me a kiss when i see him and when i say good bye. :)
Posted via Mobile Device