Quote:
You learn her that out of kneeling(on 1 knee)? And then, you just push her over or what? :P Haha I don't know.
I actually don't like the kneeling, the hindlegs should be straight. And the kneeled leg too, but I think that's becaus she was going to lay down. I think you shoud let her stretch first and then ask her to kneel :)
You could learn her to sit too haha or is that already on command?
The rear looks really controlled on this picture :)
Btw did you made that what he has on his chest? :P
I wish I could find the post from another forum that a step-by-step.
Yeah the difference was I was training her to lay down. She continued to lay down gratefully (loved treats) until she FLOPPED one day and then she was like "Yeah, no thanks." How I did get her to lay down was bring her head around and down, it encouraged her down on one knee and then I gently applied pressure to lay her down.
I don't have her anymore, she's was a mare that laid me up with a broken knee and a crushed ankle. She had a screw loose to say the least. I tried to "entertain" her mind with stuff, but she just would fly off the handle for no reason. Otherwise I probably could've taught her to sit and a handful of other stuff :P
She was an incredible rear(er) if there ever is such a thing. She never got in higher than in that picture and it was always balanced. I miss that mare like crazy!
Yep! I made it for our Halloween costume :P Kind of cheap looking, but it served its purpose. Which was: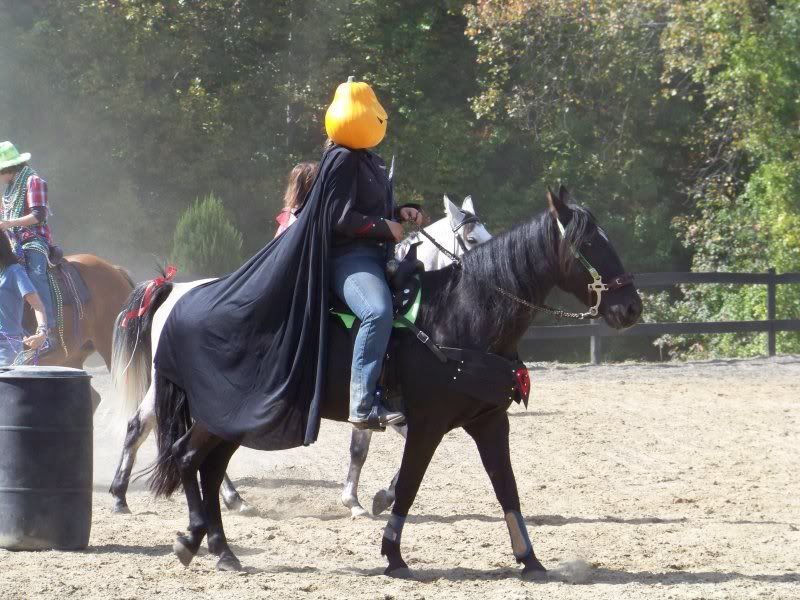 ---
Rhett | Fiona | Rockstar | Remington | Sierra | Savannah | Coal | Magic

TWH Gelding | IDH Cross Mare | SSH Gelding | Mini Yearling Gelding | Mini Driver | Mini Project | My Pony Trail Drive | The Rescue

My guy knows how to smile, hug (violently!), paw (with either leg I tell him to), ground tie(if that's a trick), stand, and come when I whistle. I will try to get video or pictures to show :)

I would love to teach him to lay down and bow but I'm a little nervous about it! I tried to use the method of getting close to them when they're rolling and making them stop, because he loves to roll. But he doesn't have a care in the world that I am there! I don't think he would stop rolling if I got any closer, and would rather not get clocked in the head by a hoof! Lol!

What are other ways of teaching them? I might try ropes but that just seems silly. Especially if you want the horse to like doing it, y'know?

And as far as the bowing goes, Indy gets nervous about being upside down lol. He concerns himself with the treats too much and gets very antsy and gets himself all worked up.
Ground tie what's that? :P
I'd love to teach eefje to lay down too, but she never rolls when I'm there.. I saw her doing it 1 time in the stable but she never does it outside. And everytime I go to her her manes are all twisted because of the rolling, so she rolls very much, just not when I'm there :')

I don't like the ropes either. If I can't do it without ropes, then I don't really want her to teach it. What I can't do with just a simple halter and leadrope I won't do. Another way is to learn it out of kneeling. But then you have to do that first lol. I don't really know how, I think let him reach for a treat to the side and then he might lie down to reach it..

I think you should reward him when he just gets down to go rolling. So when he lies down but doesn't roll yet, you understand? Ooooh my english is soooo gooood *uche uche* :P
I think out of rolling is the best way to teach it..
Do you have a 'sign' for tricktraining that you always use? Like 'goodboooooy!' or a click with the clicker if you use clickertraining. In that way you don't have to be close to him, you can reward him with the sign, what means he did something good and he can have a treat.
Eefje understands it really well. When I train with her and I click she immediately knows that she deserves a treat and she comes to get it haha.
---
Sorry! Bad english.. feel free to correct me (:
Something new to present. :) We've progressed in our rears:
I've been teaching stretching ("crunch") lately - he picked it up fast and really enjoys to do it -
---
I have come a long way, to surrender my shadow to the shadow of my horse.
/James Wright/
Really great !
We made a start for rearing too
---
Sorry! Bad english.. feel free to correct me (:
I am wanting to teach my horse a few tricks, like bow and lay down, kiss, smile, sit, etc. We are working on Smile right now, but since I don't know quite how to do it, I have just been doing my own thing, she has smiled about 3 times on command. I have a picture that a family member took...
I am also trying to teach her bow, once we have bow down, we will move to lay down, and then sit. I think lay down will be easy, as she rolls right infront of me already and lets me walk up to her, and when I first got her, I laid her down.
My horse DOES NOT like treats, she doesn't like carrots, apples, or anything like that, so I just use praise when she does something good, she really likes her neck being rubbed, so I just do that and say good girl.
bowing
---
I got my horse Scout to bow on command. I would take a treat in between his legs and start with just a tilt of the head then i kept moving back farther and farther until he went down on a knee for the treat. animal crackers or regular crackers are good training treats! (as long ask they're original) For my cue i said "bow" and touched the inside of one of his legs so it could go unseen if I wanted
He is a smart horse so he got it in a few hours so it depends.
One thing about bows - horses should be taught to bow very gradually, unless they are already very flexible and supple, as a bow can cause them overstretch and injure themselves easily. :)

That being said, Snickers offered me his first bows last week. We still have to refine them, so no pictures yet.
---
I have come a long way, to surrender my shadow to the shadow of my horse.
/James Wright/
this is scout bowing :)
---
-Gracie, Scout, and Sky
Breezy2011, good way!
Saranda exactly! How nice, do you have pictures now?
horsesgs, maybe you should learn scout to stretch. As far I can see now he has a bit too little space :)
Eefje still doesn't bow very good. She comes down really easy, but holds her back like this.
She moves her weight a little to the back, as you can see because her frontlegs are not vertical anymore. But I think it's because of she keeps her back like this that she can't go further back. Or is this a stupid reasoning? xD
I tried a big stretch, little bit stretch, no stretch at al, all the same..
Also I have a new friend to do tricktraining with, Snoopy
He's in the second part of this video and it's the 1st and 2nd time that I do tricktraining with him :)
---
Sorry! Bad english.. feel free to correct me (: