The view from above...
---
Climbed up onto Jet last night! Seven weeks after adoption...she's a good girl!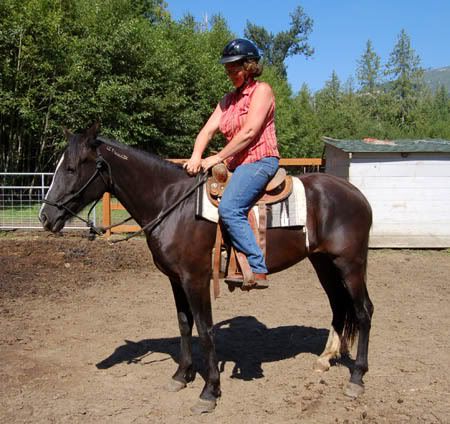 Good for you, you both look lovely!
Ah, well that's mighty sweet of you to say, but I've been accusing the photographer (my husband) of adding 50 lbs to my frame. Must have, because he's also made Jet look just a little warped and on the small side (she's 16 hands, so I don't think she should be looking small...)
Whenever I look at pictures of myself riding, I expect something completely different. It's some sort of meta-physical phenomenon.
You look great!
Ahhh, I still think you should ship Jet over to the UK for me. I'm in love, she's beautiful.
I dont like having my photo took. I'm like Kristy expect something completely different. AND I always think I look plumper, larger. Although Hubby says its all in my head. Weird. I tend to hide if there is a camera around.
Anyway back to topic, you look great.
You guys look great................ Jet is gorgeous
I agree i always look completely diff in pics- sometimes not as good sometimes way better (it must be in my head
)
I personally don't like mustangs...but you guys look great! I'm riding my filly with a rope halter.
Horse luver, what don't you like about mustangs?
i Love my mustang, and yours look great....isn't there a great feeling about braking your own? i've had pure breds before but prefer the mustang due to it's adversity, abby ride, is training for cart and i know if i need her to pull any thing on this farm she will do it was out a fuss
---
HOME IS WHERE THE HORSE IS.........
Thank you, Kansas. That's a horrible pic of her; I've posted nicer ones here. There is certainly a 'high' in taking a horse from wild to a willing partner. Jet is our fourth mustang; I just couldn't go back, I don't think, to domestic.