What discipline do you ride?
---
And why?
I ride english, pretty much just because more or less everyone rides english around here, what with it being england and all
Western is actually really expensive and a bit inaccessible, but it is something I have always wanted to try.
As a discipline I ride Dressage, as I'm not hugely competitive, but prefer the training element of it. I also love that even the most jug headed, poorly conformed horse can look a million dollars when he is all conditioned, shiny, shows self carriage and is correctly muscled.
Here I am, it's not a great photo but the best I have, of me schooling the scrawny tb...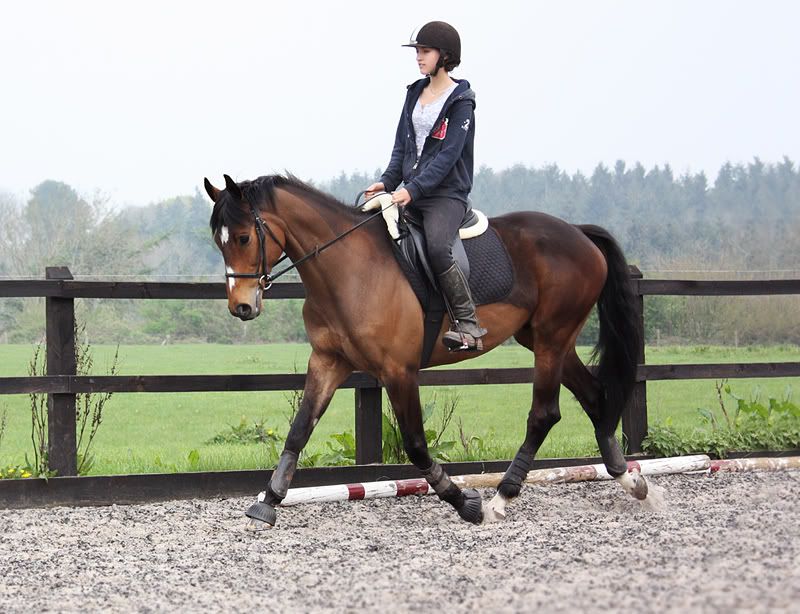 My favourite discipline is really Eventing, but I just don't have the guts to jump anything solid over about 2'6
So instead I train horses on the flat and over show jumps, and let others compete them round the scary xc!!
What about you lot?
---
Last edited by Levade; 04-28-2011 at

09:07 AM

.
I rode mostly English for years and years. I sat on my first horse age 4 years old.. Susie.. a chestnut mare with a roached mane and I ws bareback.. scared to death and addicted for life.

I was a B1 Pony clubber and I was a member of the Old Chatham Hunt and rode to hounds. I did some lower level Eventing. I did a lot of dresage when dressage was not so popular in the US.

My original instructor was from the UK and she laid a riding and horse foundation with labor and work like few do these days. I owned my own horses and facilities (two horses and a run in shed with pasture lot). She was the one who put me on "Susie.."

Fast forward years and years to my owning and operating a dairy farm (72 milking cows and 60 youngstock, stanchion barn, 180 acres owned, 250 acres rented and top 2x a day herd average in the county at 24,000 pounds per cow on pasture, hay, corn silage and grain, no hormones, LISA farm). I had to move cattle and used the horse and a German Shepherd dog for that in addition to using horses for checking crops and fixing fence. At this point the Dressage saddle and English riding no longer fit the task at hand and I switched to western.

Really found the biggest difference was in western you no longer held the horse between your hands and your legs.. you wanted the same balance and obedience as in dressage but with a longer frame. Still wanted the horse working off his hind quarters and often you needed to rely on the horse to have some 'cow' and outsmart the bovines to get 'em from here to there. Fascinating to be along for the ride while the dog and the horse worked together to move the cattle.

My first love is, and always will be, dressage. As an offshoot of this today I train dogs for formal obedience.
---
There is something about the outside of a horse that is good for the inside of a man.
~Winston Churchill
(or woman!!!!
) Dinosaur Horse Trainer
I ride Western. I have always rode western. Actually here in the US not many people ride English given the choose about 85% will choose Western riding. I really don't have a discipline. I love an all around horse and that is what I am doing with my mare trying to make her a great all around horse.
---
Striving to always excel in everything I do. Whether I fail or not I always try to do better than last time.
Since I was little I've always ridden Western. When we bought our first horse about eleven years ago, we were boarding at a barn where 80% of the other boarders road Western. Then we moved to another barn about forty five minutes away, who most of its boarders rode English. I have tried English before and I don't much care for it. I've done jumping before, but I usually just go bareback if I do so.

Now that we have our own place with our own land, I still stick to riding Western. I do mostly barrel racing and poles, a lot of trail riding as well.

Although I don't really ride with a saddle anymore, just because I prefer bareback over anything else. I haven't ridden my horse in a saddle for over a year, however I ride my mom's horse with a Western saddle, a long with my aunt's.
Green Broke
Join Date: Mar 2009
Location: Kansas in the summer, Kentucky most of the time
Posts: 3,028
• Horses:
3
Started English...went western.

Back to English after a year.

Now I'm an eventer and have been for the past 8 years!
---
Look like a SUPERSTAR, Ride like a FOUR STAR, Win like a ROCKSTAR
Eventers: Making BAD Dressage look GOOD!
I'm an Eventer, through and through. Nothing more, nothing less :)
---
I ride western...my teacher started me western and i really like it and i don't think i'd EVER switch to English!
I like anything fast...or trail riding
I started riding western in lessons and 4-H. When I was in junior high I started going to English lessons and started jumping. I loved jumping, but western stuck. I'll probably try jumping just for fun, but my mare is so not bold enough to ever be good at jumping.

I sent my mare to a reiner/cattle horse trainer and I'm still working in that direction. All for fun, I don't compete. Would like to make a trail horse out of her and try some gaming down the line though.
Green Broke
Join Date: Aug 2009
Location: Vancouver, British Columbia
Posts: 2,808
• Horses:
2
Hmmm I have an Aussie stock saddle so does that mean I ride Australian?
And right now while Hunter is still in training and doesn't know neck reining he has an English bridle so that would make it Englishtralian.
I ride English, more specifically hunter/jumper because I find it very thrilling. I rode western when I first started just because that is what my cousin had. I rode for about 6 years and then switched to dressage which I found remarkably boring. After 3 years of that I decided to start jumping and I have been doing that ever since.