What to do for my 3 yr old swayback arabian?
---
Hello everyone!
I just joined the horseforum after reading what you all have to say about swayedback horses. I bought a 2 1/2 year old pure Egyptian Arabian last August. He was at least 100 lbs under weight, & never really handled. At the barn I am at now, we fed him a lot of hay & nothing changed. The previous owner said that she wormed him before him arriving where he is at now. We were skeptical about that so after a week we wormed him again & put him on a daily wormer. All of which worked & he got nice a plump belly. But his back is very low & now at 3 years old I am hopeful that I can do something so it gets better for his future. The previous owner sold him to me cheap because of his back, so he was no good for her.
I believe because of the worms for a long period uncared for & poor nourishment caused his back to sway. It doesn't hurt him at all. I stretch him almost everyday. I lunge him in the round pen. He has a great 12:12 multi vitamin, has hay all day, a big scoop of grain in the am & pm, I also cut 2 apples, carrots, oatmeal oats, celery, molasses (when he isn't to hot) & 1/2 a scoop of weight gain daily. In the summer he is in pasture with a bail of hay every day also ( I live in WI).
I just have a hunch that the low back came from poor care & health. He was so shy no one could touch him at all, nor approach him, or catch him. From August until now it has been a long on & off journey but so far he has made an incredible turn around. The owner herself & other boarders are still in aw of how much Tucker has changed. He is my baby, I love him very much. He learns so fast, obedient, strong, & grew an amazing personality!
I am wondering from anyone what other exercises I can do with him. I have a hunch that throwing in alfalfa pellets into his diet can help with his coming development. Any other thoughts?

Thank you!
This is probably a genetic sway back. Have a Vet evaluate him to see if they would recommend a persons weight on his back. I have seen a few SE Arabians with sway backs. I am not an expert on this. I have a mare I rescued from breeding that is extremely sway back and she is never bred and not ridden and she is unsafe, unstable from her sway back. Good luck with your colt.
do you happen to have any pictures? the poor nutrition could have contributed to a weak back.

Many horses can have a slight swayback that can be easily helped by proper exercise and muscling. my mare is a saddlebred/arabian and she was not worked for a few years before i started working with her. She has a slight swayback but i got a saddle and saddle pad that fit well on her and it never caused her pain. I started working with her slowly, just light riding and building muscle. The difference in her back now is amazing, I don't think anyone could notice that she ever had a dish in her back.
He has a lovely kind face, very handsome. I'm afraid I'm no help with the swayback but just wanted to say I think he's lovely :)
---
Satin Reign aka "Misty"... my life, my love, my everything.
Here is a very informative piece on Lordosis and I would say that your horse is effected by the juvenile form brought on by the vertebre lesion :(
Lordosis
I'd guess that swayback in a horse that young is due to genetics; it's very probable that the breeder(s) did have other offspring in his recent "family tree" with the same problem, but weren't registered if they were showing signs of it very early on. Non-genetic lordosis is associated with a slackening of the soft tissue around the spine, which wouldn't be caused by malnutrition unless there was some other disease at play.

Some malnourished horses may appear to have a slight swayback at the time of rescue, but it "disappears" when they put weight and muscle back on. That doesn't seem to be the case with your guy, as he is looking pretty healthy.

My understanding is that swayback isn't painful for the horse, and most can be ridden, but the challenge becomes finding a saddle that will fit them.
That is your December? *pout* Life can be so unfair!
1/ The pics aren't great so I'm hesitant to say much about a sway back
2/ He's only 3 and still growing.
3/ He still looks like he needs a bunch of weight, especially to fill out his topline.
4/ Since he's still only 3 and you haven't had him that long, I'd not worry too much about his back until he's 5 or 6 and obviously not growing anymore before I'd get too concerned.
My stallion who is very level across his topline, went up and down like a yo-yo as a youngster and sometimes was SO butt high that he looked a lot like your horse. In time, it all leveled out.
Here he is 4 y.o. and still growing but leveling out. There were times at 2 & 3 that I wanted to hide him behind the barn and pretend I didn't know who he was, he looked so gawd awful.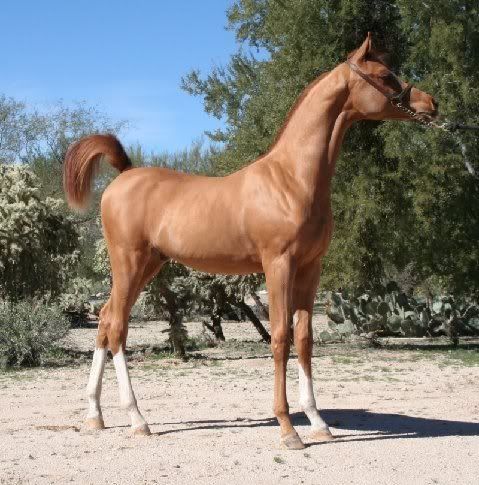 He's about 8 months old here, just before he went to Scottsdale as a yearling. About 2 weeks after this pic was taken he went so butt high I thought we were going to have to scratch him from the show.
---
---
Last edited by Dreamcatcher Arabians; 03-13-2012 at

04:51 PM

.
---
Rem - 9 yr old Paint gelding; Lelouch - 9 yr old Connemara X Welsh gelding; Ejie - 8 yr old Arabian mare