G&K's mom, that is great advice! I think I will try that on my horses, thanks.

One thing I did to bond with my horse was round pen work. I know alot of people may disagree with this method, but it really worked well for me and my horse. Rocky is my gelding and he had behavioral issues when I purchased him. He can still be head strong which made me a little nervous at first, but after I did round pen work I felt much more confident and connected with him.

If you have access to a round pen, basically what you do is start the horse out in either direction, using a dressage whip to drive him. Sometimes, you can even attach a plastic bag to the end of it and it works to desensitize him at the same time. Once you are ready, have him switch directions making sure he turns towards you and NOT the fence. Step in front of his girth line and switch the whip to the opposite hand, driving him in the opposite direction. If he turns towards the fence, immediately turn him back around in the direction he was going. Then try again, always making sure he turns towards you. When you are satisfied that he has this down pretty good, draw him in towards you. By this I mean, have him come to you. If he does not already do this, start out slow and just make sure once he stops moving his feet, his attention is always on you. If he turns his head or sniffs the ground once he stops, make a noise either by slapping your legs or kissing or whatever will get his attention on you. Once you have his attentionfor a few seconds, turn an walk the other way to see if he follows you, if he does, that is great! He will stay by your side in no time. If he decides he is just going to walk off and ignore that you are there, make him work again, being sure that everytime you turn him in the opposite direction he turns towards you.

It took my guy about 45 mins. to understand what he needed to do and I thought he would know it right away. It worked great for us, but all horses are different. What it is supposed to teach them is that you are the leader. Once he recognizes you as the leader, you get trust, respect and in turn helps the two of you bond. If you have ever watched horses in the pasture, they do almost the same thing, except maybe kick each other. The head horse will drive the other horses away usually until he does something first. Most of the time, the leader has respect from everyone below him, at the same time, they can be best friends and bonded very strongly.

Well I wish you the best, and I am sure there is alot of great advice out there for you.
I get close, we are in each other's space way too much, just hang out with him, my arm around his neck, our faces close. I look into his eyes he looks in mine and I blink, then he blinks. Yes we breath in each others nostrels, that feels good, and so does warming my ear in his nose. He like it when I rub his face, softly around his eyes, and I clean the gunk out of the corners. I put my forehead against his and rub his ears. I also slip him berry flavored alfalfa treats, his favorite, I am Tuffy's treat man.

I know my horse absolutely loves me.
---
designated driver
Yep, taking your horse out to graze is an excellent way to bond with him. Find his favorite itchy spots too. Sometimes we people scratch too softly, I mean horses use their teeth! So try under the neck, along the belly, in front of the shoulder, the withers, the back, etc. and REALLY scratch hard. I have to really dig in with my warmblood otherwise it doesn't feet as good lol! He loves his withers scratched.

The warmblood I just got came with some very extreme behavioral issues. I was told he was a biter, a kicker, a man hater and could be dangerous, aggressive, vicious and unpredictable. So I decided I wanted him! lol. Sounds crazy but I knew that's not who this horse truly was. Later on I was told that if he hadn't found a home soon he was going to be put down because no one could handle him. So I've done Parelli with him and the walls that I have been able to tear down have been huge. It has really helped us bond and for him to gain trust in me and to also see that the intimidation factor will no longer work. He's an extremely dominant horse so that makes working with him challenging but I wanted a challenge. He still has some issues still but we have come SO far in the months I've had him. I've done Parelli with my other horse, my former Levels horse, and it's fabulous stuff.
Yearling
Join Date: Jan 2008
Location: British Columbia, Canada
Posts: 1,284
• Horses:
4
These pictures are a little small and I can't figure out how to get them big in photobucket...... anyways it sort of gives you an idea of what we do at home.
This is George going for a dip, Kooter is off to the side a little unsure.
George both feet in, at first he was snorting and running away from the pool.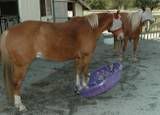 This is tarp training, "Dad" is trying to get Kooter to come closer.
This is after all the hay's gone...LOL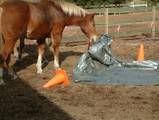 Yearling
Join Date: Jan 2008
Location: British Columbia, Canada
Posts: 1,284
• Horses:
4
Quote:
The reason for blowing into a horses nostrels is to calm them down; because thier mothers do this when they are foals, to tell them that what ever is ok! or at least that is the Story I have been told, lol
If you watch two horse's who don't know each other, blowing into each others nose is the first thing they'll do. It's a formal introduction to each other, sort of Hi, here's my scent.
It was funny, when we brought George's younger brother down after four years apart, that was the first thing they did and then both of them let out a huge whinny and started grooming. Even after four years they knew each other after blowing into each others nose.
If you watch mom's with foals, they will blowor touch right above the shoulder in the crook where the neck meets the shoulder. Rubbing there has a calming effect.
---
Last edited by G and K's Mom; 10-14-2008 at

02:06 PM

.
when i bring my horse a treat he is completly gone lol he will follow me and o anything i want him to its really funny,
my horse is a nut and loves to have the inside of his ears scratched and he will put him forhead on my chest and wait for me to scratch his ears, sometimes he rubbs his head on my torso, at first i thought this would be a bad thing because he might do it to everyone else and he could end up knocking someone over but hes never done it to anyone but me and he smells my shoes...its a little akward but wutevr.
When i dont bring him a treat i usually crouch in the dirt and wait for him to walk to me then i blow into his nostrils and he blows into mine and then i stand and scratch his ears, he also loves to have his eyes rubbed, and will stand extremly still when i put my hands over his eyes kind of like hes playing hide and seek lol
i think your doing pretty much everything, sometimes i will take a book or some homework out with me and sit with him tell him about my day
good luck by the way lol
---
Our horses know our secrets; we braid our tears into their manes and whisper our hopes into their ears.
Truly War Paint-Arabian,QH,TB,Paint,Barb-Diablo
I've done a lot of these bonding exercises with my horse. I've walked him backwards and lead him and simply sat with him...literally while he's eating ill sit right on the ground next to him. If i sit it the grass. He'll stand over me and eat or stand around me and eat close to me. ITs so cute =P I can ride him bareback and trust him, and he'll let me lead him blindfolded and he's really calm. I can also lead him without a rope and he'll listen still.
He's actualy really protective of me, i find it sort of funny =P
He doesnt like other ppl riding him...he'll trog along as he must but he makes it obvious he's not happy lol. and whenever my boyfriend messes with me the horse goes to protect me from the evil man haha He doesnt allow me to pet the other horses either...im his human.... LOL
its adorable though. We have so so much trust and its all come from training together.

ALso trusting him is important. if i tell him not to HE WILL NOT MOVE. you can blow horns and whistles and throw tarps in his face and on him and he wont budge.

lol okay so this is the funniest part. He wont let me fall unless he cant help it. LIke he'll throw his head and neck wherever direction im about to fall so i can put my hands there and he'll literally throw his head back to throw me back into the saddle. He gets so upset when i fall, he stops instantly and stands with his face in front of mine till i pet him and let him know its not his fault. I've only fallen twice on him so far, but he's so careful with me its adorable. Like if i feel like im slipping bareback, he'll lean and help me. Its so cute. I love my horse with all my heart, i honestly do.

He also loves to rub his head on me. LIke not in a dominant way, just low to get his ears scratched. its cute

Tip: rub the tummy, they tend to love it. Scratch right under the girth LOL
---
ACCOUNT ABANDONED
---
Last edited by equineangel91; 10-16-2008 at

10:51 AM

.
Your stories of your horse, and the obvious love you have for him is so sweet. It's really lovely to hear. Thanks for telling the tales.
---
Looking at the trail through the ears of my horse...wonderful!