Who did you get your training skills from?
---
Hey all,

Just thought I would get on here since I haven't been on in a few weeks. Got me a new horse!! Have been extremely busy! This horse is actually my daughters. I get most of my training through online videos.

Kass :)
---
Last edited by Mike_Admin; 07-13-2011 at

04:58 AM

.
10 years of apprenticing with the old timers:
i worked under forrest gibson, the guy who trained this horse The Lemon Drop Kid: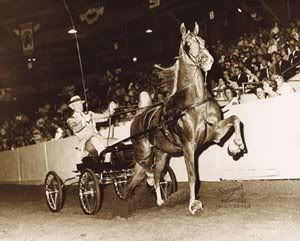 also worked under temple stephenson, but i can't find any pictures of his horse's online :(
---
kickshaw
Justin (qh/tb)
Boo (asb)
Time and wet saddle pads are great teachers. We learned from other horse people in our area, RFD TV and lots of reading research. I've learned a bunch from this horse forum too
---

"Until one has loved an animal, part of one's soul remains unawakened..."
- Anatole France
I learned from my dad. He has been training horses for about 40 years and at one time was one of the foremost experts on problem horses. I only wish I was 1/3 as good as he is. :)
My mom. Haha. =]
She's owned, trained and rode horses for a good 25+ years now. A good amount of those years she spent having a successful show career showing Arabs. So she knows what she's doing. lol.
I love having my mom as my trainer. It's pretty handy.
---
The world is best viewed through the ears of a horse.
Lots and lots of lessons, I started riding when I was 6 and always took lessons. Also rode a lot of different horses.
I think probably the fastest and most effective way to learn if you eventually want to train on your own is to get a job as a working student somewhere. You learn all of the aspects of horse care/barn management and get unlimited lessons and lots of free education.

Watching a lot of videos and reading a lot of different books helps too, but is hard to correct a problem you dont know you have (sitting off to one side, for example).
---
Kelly
...and...
Bailey

"The white horse moved like a dancer, which is not surprising: a horse is a beautiful animal, but it is perhaps most remarkable because it moves as if it always hears music."
-Mark Helprin-
where to start...

lots and lots of lessons, hanging around the barn helping when i didnt have lessons, asking my trainer every question i could think of.

shadowing vets and apprenticing different trainers at different barns, some places if u volunteer will teach u everything if ur willing to help.

but last but now least i learned the most i've ever know about horses from Linda and Ralph Hill. They have been in horses their whole lives and so had their father. if any of you know who Ralph Hill is, Rolex may ring a bell. and Linda is his sister and she did the hunter/jumpers mainly and had horse of the year quite a bit. and we are the ones who trained Promised Land for any of you hunter/jumpers who know who that horse is.

but yes lots of riding and practice and listening to other people and making ur own mistakes is the only way to truly learn. but most importantly make sure you listen to your horse, they can always help you to tell you whats wrong and what you need to do to fix it.
---
"The horse you get off is not the same as the horse you got on; it is your job as a rider to ensure that as often as possible the change is for the better."
Wet saddle pads????


I learned from working with heaps of different people and from experience.
Well to start with my pony taught me a lot about riding. If he didnt like something I got bucked off... But when I got a little older I started attending clinics and getting lessons from different trainers. I like getting my information from many people to see what works best for my horse and I.

I have a tad problem with working with one trainer. They start to decide for you what horse you are to ride, what saddle you have to us, what clothes to wear, who you will buy your stuff from....etc. I know many people that have spent a lot of money to make their trainer happy. I think that if the saddle looks nice and fits the horse and rider well it will work till money can be saved up. Im really lucky to have a very talanted mother that can sew very well. She makes all of my show shirts (she is working on learning chaps) and has had shirts and jackets at AQHA, APHA, and pinto world shows. i just wish I had a fraction of her talent.

My mother also assisted in my learning to ride. With endless pictures and videos to see how I ride and how to get my horse to look. We didnt have tons of money to spend on horses when I was growing up so I couldnt constantly have lessons. But Ive made it...
---

It's not the will to win, but the will to prepare to win that makes the difference.
- Paul "Bear" Bryant (Former college football coach)
Quote:
Originally Posted by Miss Katie
Wet saddle pads????
.
Meaning a LOT of time in the saddle.
A life time of horses and over 30+ years of owning them. I spend as much time reading as I do ridding and I love RFD-TV as well as these forums.
---
I'm not arguing with you, I'm just explaining why I'm right.

Nothing sucks more than that moment during an argument when you realize you're wrong.

It's not always what you say but what they hear.