Sorry about the 3 post my computer was giving me a hard time.
See that is why I hate cross-ties with a hitching post they cannot do that if they are TIED RIGHT.
See how short it is tied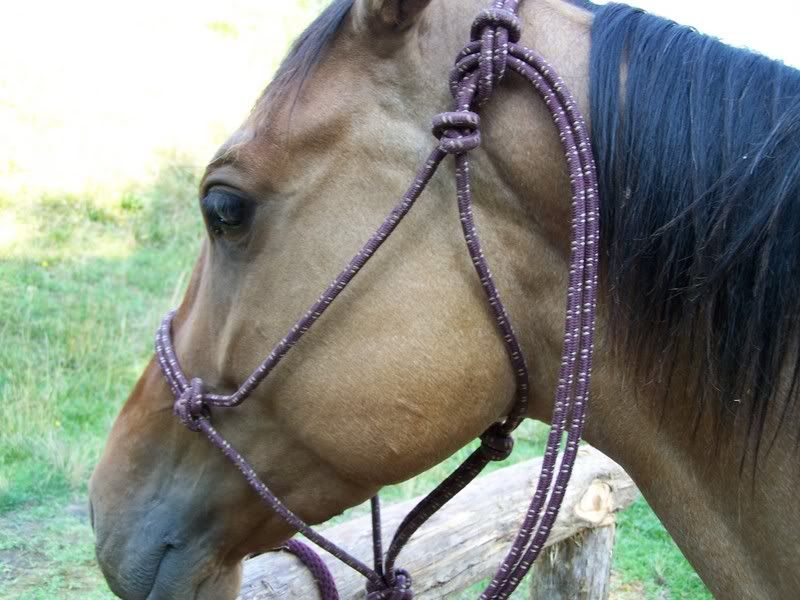 See how tight it is under his chin, and it should be a litter tighter.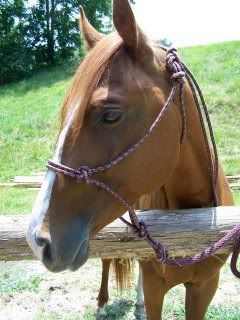 Cross ties indoors where there are three walls surrouding the horse are OK. That having been said, cross ties outdoors are VERY dangerous with a flighty horse. Something could come up and spook him, and he'd have nowhere to go. Also, in my opinion, cross ties should always have panic snaps. They look like this:
http://www.ldsleather.com/images/panicsnaps_556x341.jpg
and can be purchased at a local feed store. If need be they can be attatched to another snap. I boarded for a while at a barn that had regular snaps, and I'd just snap those to the panic snaps, and then snap the panic snap to the halter. Panic snaps are designed so that a quick jerk can undo it even when it's under tension, while other snaps require slack to undo.
A panic knot is a good start, but with a flighty horse I'd still recommend a nylon halter and lead rope with panic snap at the end of the lead rope. Even good knots can take a moment with a really tight lead on a panicked horse, and sometimes that's all it takes to be in really big trouble.
One problem with a horizontal bar hitching post is that the lead rope can slide back and forth as the horse paces. You might try attatching a metal ring to the wood, and then tying the lead rope to the ring. With a panic snap on the halter, it wouldn't matter if the rope got stuck in the loop.
As far as the actual behavioral aspect of it, that depends upon whether your horse is scared or pacing due to impatience. I haven't seen him so I couldn't tell you. Is he pacing back in forth in a repeated pattern, or jumping quickly when something moves or changes? If he is being impatient and disobedient, a sharp smack on the neck, chest or rear is appropriate, but never on the head. If he is frightened, a reassuring, calming hand and low voice is in order. How old is he,and what kind of past does he have? Do you know of any bad experiences he's had? In general, when horses are frightened punishment will only worsen the problem. It's like hitting a child that is scared because someone has just jumped in front of it with a mask. If he's scared lay your hand at the point where his neck joins his shoulders and talk to him in a low, reassuring voice. Also try rubbing his withers.
Hope that this helps, and hasn't confused you more.
You are right about the indoor cross ties and about the quick clips, but wrong about using a nylon halter at a hitching post the point of a rope halter is so they can't get hurt on a hitching post. If they go to flip over backward tied to a hitching post, if it is tied right (which is a must) they can not get hurt they can pull and pull and go to flip over but if they are tied right they can not get hurt.
I would never leave my horse tied and unattended. That's just asking for trouble. My last horse, if you weren't looking, would untie himself and either continue standing there, or walk off and start eating grass. X_x Charlie is far too flighty to be left tied and not watched.

I thank you for your advice Flying B, but I can't just tie him to where there would be no give or release if he started freaking out. Especially if there was a scenario where I could get to the lead to untie him. There is just too much chance of him doing serious damage to himself. As of yet there have been no untying due to his behaviour, except when I until him so I have lead him back to where I want him to be.

I have home facilities. I have a barn, but it doesn't really have an aisle, so any crosstying would be done outside.

I have a ring. Not a horizontal hitching post. I have panic snaps as well. I use them in the trailer. They should still be in the trailer (which is currently not here). But I can get more, possibly, at some point (our feed store sucks when it comes to horse tack/accessories).

He's 7, and he used to be a race horse. So he's very busy and just doesn't have the patience just to stand, most days. Usually if I chastise him in any way he gets worse. Some days it seems like he's spooking, but at what I'm not sure. He's not as spooky as he used to be, but he is still really impatient. As for bad experiences, I couldn't tell you. His life was probably a bad experience (he's a rescue).

Thanks everyone for your input. I will try tying him, on a short lead with either a panic tie or a safety clip if I can get my hands on one, and just making him stand there for a while. Maybe later if I feel good enough to put in anther post in this horrible hot weather, I'll try crosstying him. It may be more familiar to him, who knows. Either way, I'll give all the tips and tricks mentioned a go and see what happens.

But its just sooo hot out there.
Weanling
Join Date: May 2007
Location: Adelaide Hills, South Australia
Posts: 356
• Horses:
2
This might be a stupid question, but have you tried feeding him when he's tied up?
when I train babies, if they are unsettled I hang a feeder on the post so that they gradually realise that it's not quite as bad as they think it is. The new material feeders are great for this.

Cross tying is great, but no matter how or how short the horses head is tied their body can still wriggle and giggle. I think that it is his brain that you need to control.

Being an ex race horse, he may not have had the best life previously especially if he's had this problem as a baby. There are people out there who will go to town on a horse that will not stand still, some horse will learn to stand, others will get more upset and so get told off again then get even more upset etc and a vicious cycle has begun.

To me this is what I would guess has happened to your boy. I wouldn't chastise him for being insecure about being tied up, ignore the bad and reward the good, all animals respond better with positive reinforcement. You need to make tying up an un-stressful process, this will take time, try feeding him there whilst tied up, perhaps have another horse near him eating as well so that he gets the idea.

Sorry I can't be much more help.
---
'There is no good or bad, just fun or boring'
Any help is help!

I haven't tried feeding him tied. I figured the little rolly-licky-thingy would be good to help get him to relax and give his brain something to think about, instead of the (oh gasp shock horror) brushes!!!! Hehe. I figured feeding him while tied might cause bad habits (but I also wasn't sure if the lick thing would).

I think I'll try a mish mash of everything everyone suggested, giving everything a go, and working on my patience (and confidence when he gets weird) and his patience and stress level. Not all at once, but slowly day by day, now that I have some tools (thanks everyone!) to work with.

I can't wait to start bonding some more (and now his shoe is back which means I can ride again! woo!). I just wish Fall would get here soon. Heat = x_x, heh.
At an old barn of mine, we actually attached the cross-tie rope with a hay string to the ring and then had panic snaps on the other end that attached to the horse's halter. The hay strings are pretty tough but in a full out pull they will break. Makes them a little more safe in my opinion. I personally have never experienced any problems dealing with cross-ties but I do know that if the horse knows he will get away if he pulls back, it definitely will add to the problem. I would tie him where he can't get away and can't get hurt for training purposes. Then once he's calm and not spooky or flighty...try using cross-ties to make him stand still while your by yourself and use the hay strings just in case. Just an idea...
I had a TB that was the same way. She broke halters lead ropes and hitching posts. There is a thing called a blocker tie. Get one. They sell them on Clinton Andersons web site.(aussie tie ring) They are a God send. I use them to train my babys to stand tied without turning them into claustrophobic idiots. We use them when bathing, tieing to trailer and tacking up. They may be a bit pricey but they saved me a fortune in lead ropes and rails.
I agree with Frog, since you have stall access. Tying when feeding and even tying just while in the stall is an ideal way to start young ones, you might try going back to that. Get him to stand quietly in an enclosed space before you move him out where there's so much stuff to distract him.