Beach Video
---
I thought I'd share this short video of me and my mare racing on the beach. My friend is on her Arab mare. I'm the one on the right!
I was really proud of Em, because it was the first time she was able to keep up with my friend's horse. We were even in the deeper sand! She found her speed.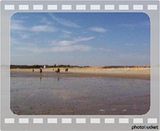 ---
You need to grab a hold of that line between speed and chaos, and you need to wrestle it to the ground like a demon cobra! ~ Ballad of Ricky Bobby

Whew! My eyes watered just watching you!
whoa! very fast! congrats :)
---
Horseriding- The art of keeping a horse between you and the ground.
That looks so awesome! Your horses sure are fast!
I want to race Gypsy on the beech so bad! She would have a blast, she hasnt been able to have any good GO time and this mares got some go!

Great vid!
---
From east to west a travlin gypsy found her prancing pony for now their hearts run as one...into the north
~Traveler