Green Broke
Join Date: May 2009
Location: Winnipeg, Manitoba, Canada
Posts: 4,510
• Horses:
2
Fun in the arena on a cold wet day!
---
Feel free to critique! I wasn't sure if I should post these in Critique or not, but I don't know that there's much to critique. I'm excited over Jynxy's style - I really think she has what it takes to be a cute little low level jumper! It was cold outside and everything is soaked and mushy from our first dump of snow melting, and we were waiting for the farrier so we used what we had to set up some obstacles!
They had WAY too much fun with this - after the second time CHARGING the fence like they were bloody steeplechasers, we stopped them and put them through one at a time. It was crazy though how little guidance they needed - just point them in the general direction and they were like JUMP, YAY!
Enjoy our free jumping maniacs! This was Jynxy's first time ever free jumping, very proud of her! Justus has done it several times.
I was trying to freeze frame and grab some pics of Jynx, but my computer is being idiotic and won't let me do it. I'm going to try again off YouTube.
EDIT - AHA! Finally got my screen captures - blurry as heck, but what do you guys think?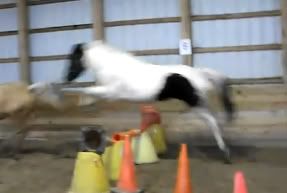 ---
Quote:
I hope God tells her to smash her computer with a sledgehammer.
---
Last edited by MacabreMikolaj; 11-01-2010 at

12:48 PM

.
Not much I can critque on... as I work with cattle horses. But I think they look great... tried to get my horse to free jump once... he def. didnt take to it like they did!
---
Many people have sighed for the 'good old days' and regretted the 'passing of the horse,' but today, when only those who like horses own them, it is a far better time for horses. ~C.W. Anderson
Im not a jumper nor do i ride english but i think jynx would make a great jumper, and she definantly looks like she enjoyed it.
---
quarter horses.....simply the best
I just satrated jumping so dont take my word for it but it looks like both of then would make good jumper they even toke there legs in :P plus they seem to enjoy it :)
btw very cute horses!!
they look like they're having fun! =)