Natural Heart?
---
Is it natural? If so, what a unique little pony!

---
100% Anti-Slaughter and PROUD of it!

Green Broke
Join Date: May 2009
Location: Winnipeg, Manitoba, Canada
Posts: 4,510
• Horses:
2
That's super weird! I'd almost say fake, but it looks real - it's just very atypical of the splash pattern to have a random cheek spot like that.
However, there is Cupid and Arrow, they're the poster children for weird markings! They even made Breyers models of them! Mare and foal...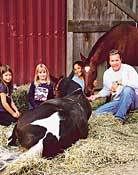 ---
Quote:
I hope God tells her to smash her computer with a sledgehammer.
Could i tbe a brand?
I've seen both cheek brands and heart brands before..
It looks like a freeze brand.
---
It's Like a Swift Kick In The Pants!!!
Its definitely a brand. There was a horse at my old boarding stable, had a brand identical to that, just more centered on the cheek.
It's a mighty cute freeze brand if it is!
---
100% Anti-Slaughter and PROUD of it!