Rolex video
---
So last year my Daddy suprised me with tickets to the Rolex last year.
and we are in Texas so we left that morning and got to Tennesse and then left the next day in time for Dressage and was there the whole day for X-country which will be in the next video I will be doing more pics. :)
and were there for half of the show-jumping. :)
I am going to the world equestrian games for my 21st birthday
an so I will be doing more videos then as well
so enjoy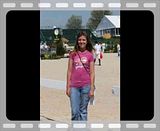 18 views and nothing. :(
come on guys
That is awesome! =) you are lucky!!
---
When God Made Horses, He Painted The Good Ones.
"All I pay my psychiatrist is the cost of feed and hay, and he'll listen to me any day."

hehe it was a dream come true. :)
I cannot wait for the world equestrian games
Come on guys comments
My computer doesn't play videos well. Unless it's on youtube it won't play. I must say, though, you look really pretty on the freeze frame it picked.
I tried putting it up on youtube and the music was not playing so I put it on photobucket I can put it up :)
I will do that in a few minutes and thank u :)
What was the song in the video? IT WAS AWESOME!