*exposes wrists* Ok, someone get a ruler and smack them.
---
A few of you know i just started teaching lessons and whatnot... well, as i finish teaching the lesson, the mother of the kids walks me around her little ranch to see the horses. I saw her cremellos and just gooified. I have always had a soft spot for them, but quietly shunned them as they were way out of my price range. Well, finally, she mentions that the Cremello Paint is for sale x_x he is two years old, coming on two and a half, and ready to break. He needs a lot more training done on him.. but im welcome out there any time, and it is very close to my house. She offered him to me for dirt cheap and offered to feed him and whatnot for an extremely low price. Here he is: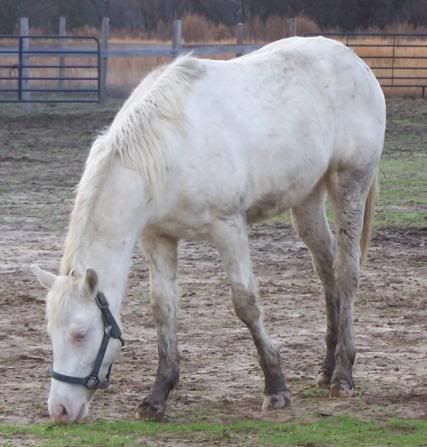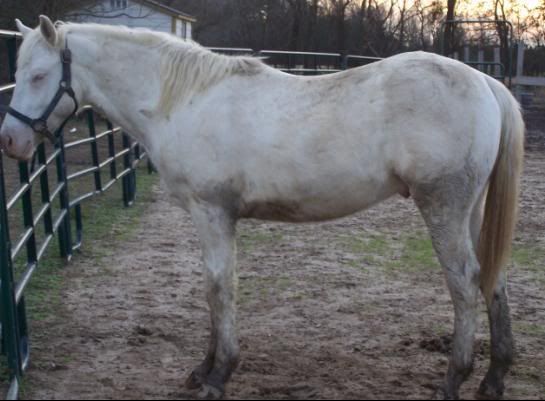 His father is a registered paint horse and the mother is a grade Palomino Paint mare. She took these pictures last Friday. She invited me to work with him next time i come out and i am very excited!! =) Im hoping my husband will drop me off at her place in the morning, and pick me up after work =) Woo! By the way, you can't see it in these pictures, but he has a HUGE chest in person.. and very beefy.. forearms? (the part between the shoulder and the knee)
His name is currently Cash, but I really want to name him Temora Rose after my powder white blue eyed unicorn character that i have had like.. forever.
Anyways... smack me for considering this x_x i just had to share
Skippy! I thought that you were going to pay off dreamer first
Anyway, I think that this horse would be good for you, and with connections, who can say no?! lol! it would be really cool.
Oh worry not ;) He is getting paid off. Dreamer is a rush deal, i can take my time with this one :) No rush at all!
very cool..tell us all about working with him..he's very cute
That is so awesome!! I have a soft spot for cremellos too. The one I work with is a very well built cremello QH that my trainer stumbled upon for a very cheap price from a man she got her old horse from. It was lucky for me. And because of his great color, I get a lot of cool spots in drill performances and parades.
wow that will be 9 horses.....you could start your own ridding school now