2.5 yr APHA B/W Tobiano filly - SE PA (USA)
---
After much debate and consideration we have decided that we have to sell one of our horses. The one we chose to sell has the most potential and seemed to be the most logical choice as she can be trained in any discipline, is very willing to learn and easy to train. She has had a few lessons with a professional trainer and has had a saddle on twice now as well as a bit in her mouth. She is learning quickly but due to lack of funds we can't continue on with the training she needs. I really hate to sell this girl as she's quite a special one! She's very "in your face", puppy dog and just wants attention but she is NOT mean in any way about it, she just doesn't realize that she can hurt you.
I have videos on my youtube channel that I will send upon request as well as other photos... although she's kinda hard to take candid shots of due to her always wanting to see what I have and wanting to always be with me.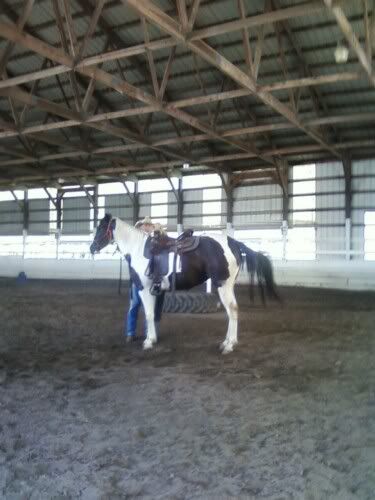 We are asking $2500 OBO for her and she's located in Birdsboro, PA. PM me for more info.
ttfn
MD
---
Show me your horse and I will tell you what you are. - English Proverb