2 yr old Halfinger Cross.
---
I have recently (as of this week) listed my 2 year old filly for sale.
I am going to start off by saying, I have raised this horse but 1) I was not prepared for her and 2) I don't know a whole lot about her bloodlines.
Her mother is one of "those" horses. The only thing i know for certain is that her dam was an Egyptian Arabian, papered. I was told her father was a Paint. Not sure how true that is though, everyone who sees her says she's got TB in her.
Her dad is a humongous absolutely stunning Halfinger who i have no pictures of.
My mare was boarded when they had a "mishap" (for lack of a better term) and the stallion above got access to her. I moved her immediately to another barn, but the damage was done and Evie Lynn was born.
This is mom with the filly in question when she was days old: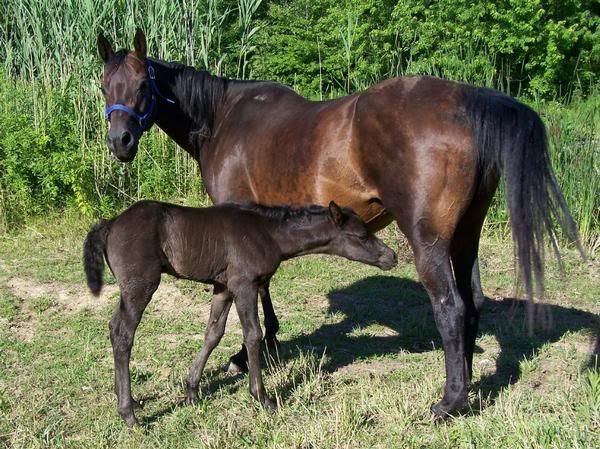 I have no good current pictures of her, but i have a few poor quality cell phone pics. Going in order of age.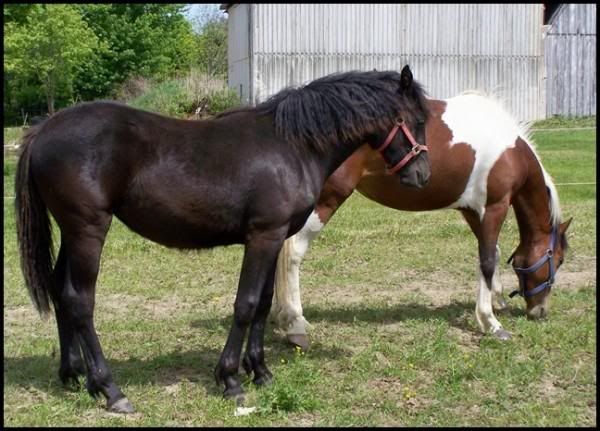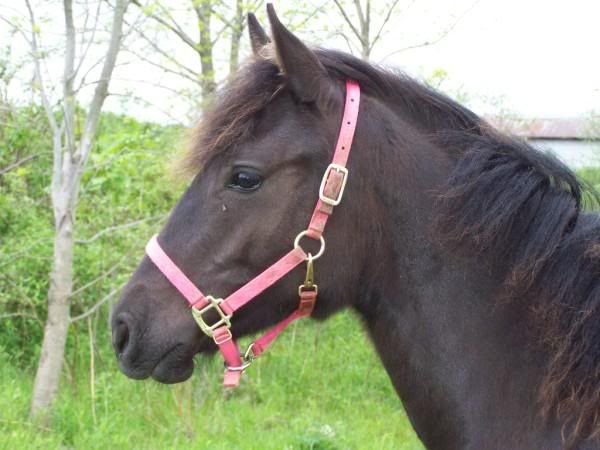 These are the most recent. Sorry about the quality.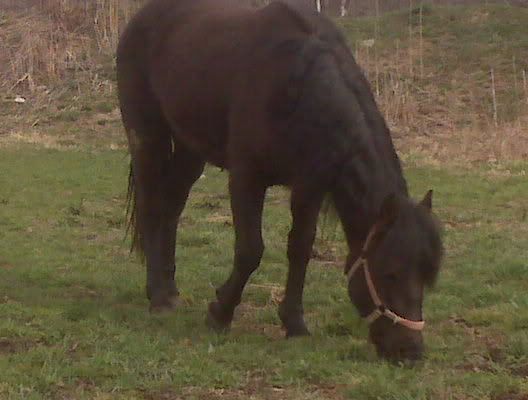 She stands, ties, and leads well but that's about the extent of it. To be perfectly honest she has an extreme attitude problem. She acts like an Arabian, she is boss in the herd, and tries to be boss of everyone else. I am about the only person in the household who doesn't allow it, but she pushes my boyfriend around like she owns him. I wanted to keep her and go the WP route with her, but i feel she would do better with somebody who is going to take her an do some kind of competing with her. I don't show any more, and i think she's gonna need it. She's best behaved when she's stimulated and worked.
What i am looking for here is a combo of a nice critique on her, and what you think i should advertise her for? What disciplines do you think she'd excel in? Based on comfirmation, and knowing she has the endurance/disposition of the Arabian?
Thank you in advance for anything you may tell me. I would love to keep her, but think it would be better for both of us if she went to somebody who would do something with her. I mean that like... more of something than backyard trail riding, which is basically all i do any more! Minus a few Hunter Paces a year and a couple of long charity rides and things of that nature.
:)
---
"Animals are not our whole lives, but they make our lives whole."
I'm in northeast Ohio.
---
"Animals are not our whole lives, but they make our lives whole."
Hi, she is too small for me but I have some advice if you want to hear it. :) This filly sounds like she could be very nice someday with the proper training, she is just super young and a lot of young babies are pushy. My gelding, Sam, that we've had since he was born, used to be extremely pushy, mouthy, and rude when he was a baby, but now at 8 he is a gentleman. If this mare has Arabian in her, I would advertise her as an endurance prospect-maybe a hunter pacer? The Haflinger should give her good feet and the Arabian plenty of "go". I couldn't really say, without her being broke though. It also depends on if she has any jumping ability. I know an Arabian who is a really cute jumper. Another reason she may be rude is becuase of the Haflinger in her-we have an 11 y/o haflinger gelding and he is pushy, but not too bad. However our Arabian is a saint. Based on what I hear about this mare, I would price her at 1-2K.
How tall is she? LOL - too bad you weren't closer because my husband loves my haflingers but wants a black one. However, she may be a bit too short for him.

Personally I would wait until you had some saddle training on her and then sell her. You could get more money from a started horse than an unbroke one.

As to what price to start her at - well that is tricky. Depends on your area. Around here unbroke horses are only going for a couple hundred, no matter if it is registered or grade - if you are lucky. A well-trained show horse or competition horse seems to hold its value pretty well (several thousand and up) and a solid trail horse goes around $800-2000 depending on age, conformation, and how well trained it is.
---
All I pay my psychiatrist is cost of feed and hay, and he'll listen to me any day!


You are probably relatively close to me (I'm north of Fort Wayne, IN) at lease close enough that the horse market should be about the same, and honestly, around here, you are going to be so much better off if you can either get her started (yourself or get a trainer in) and have her under saddle before you try to sell her. Around here, unbroke 2-3 year olds are EVERYWHERE right now, and everyone seems to be unloading them. Scan through your local CL - there are dozens of 2 year olds for 150 bucks and although your filly is pretty, being a smaller sized horse limits her potential buyers market - I am guessing by the looks of her she is pony sized? I don't think you'd get much more than that for her as halterbroke and nothing else. It would be worth the investment to put a little training on her before trying to sell her. Good luck!
Thanks for all the help everyone. I have too many young horses that need training, one has to go. I'm only one person. I'm not entirely sure how tall she is at this point, she's shot up there since i last measured. I would guess probably 14-ish at this point. She was around 13.2 last spring, which is when most of those photo's were taken. The paint in the pics is exactly 13 hands.

I've been talking to a girl for a few months who has been interested in her. We've become really good friends actually! I'm very attached to this horse, and i turned away many interested buyers because there was just something i didn't like about each of them (i listed her a few months ago and then kinda changed my mind) - but this girl has stuck around. I've had some problems, she's had some complications, but finally she's able to get her and i'm 100% ready to sell her so ... she's picking her up Friday.

So she's sold. I gave her away from practically nothing. $100 and a couple of western headstalls and other misc tack. I just want her in a good home and this is the only person i've felt comfortable with. I wasn't motivated by the money aspect at all. She's going to be a nice horse someday, and hopefully we'll keep in touch and i'll get lots of updates :) As long as everything goes well and she shows up Friday to get her.
---
"Animals are not our whole lives, but they make our lives whole."