2yr old palomino QH colt - companion horse only - WY/SD
---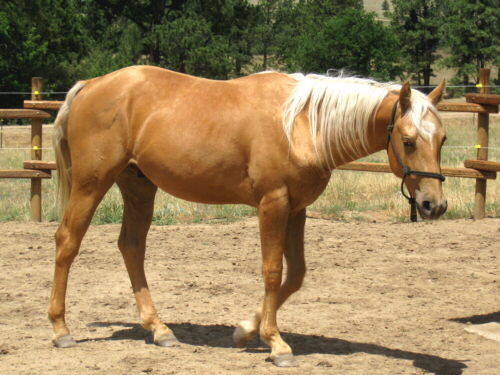 "Gunner" is a deep golden palomino, very friendly and gentle, to give away for an adoption fee as pasture pet / companion horse only.
Gunner has "delayed patellar release", also known as 'stifled,' catching stifles, locked stifles, sticky kneecaps, ..., which roughly means that his knee caps (hind quarter) do not smoothly lock/unlock, making him walk awkward. This condition is most likely not repairable, making him unsuitable for riding.
He does travel in all gaits and is painfree and active as any other horse. He has a very friendly disposition, is good with other horses and cats/dogs, easy going and an easy keeper. He is comfortable all by himself, too.
Located in North East Wyoming.
Is he a colt or a gelding?
Posted via Mobile Device
Quote:
Is he a colt or a gelding?
He is a stud colt but I would be willing to cover the expence to geld him if he finds a good home.
I would geld him now. I see no reason anyone would take on a young stud as a pasture puff. Even as a breeding prospect, he hasn't been proven in anything, so any breeding would be irresponsible. Going into winter is a great time to geld as there's no flies about.
Posted via Mobile Device
I would consult with a surgeon about getting his stifles fixed. I know people that have had horses with this problem that were good sound horses after surgery. He is a pretty boy.
---
Celeste
Carpe Diem!
I know someone who had something cut (tendons maybe) in the stifle to keep them from locking. Then, he was sound for many years after for riding.
Posted via Mobile Device
I had a ssh filly that had the same issues. Took her to my vet and we injected her stifle. Hers was mainly due to a weak back end. After working her to get her back end stronger.She did fine. She now is a good trail horse...

I would try injections before I would get the stifle cut...jmo
---
Never Ride Faster than your guardian angel can fly

"UNTIL ONE HAS LOVED AN ANIMAL, PART OF THEIR SOUL REMAINS UNAWAKENED"
Well that was a serious case where he had double locking stifles. My gelding has a locking stifle that the vet said would be a quick fix if I would just trot hills and build up muscle there.
Posted via Mobile Device