You guys are much much too nice ;). I'd think this youngster just might not be up to your standards but do appreciate all your feed back & apparent knowledge. Suppose my 30+ years in the business breeding successful individuals at a National Level both on the Arabian & Open Circuit does not equal what yours does?????

It is with sadness that I write that sharing that a son of our stallion was available has not been affective in simply sharing his availability but rather opinions of his worth, lack of, what I should do or not do and what is the proper way this should be handled. Reminder.....this thread is about a sale horse and nothing else.

Denise Gainey
Posted via Mobile Device
---
HG Esquire+ ~ 2010 AWS 'SIRE OF THE YEAR'
2008 Bronze Medalist
...........................
---
Celeste
Carpe Diem!
And normally, the person posting the horse is the seller, not someone posting a craiglist ad of someone elses' horse, at least in THIS section.
---
Signature undergoing edits. Please standby.......
so what is the other half ?
Haha-you and I have both asked several times.........we may never know, unless we answer the ad........
---
Signature undergoing edits. Please standby.......
I'm not really understanding why this got such a snippy response... if you don't think he's worth 1000, you don't have to buy him. I don't see why the owner of the stallion can't take an interest in helping the sale of their horse's progeny.
It doesn't matter what the OP's interests are in marketing this colt and the OP doesn't owe you an explanation as to why they want to be involved, because it doesn't affect you unless you're interested in buying the horse.
This little tirade seems a bit pointless, other than the question of what the mother was- but even then, are you asking because you're genuinely interested, or just because you want to poke at the OP? It kind of looks like the latter.
I don't think the pictures in the ad are the greatest, but I think he's a cute little horse. More information about him would be nice, since the craigslist ad gives nothing. It would be helpful to know more about his training, and knowing what breed his dam is would be helpful to those who might be interested in looking at him to buy.
I'm not sure I understand the direction of this thread either. My mare has had 5 babies, I have on occasion run across her babies for sale and I've shared them with folks that I know are looking. I love my mare, I love my gelding that is out of her so I'd love to share the bloodlines with folks... I can see why a stallion owner would love to share as well.
---
"Be a best friend, tell the truth, and overuse I love you
Go to work, do your best, don't outsmart your common sense
Never let your prayin knees get lazy
And love like crazy"
I'm also having a very hard time understanding why anyone has any reason to have a conniption fit over this..? Really quite ridiculous that ya'll have nothing better to do than start completely unnecessary drama..

OP, I think you're doing a good thing in trying to find this boy a great home. I'm really quite blown away by these responses you have been getting.
If ya'll had some genuine questions you wanted cleared up, I'm sure that there's a much more appropriate way to go about asking them rather than in this attacking manner.
I personally fail to see any reason to assume that the OP has anything but the best of intentions in posting this.
---
There is something about riding down the street on a prancing horse that makes you feel like something, even when you ain't a thing. ~ Will Rogers
I appreciate the support of those that understand I am trying to lend a helping hand in placing one of Esquire+'s kids. Below are a few pics of him as a foal that were sent to me by his breeder and two of his dam. Also did a copy/paste of the email the now owner sent to me back in April 2011 which is when I think the pics on CL were also taken.
From: XXXXXXXXXX
To: XXXXXXXXXXXX
Sent: Wed, Apr 20, 2011 4:23 pm
Subject: Phoenix buckskin HG Esquire offspring
Denise,
i will be offering Baileys Khaffe Latte for sale in Phoenix soon. He will 4
years old on May 5. His sire is H G Esquire and Dame is Phoebe Snow. He is
approx 15.3hh. He trailers, trims, lunges, in hand leads,and bathes like a pro.
He has been saddled but not ridden. He is a quick and steady learner. If you are
interested or know someone who is, his asking price is $15,000.
Pictures and video can be provided if requested.
XXXXXXXXXX
So according to the above at least he has been handled???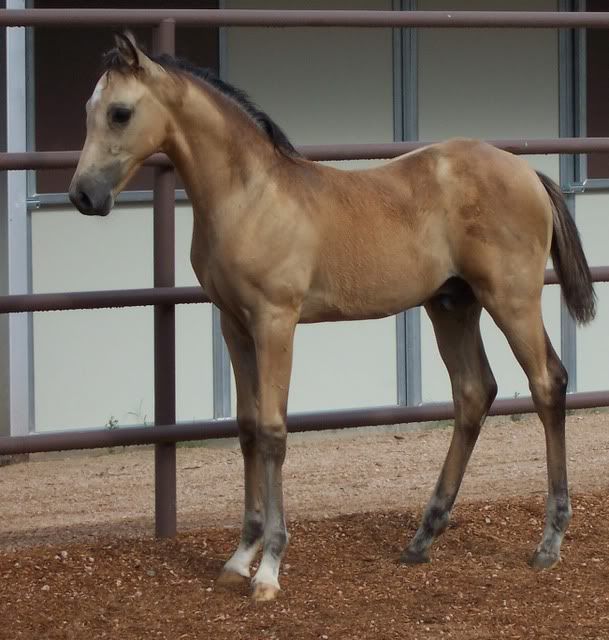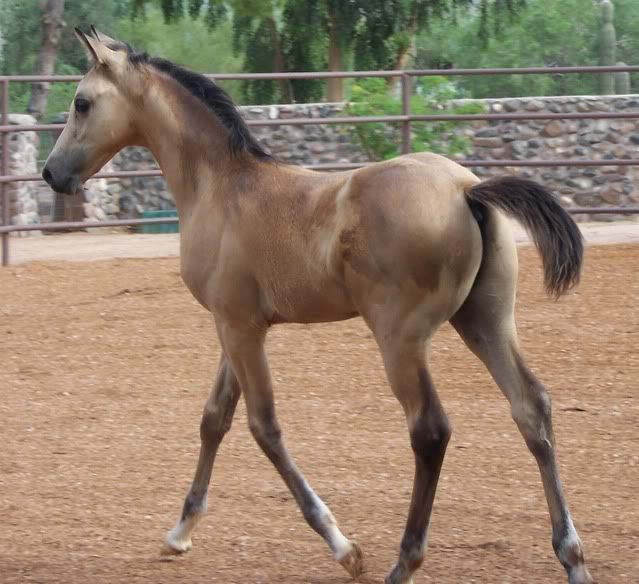 ---
HG Esquire+ ~ 2010 AWS 'SIRE OF THE YEAR'
2008 Bronze Medalist
---
Last edited by HGEsquire; 02-12-2013 at

10:22 PM

. Reason: Fixing link/photos
His mother: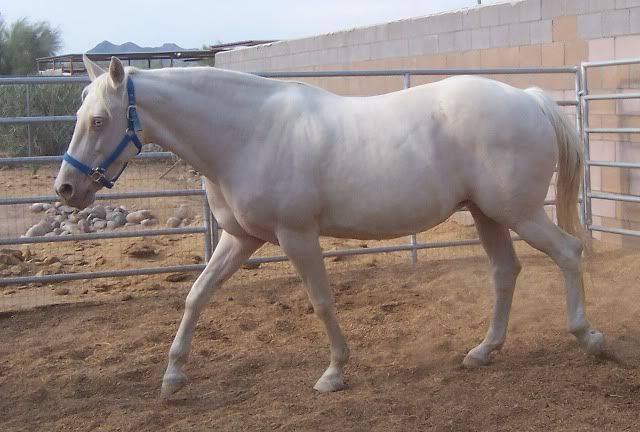 ---
HG Esquire+ ~ 2010 AWS 'SIRE OF THE YEAR'
2008 Bronze Medalist