(Eastern PA) 3 y/o Halter/HUS AQHA Palomino Gelding BIG
---
e-mail me at
mleone615@gmail.com
do not pm me here!
$2500
Pjs Classic Style
Pjs Classic Style Quarter Horse
Reg Quarter Horse
16+ hands (He is 16 hands now and still growing)
Gelding
Palomino with nice chrome
3 years old
AQHA Reg. All paper work is in hand and ready to go with the new owner.
Can also be reg with any Palomino club but its not somthing I'm into.
Has Hypp n/n right on the papers (mom and dad are both hypp n/n).
This guy is VERY nicely halter bred but moves like a dream. He has a nice, pretty head and big hip.
His first month with me all we did was trail ride. He was super quite following the other horses but never went out alone.
Since then we have moved onto walk/trot arena work. I have cantered him but he needs more time to refine his trot. He is a BIG horse and moves out when asked but needs time to grow into himself.
He is still a green, young horse that needs work!
He has a nice natrually low headset.
He would make a very nice Hunter Under Saddle horse for local or QH shows. He would also make an exceptional all around prospect or could easily leave your competition in the dust at 4-h shows.
He is very quite for his age and has a laid back goofy personality. He is very friendly without being pushy, he just wants to please. He is the low man in the group when turned out. He has never bucked, kicked, or bit.
Best for an intermediate or experience rider becuase of his age.
Can sell him with EVERYTHING for this price; brushes, sport boots, rope halter and lunge line and regular lunge line with chain, English BATES saddle and bridle w/pad and girth (saddle retails for $1200 alone), turnout sheet and much more! Everything thats his and you'll need.
$2500 Special considerations to ANYONE who is a trainer or has help from a trainer or instructor so this horse can keep moving forward.
This horse is a nice horse and I love him but no longer can commit my time and money to him; to a good home only, life changes forces me to sell.
He is a super well bred gelding that can go far.
Need to sell ASAP.
e-mail me at
mleone615@gmail.com
more information... Spammers and Scammers WILL be reported.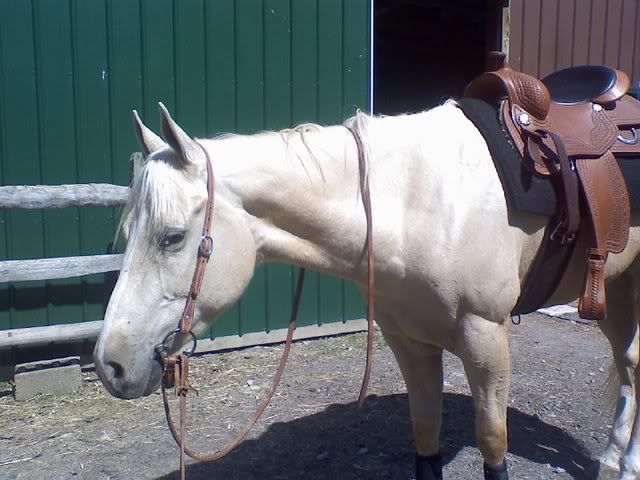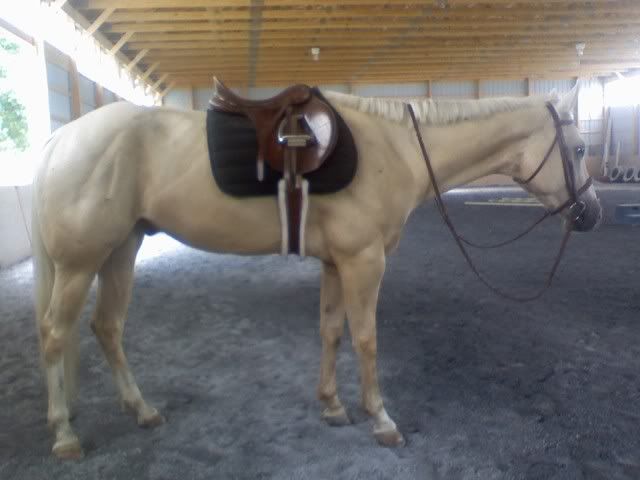 Dropping his price down to $2000.
Lehighton Pa 18235
This guy is great on the ground. Loads well, clips all over, falls asleep during a bath, and falls asleep for the farrier (who does hot shoeing nonetheless).
Just needs more times and someone to ride him more than once a month like I can.
He's very cute! If i had the money I would take him :( Good luck selling him!
he is the horse of my dreams!!! i need a horse with more substanance than my 16hh tb
---
~Erin~
~I'm an angel in Justin boots. I'm a devil in blue jeans. I'm every cowgirls nightmare. I'm every cowboys dream~