Gelding free to good home SW MI
---
King is a 17 year old, 17 hand puppy dog in a horse body. I would trust anybody around King, he loves having his face scratched for as long as you can before your arm falls off. He rides english in a hack or snaffle bit. He loves trail riding, and doesn't get worked up when another horse is getting feisty on the trails, you can easily walk him away from the group and then walk back toward the group all on a loose rein, or stand and watch while the rest of the group canters circles around you. The only time he has seriously freaked out is when a herd of strange horses came galloping up the the fence line as we were walking away from the fence. I think he thought they were going to run past him and wanted to race. He loves water. He has no qualms giving children piggy-back rides and didn't mind having somebody leading him while another person was walking along beside the child holding her, because of this I think he would make a great therapy horse as well.
He is up to date on all of his shots and has a current coggins. He is due to have his feet done at the end of July, and just had his teeth done in June
Now, here is the kicker, King has arthritis that prevents him from being used for what I want to do. He is walk/trot sound and totally comfortable on just MSM, but small circles are hard on him. He also has muscle wastage along his withers that is likely there for good. Its not pretty but it doesn't affect his usefulness. I bought him a fleeceworks half pad and he was good to go.
If you are interested he is free to a good home. However, I am asking for vet and farrier references, and do not be surprised if the next time you see your vet or farrier they say some crazy lady called them up asking questions. You must also have a proper horse set up, i.e no uncapped t-posts or barbed wire. I don't care if you don't have a proper barn as long as you have some type of shelter or shade for the horses. King is a very special horse and deserve a good home where he will be loved for what he is.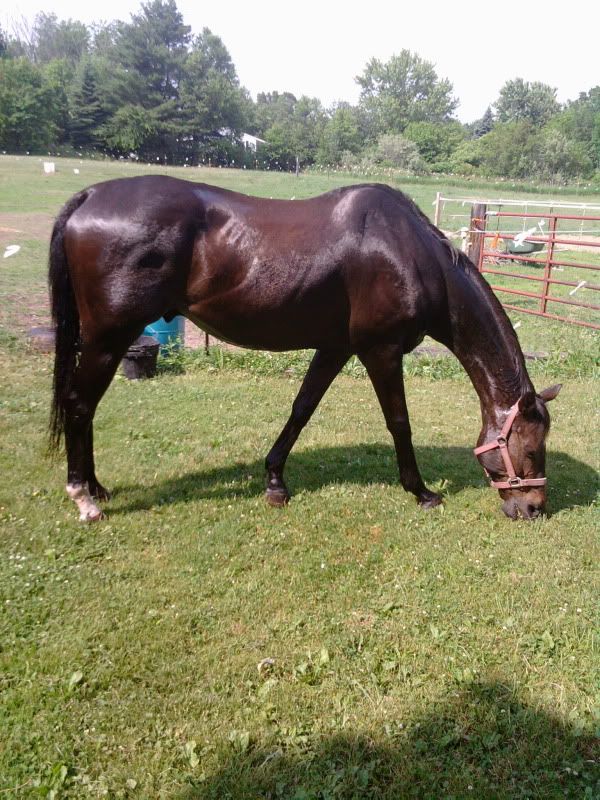 This was his opinion of two horses cantering around and jumping.
---
RH Queen O Anywhere "Sydney"
2009 Sugarbush draft