Grade Buckskin QH Mare / 4yrs old
---
Buyer who was interested seems to have backed out, so, Baby's up for sale again!
Location
Nevada, MO, USA - About an hour from Joplin, MO
Contact
Anna at 417-684-0560 or e-mail,
annaegruber@gmail.com
Asking:
$600 firm. Will consider partial trades (make an offer).
'Baby Girl' is a 15.1hh Buckskin QH mare. She's four years old and unpapered, considered a grade mare.
She has a large scar on her hindquarters and was abused as a youngster, she now has a solid foundation and is an excellent riding horse
. The scar is cosmetic, and doesn't bother her. She's otherwise big, stocky, and beautiful.
Completely respectful and quiet both on the ground and under saddle. She's not spooky or high-strung, a very sensible mare. She's quite comfortable to ride, though I prefer my gaited's to her trotting. She works best of leg cues and thus isn't the greatest at neck reining. But, she is a quick learner and picks up things fast. I just haven't been specifically teaching her how to neck rein. She rides fine both with and without the saddle, and rides in either a snaffle or a halter without complaint.
She stands for mounting and stops where you stop her. I've been up on her, just sitting in the saddle and talking to someone, surrounded by grass, for half an hour and she won't try to drop her head and eat. Regardless if you ride her in a bridle or a halter. She doesn't fidget, paw, or get restless. She just figures it's time to nap and relaxes.
I haven't ground tied her (never had a reason too!), but I believe she's trained for it. Loud noises, dogs, cars, tractors, chickens, etc. don't phase her. I've never had her bolt or spook, she's started when I've worked her on the ground and surprised her with a plastic bag. Lunging wise, you point in the direction you want her to go and she goes. I've never had to work her lunge whip like with my other geldings, just halter and lead. Worked her on the line at walk, trot, and canter. She hold all three gaits and doesn't take off like a rocket when you first ask her to move.
Overall, Baby is a great horse I'm just downsizing. I'd like to get my personal trail blazer actually back on the trails, plus I have Divo to train and work with, and soon a youngster to start from scratch. I personally find Baby too laid back and easy going, I prefer a horse with bigger engine myself. But, as lesson or easy going trail mount, she's the perfect candidate. Easy to work with, simple to ride, with no buck or bite.
Note
She's a bit sweaty in the pictures. I'll be getting better ones once I have time and the weather is somewhat nice.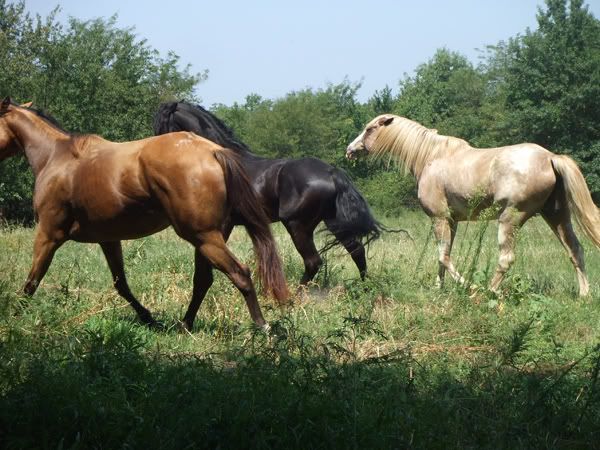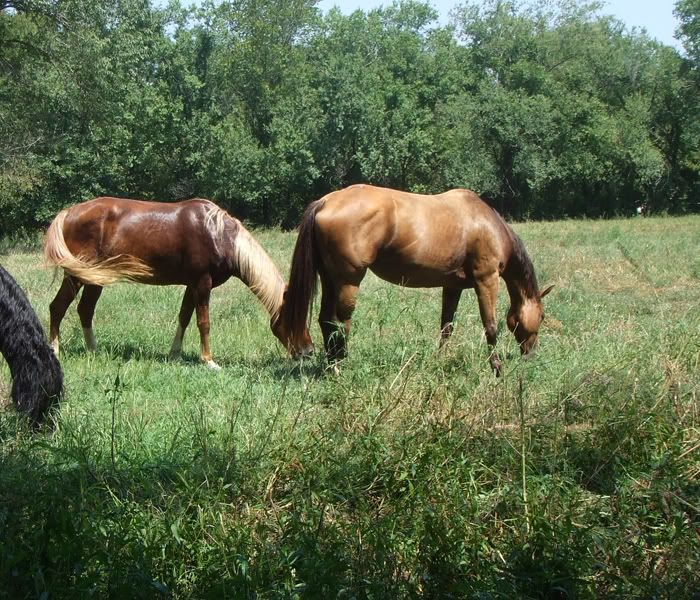 ---
Wait! I'll fix it....
I LOVE her and would take her in a heart beat if I was closer to MO. Good luck with the sale, she's a beauty!
---
There is something about the outside of a horse that is good for the inside of a man. ~Winston Churchhill
She's really a great mare, but she just about bores me out of the saddle! I like my big-motored difficult Loki who spooks at everything in sight. This mare is just too well broke out for my taste
For $700 I'll throw in a decent 16" ROPING saddle. Full QH bars, good cinch and leather backstrap. Good working saddle, too heavy for me personally. I like my lightweight leather saddles or synthetics.
The seat is worn but it's been kept conditioned and clean so the leather is fine. EXCEPT for on the horn, which is wrapped. I'll probably unwrap it and treat the leather underneath though. Like I said...it's a working saddle, I just don't have anything to work with it!
---
Wait! I'll fix it....
she is absolutely gorgeous. suprised you haven't sold her by now!
---
Count My Strides - Shane, Bought 2-18-06, Mustang.
"I whispered to my horse, "i'm afraid of falling" and he whispered back, "i have wings".
have a friend who is looking for a buckskin, sent your info and e-mail.
---
HOME IS WHERE THE HORSE IS.........
She is a beauty! but I prefer geldings myself...just don't trust mares....from personal experience. Hope you sell her soon!
Gorgeous! I'm suprised as well that you haven't sold her. You have her listed at a great price!!
Two beginner riders rode her today and she did great. She worked really well under the first, and I mean really well, but she didn't like her 'cosmetic defect'. Second didn't seem to really click, it was a 9 year old girl, did great, but was too nervous after getting dumped today by her current horse.
Kept shaking her head at the mosquitoes as it started getting darker, and was a bit more fidgety than usual (Loki and Red kept acting like heart-sick Romeo's and got her all riled up). But other than that, was perfectly behaved. No spooking at the obnoxious cars tearing up and down the road not five feet from her, listened well, didn't have a fit :)
A lot of people are just turned off by her scar. She is a bit more expensive than most people are willing to pay for a paperless QH, but she's got some darned good training in her ;)
If she doesn't find a home she clicks with, she's going to my dad as a trail rider and will just continue giving lessons. Not in a huge rush to sell, or in dire need to sell, just have others I need to work with.
---
Wait! I'll fix it....
Hmmm...where are you located? I bet in our area you could get almost double what you're asking for her.
Missouri xD 'bout an hour from Joplin. It's ****ed hard to get a decent price out of anything in this area. She could poop gold and I'd have the ****est time prying a $1,000 out of someone. Papers speak and a lot of people are turned off by the scar.

I had a gal out who really liked her. She kept shaking her head, then acted a bit hot at first. Made her move those feet and put her in a different pasture to ride, head shaking stopped (bugs where getting at her, even with spray!) and she really mellowed out and was very smooth when picking up different gaits. Ground tied beautifully. She'll let me know if they want her or not :)
---
Wait! I'll fix it....