How much would you say they are worth?
---
My family wants to downsize on our number of horses, so what would say these ones are worth?
Shadow: around 12 hands or so, never been measured..used to be an amish pony, now I can ride him anywhere, his only vice is that he is not road safe because he spooks at large trucks or vans. He does everything fine, loading, clipping, farriering and such. He has never not wanted to be caught and is just an all around fantastic pony. I ride him bareback or with a saddle and he does much better with a saddle, but is still great bareback. I ride him in just a halter and lead rope but I have bridled him before. I have no troubles when I just put one of my little cousins on him and he doesnt mind them climbing all over him. He keeps his head no matter what situation you put him in. He is a true black and we think he may be a welsh cross. He is 11 years old. I will be especially sad to see this guy go, but I'm outgrowing him. I believe that he was broke to pull carts but I cant say for sure.
Star: 13. 2 1/2 hands. Has been shown in 4-H many years. I have jumped her in hand and she does great. She is bay roan sabino. I have ridden her both western and english and She prefers english. She bathes, clips, ties, will allow you to clean and trim her feet, though she hads a bad farrier experience so were working with her hind left foot where shes hesitant, but doesnt kick. She can be a pain when saddling. Sometimes she will pin her ears but she doesnt do anything. She most definately is not a beginner horse. She was sold to us as a beginner's horse and they knew that she bucked when you asked her to canter, she still does but its not so much a buck..more of a crow hop. She looks as if she was bred for halter..a very chunky mare. She really enjoys pole bending and flag racing. She is 15 years old. She has absolutely amazing ground manners and will walk, trot, stop, backup, set up, or anything else.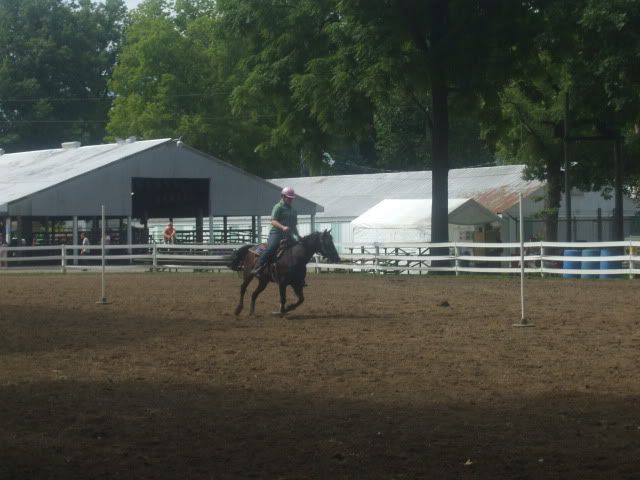 Buddy: around 16+ hands, never been measured. He is bay. Unsure of breed though he looks and trots like a standardbred. I have ridden him since he was 2 1/2 and we got it cleared from the vet to start riding. He can be ridden bareback or with a saddle and he's the one that I give little kids pony rides on because he doesnt spook at ANYTHING. He has had 30 days of professional training, but he is still green. He lunges very nicely and is a total gentleman. When I lunge, I do not use a whip because they know to move out, stop, turn, and come in from cues. He is 5 years old and I got him when he was 17 months old. He ame from a sale barn and he was starved and not even weaned. He is a very lovable and funny boy. His only vice is that he HATE water and sprays. I'm not sure why, but he just get very nervous and runs off if he even hears it. He has a very nice and scopey jump on him and he is willing. He will let you do anythign at all to him except spray him or give him a bath.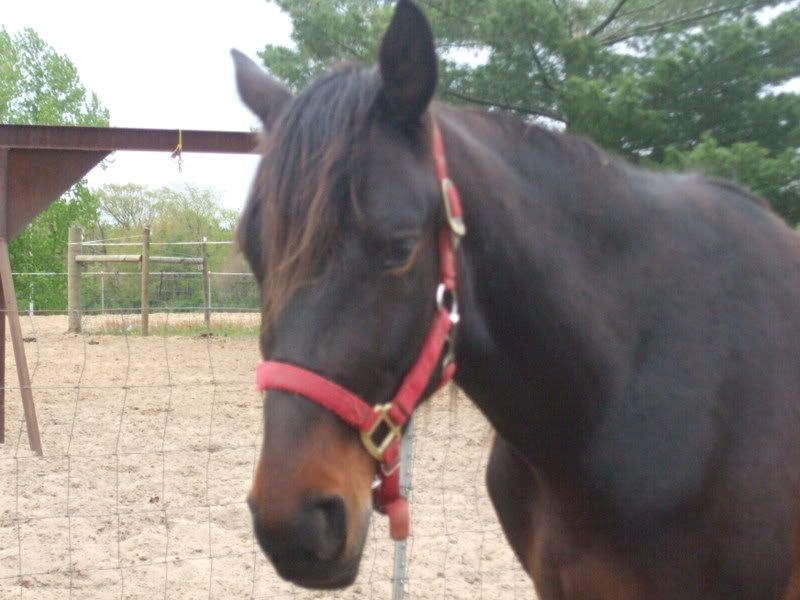 Thunder: 15 something hands. Has been shown in 4-H and has had about 90+ days of professional training. I have shown him in halter, pleasure, and contesting. He needs a very confident rider because he is a naturally nervous horse. I wouldnt call him skittish, just nervous. He is 8 years old and a very bright red sorrel/chestnut color. He lunges VERY well. He came from an abusive home, and if he sees a whip it makes him jump at first but then he doesnt mind it and you can whip it around and make noises or whatever right next to him and he doesnt mind. The trainer we sent him to jumped him at liberty and I have a video of it. He doesnt mind being sprayed, bathed, clipped, tied, having his hooves done. I wouldnt call him a beginner's horse, but he is very sweet and loving and a quick learner.
Buttercup: GORGEOUS buckskin mare. 13.3 1/2 hands tall. The best little pony anyone could ever have. I dont think I'm going to sell her, I'm just wondering hoe much she's worth..She will probably be the one that I take to college with me. She is perfect on the ground and in the saddle. Her only problems are that she doesnt like her ears to be touched unless youre putting on the bridle or halter, sometimes she likes to make you work when you catch her, and she has a very fast canter. I could put anybody on her and not be worried about them getting hurt. I have ridden her english and western and even bareback she does great in all. I have jumped her in hand and she jumps great. This fall I'm going to start training in jumping most likely. There just arent enough good things I can say about this mare. Her favorite thing in the world to do is run poles. I have NEVER had to even tap her with my foot because she will go purely off of voice cues, even when racing. She has a great go, stop, back up, turn. She does better neck reining than direct reining but will do both great. She is just perfect no matter what I am having her do. She is the type of pony that will go and run her heart out in pole bending then get out of the arena and go right to sleep. She will be a great pony for anybody and she doesnt mind whatever you do to her. She even literally picks up her feet and hands them to the farrier.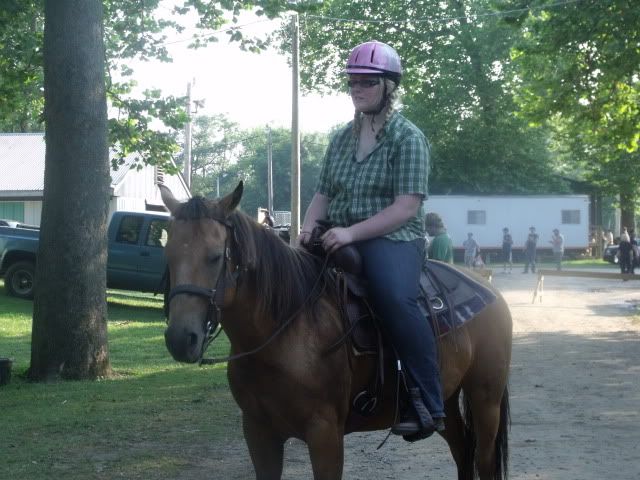 Right after our pole run just last night. We got 2nd.
This is an estimate of what they would go for in my area...

Shadow: $300-$500

Star: $700-$800 (priced low because of her habit of crow hopping)

Buddy: $700-$1000

Thunder: $700-$800

Buttercup: $1000-$1200

I'll tell you something. You got some great looking horses!
Hmmm, Probably not worth your time to try to sell them. . . Maybe I could take them off your hands!
Just kidding!
I live in Idaho, and here the horse market is pretty poor. . . Well trained horses, aound 7-13 years old go from $1,000-$2,000, generally.
Older horses, green horses, and ponies are anywhere from $200-$1,200 depending on quality, pedigree, temperment, etc.