View Poll Results

: Mares or geldings?

Mares
19
31.67%
Geldings
24
40.00%
Depends
17
28.33%
Voters: 60. You may not vote on this poll
geldings, all the way.
i was even advised to not look at mares while looking for Beau.
I've always ended up with geldings, and I LOVE them, but have ridden lots of absolutely amazing mares too. When I was younger one of my favorite horses was an 13 y/o Warmblood mare named Emma. I still love that old girl wherever she is now. She taught me so much about riding and was the first horse that I seriously jumped on. She must be around 17 years old by now. <3
EDIT: I found a picture!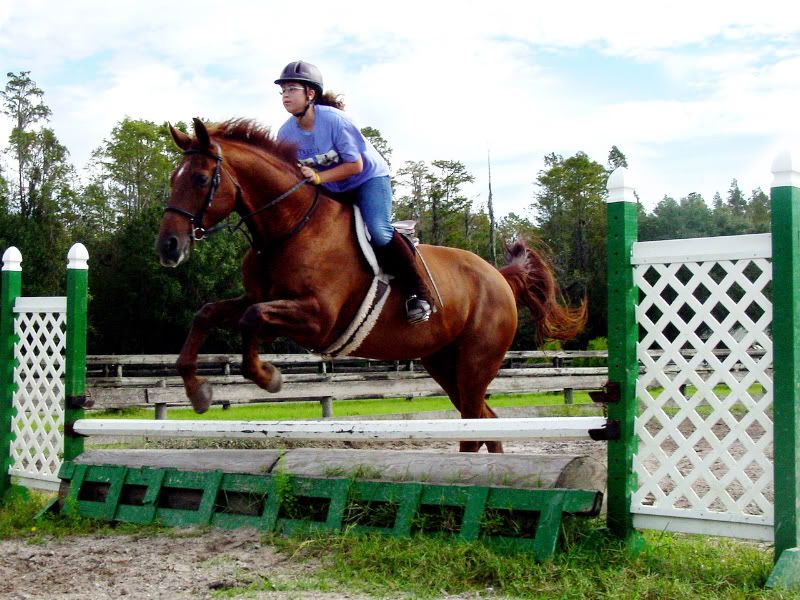 ---
I give myself very good advice, But I very seldom follow it
i love my mare.
she's not very tempermental at all, and doesn't get cranky at that time of the month either. she has tons of personality, and even though she may not by as forgiving as my gelding, i have learned a lot from her.
I personally like mares better, but I think when buying a horse you got a lot more chance of getting a good gelding than a good mare. Most geldings are average, where as most mares are bad, but the good mare are really great.
I personnally love my gelding, but my mom has a very heat attitude mare.
It is funny cuz she says "a gelding all you have to do is tell it what to do, but a mare you have to convince it that it is what it wants to it to do.
Although my boy does get a little attitude I believe it is all in a horses personality.
---
I am owned by the Sandman
I don't have a preference i find it depends more on the personality of the horse
---
I wouldn't be me without horses
i dont remember if i posted but after owning a mare with serious attitude problems i deff have a preference of geldings over mares but id still own a mare.
I'd have to say Mares for Me!!! My mare would decide she wouldn't want to be ridden and wouldn't work, so we'd have to ride longer until she decided to shape up, but we were a TEAM on days when she was in a good mood!!! And I'll agree that they are really great around kids! She didn't really like her nose petted, but with this one girl at my barn, she would drop her head and the little girl would hug it!!! I like the challenge also, lol. I tend to get one too broke and have to sell/trade for something I can break when I have geldings. My mare would pitch a fit some times and i think we both loved it!
It really does depend. I actually prefer mares, just because (usually) they have a bit more spice to them. Most of the horses I've ridden have either been geldings or stallions. All of them GREAT horses. But I have to say that my most memorable rides are on the two mares that I've ridden. :P
I dunno... I like stallions best.
Quote:
Originally Posted by slightly crazy
I don't have a preference i find it depends more on the personality of the horse
Yeah, it's the personality, not the gender. I've had favorite mares and favorite geldings over the years. My mare right now is the sweetest. I seriously can't even tell when she goes into heat. =P