Need help: Picture
---
---
Grooming - The fine art of brushing the dirt from one's horse and applying it to your own body.
7, 10, 3, 2!!!!!!!
---
Sonny-13 yr. old Qurab Gelding
Have someone take pictures of you actually working him. Buyers like to see movement and not horses standing still. :) Also remember to buy an ad space and post several pictures. The more the better.
Will he hold a frame without the reins being held on the saddle?

Also like mentioned try to have someone take a pictures while you are riding. At the walk, trot and canter - Standing squared up from both sides would be a good idea too.

Good luck!
---
:: Karley ::
Tucker WB/TB- 11 yr
Speedy QH/TB- 22 yr
To be honest, none of those pictures do the horse justice at all. Especially the ones where the reins are pulling his head to the saddle. (It just looks very, well, mean.) I do like image three and ten because they show a bit of his personality, though.
When you're advertising a horse (or anything, for that matter), you want to make them look worth more than they are priced at.
Give him a bath, groom him until he shines, and take some nice, focused pictures to make him look attractive, yes? ~ Undersaddle shots would definitely get you more interest as well!
If you can, maybe take a video?
For comparision, these are some shots of Otis from 2006.
This is a conformation shot. The camera is perfectly parellel to his body so that his front or back end don't look bigger than they actually are. The background is attractive, not distracting, and has nice lighting and contrast. I only wish he didn't have a blanket rub on his shoulder!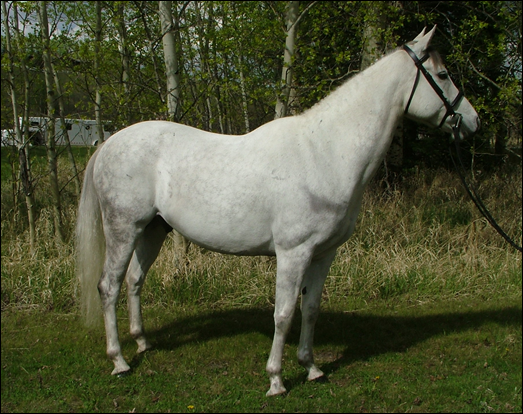 This shot shows off his nice shoulder, and give an air of his sweet personality. The background really contrasts with his colour, making for a very attractive picture.
Compare those shots to this one.
Same horse, same year. Very, very disracting and ugly background, and Otis is dirty and looking very dull. The camera was being held slightly sideways, giving the image an "off" look. This picture makes him look worth no more than five-hundred dollars.
All of the pictures were taken with a simple point-and-shoot Lumix, not a fancy camera.
If you need any help or ideas, I'm sure there's plenty of people on here than can give you tips, hm? Good luck with finding a leaser/buyer, and remember: a picture is worth a thousand words! <3
---
Last edited by dressagexlee; 01-02-2010 at

04:05 AM

.
i like most of them but 8 and 10 are my faves (one shows him being sat on and the other shows his face :))
---
Keep your feet on the ground when your head's in the clouds.
5, 8. 10 is cute but doesn't show the buyer anything useful.. Ideally, get a new picture! One of him moving, or squared up with no saddle (and no head strapped down). Get someone to toss some dirt in the air in front of him (a few feet/yards away) so that he perks his ears
get a new picture, maybe of him being ridden and trotting, or moving somehow. He just looks a bit dull in all but 10
---
<3*Vegans Have more fun*<3
Blaze- 8 yr old Chestnut TB
King- 4 yr old Black Shetland Pony
I agree with taking new pictures. It would look better with you standing and holding him, rather than having his head pulled back with the reins on his saddle.

If you had to use only those ones you posted I would use 5 and 10. He looks reasonably happy in those. He looks uncomfortable in the ones with the reins on the saddle and the two shots in just the halter do not do him justice. If you want one with someone on him, then use number 3 as well.

If you can only use one photo then number 5.