Opinion on OTTB's for an (experienced) first time horse owner
---
I am currently considering buying a horse, and I would very much like to get myself a project horse, specifically, an OTTB. Due to financial circumstances, I have never owned a horse before. I have leased several, and I have been riding for about 7 years, so I'm not a total novice. I have helped with the training of some of the green horses at my instructor's barn, and I am a very sensitive rider. I am looking to train a dressage/eventer. So, basically, my question is this: Do you think it is completely crazy to buy an OTTB for my first horse, despite the fact that I do have some experience (plus a trainer)?

Thank you.
If you have a trainer and know what you're getting into, no it's not crazy.
I own an OTTB, and when he was 5 weeks off the track, I rode him bareback in a halter (walk only, but still!) - he's that level-headed. Only once have I ever had a "holy *&%#!" moment with him, and that was when I was trying a bitless bridle, which he hated. Other than that, he has been an absolute dream to work with; he is the least spooky horse I have ever owned, hands down.
Now... there are some things to consider:
1) Many OTTBs do well with a lenghty period to just chill and be a horse. I haven't done terribly much with Denny in the past year, and I think that's been a benefit to his mind.
2) You sometimes have to treat an OTTB like a green horse. Sure, they know how to carry a rider, but many have no clue what leg means (leg on their sides might freak them out) and only have very basic steering... you have to train them from the ground up.
3) I wouldn't expect to jump an OTTB for a half year or more, depending on training.
There is a wonderful book out there called "Beyond the Track" that explains all this and more, I recommend you get this book if you're even considering buying an OTTB, it helped me tremendously:
http://www.horseandriderbooks.com/mm...&Category_Code
=
Just cause I can, here's my boy:
Racing days: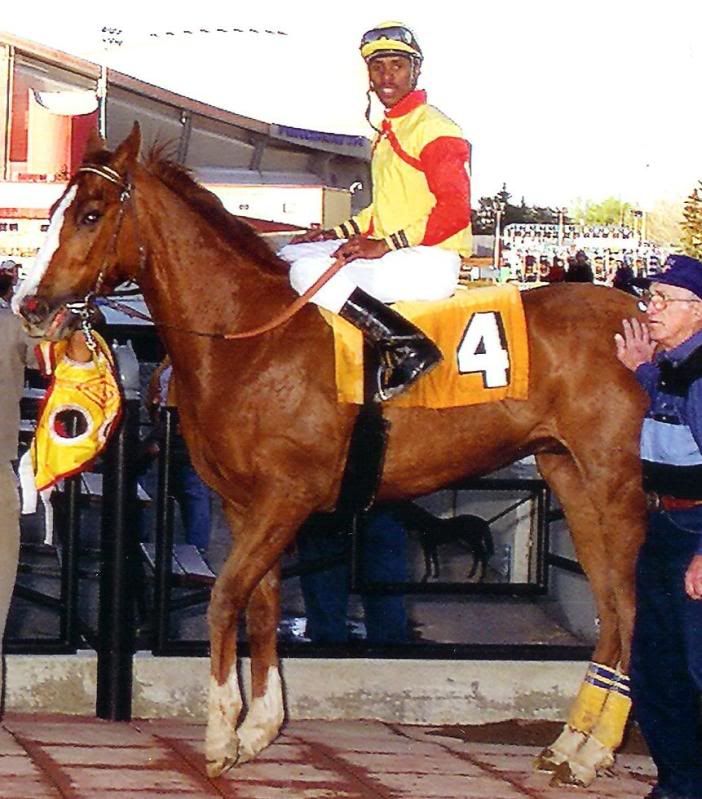 Now: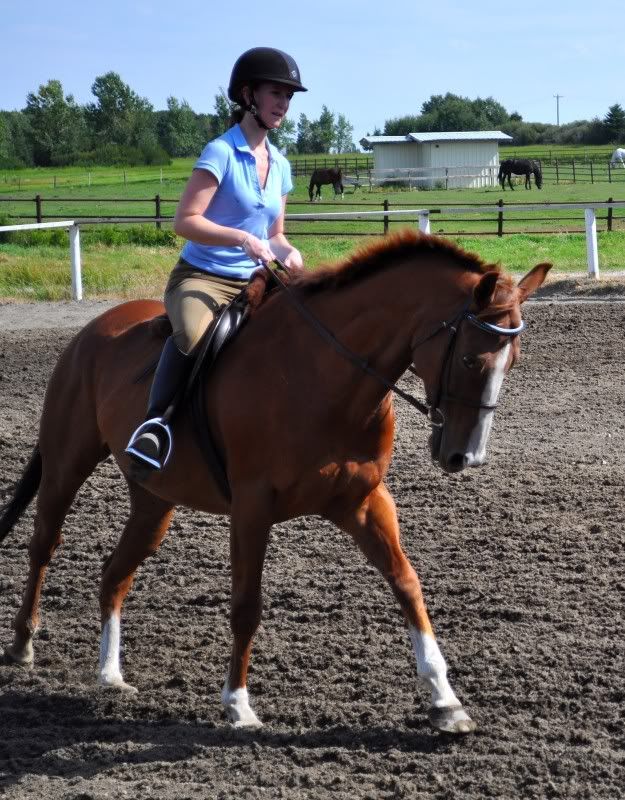 ---
The lovely images above provided by CVLC Photography cvlphotography.com
No not at all. I'm a first time horse owner as well, with an OTTB, and it really depends on the specific horse you find. I was very lucky.....Ice was broken in very well and knows about leg pressure, voice cues, and his transitions are easy. More than anything he's just stubborn as hell.

OTTB's will definitely teach you about the mental and emotional aspect of owning a horse more than the physical.
JustDressageIt - Your boy is lovely! He looks much happier in his new career, IMO.
I would not say that I'm a rock solid rider. I
can
get messed up, but when there's nothing weird going on, I have independent use of all my aids, and very good balance (as I said, I've been riding for 7 years, and I've only fallen twice, and that even includes riding out more than my fair share of bucking fits.) Right now I'm helping to get a green horse back into shape, and her bad down transitions completely throw me out of position - and me being out of position makes her bad down transitions worse. But hey, at least I know what I'm doing wrong, and tomorrow I'm taking a no-stirrups, no-reins lunge line lesson (on a more experienced horse) to help with my position, and (hopefully!) fix those down transitions.
Hopefully, posting this video will work. We'll see. It's a video of what I consider to be my absolute
worst
riding day ever. During this dressage test, I would say I had 0% control over the horse - but that must not be entirely true, since we did manage to get through the whole test fairly accurately, if not elegantly. I know I am doing some things in this video that are SO wrong, and I
PROMISE
I don't usually do them!!! (Example: All that jerking at 0:20!!!!) I don't usually try to fix a horse with my hands, but lack of control caused self-preservation to kick in, which makes it very hard for one's brain to convince their body to
push
a horse that is not listening, even though I know that's what I should be doing.
HTML Code:
<object width=

"425"

 height=

"344"

><param name=

"movie"

 value=

"http://www.youtube.com/v/Ps4vk-4yjG8&hl=en&fs=1&"

>

</param>

<param name=

"allowFullScreen"

 value=

"true"

>

</param>

<param name=

"allowscriptaccess"

 value=

"always"

>

</param>

<embed src=

"http://www.youtube.com/v/Ps4vk-4yjG8&hl=en&fs=1&"

 type=

"application/x-shockwave-flash"

 allowscriptaccess=

"always"

 allowfullscreen=

"true"

 width=

"425"

 height=

"344"

>

</embed>

</object>
I just want to make sure that I am at all qualified before I jump into this. I have seen a lot of people who have no business retraining an OTTB, and I don't want to be one of them. If ANYONE thinks I should wait, please tell me, because I will!
Thanks again.
If that is your worst ever, you have very little to worry about.
If you're working with a good trainer that feels confident in his or her ability to help you through the re-training process, you should be fine.
ETA - thank you
---
The lovely images above provided by CVLC Photography cvlphotography.com
Personally, I would say wait. Just my personal experience.

However, take my opinion with a grain of salt, as I am not a TB fan in anyway, so my opinion is a bit biased.
---
My parents purchased an OTTB mare when they started out in the horse business, lol she was such a mare! lol
my first horse was/is an ottb. he is 17 but still is a bit nutty at times. im retraining him for western. he was an eventer. so no i dont think its crazy to buy an ottb if you have a trainer.
---
~Erin~
~I'm an angel in Justin boots. I'm a devil in blue jeans. I'm every cowgirls nightmare. I'm every cowboys dream~