opinions on this horse?
---
Hi Horse Forum!
I wanted to get your opinions on this horse based on the info I have thus far. I am hopefully going to ride her this weekend. I am currently a little sour on trainers (I lost out on a horse I was considering in December and I'm really not sure why, but it seemed to go south when the trainers started talking on their own.. the rest is 'he said she said' & I really don't know) ..so I really want to keep more control over this transaction. Me and my horse friends are going down first (one has been riding for 30 years so hopefully he'll be our expert).
If I like her I have someone whose professional opinion I trust who I know will not get involved in the transfer who will look at her. If all good I would suggest a trial period and final sale contingent on vet check.
About me:
I am back in the saddle a year and a half ago (used to ride when i was young and remember not much, I'm 34 now) - Started with lessons & worked my way up to leasing (3x a week, 2 lessons 1 hack). I consider myself an advanced beginner, maybe starting to enter my intermediate phase. My goals are to get better at training, try some dressage, ride trails, and light jumping for fun. Maybe enter a school show. ride w/ my friends. learn more about horsemanship.
About "Kate":
Kate is a 16.2h 9 yr old Bay TB.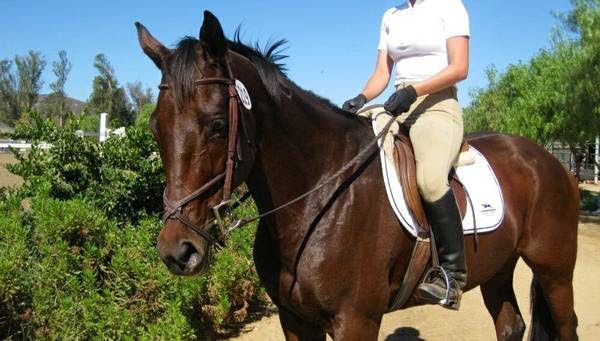 Owner Description:
"She is calm, sweet, and well behaved. Perfect on trails, cute movement, no spook, and fun to ride around in the arena. This is a great horse for someone who is a beginner/intermediate rider, or an experienced rider who wants a horse to train and show on. Kate jumps anything and is very athletic, and she has jumped courses up to 3 feet. Can easily go higher. Competed in her first 3 day show 2 months ago and was awesome! Jumped everything and went over the water jumps with no problem. Trailers, clips, ties, UTD on shots, fine away from home for overnight shows, no health issues, and sound." On the temperament scale, owner estimated she was a "3".

Video Links:
Show Jumping:
https://www.youtube.com/watch?v=-HQQ4imRRgM
Dressage 1:
https://www.youtube.com/watch?v=_FBQhCLgC-s
Flat work (w/ some jumps):
https://www.youtube.com/watch?v=6Fq9gDDkpkA
And of course there's price.. but why don't I not tell you and you guess what a good price for her would be ? could be fun... Los Angeles / Orange County area.
I get 'good vibes' from the owner that she really cares about her horses and that they have been her projects she's put a lot of time and money into them. I believe Kate was an ex-racehorse and has been under owners care for years receiving lots of love, rehab and training.
This is what I have right now... thanks in advance!
Wow what a pretty tail. I like that the horse seems very versatile. I don't like that the horse is fighting with the rider over the reins or vice versa?


If you like half-way like this horse, go check her out and report back. A lot of times the youtube videos and photos are out of date and when you meet the horse in person, it will look different and act/ride different than in the video.
She is certainly a willing jumper, and she has the "jumping bump" on her HQ's. Agreed that she's fighting the bit, but you could fix that with flatwork. She is overflexed in the flatwork video, which suggests that she's evading the contact. THAT will only get worse and your control with get much harder over time if you don't correct it.
I would want to by a HJ/D prospect already started, myself, like this one, but she needs more CORRECT flatwork. If you can do that and she passes a Vet check AND the $ fits, go for it. =D
As an aside, I WISH--coming from a filmmakers point of view--that these videos were not taken by amateurs. =/ I think you could sell more product if you got someone halfway decent with at LEAST a tripod!
agreed on the filming.. ! i will see the real thing Saturday and take my own video. I think she's pricey but the owner is negotiable for a good home.

Yes, I can see where she is fighting a with the bit, thank you for pointing that out. I will likely need trainer guidance on working w/ her to help her through that and that's good to keep in mind.

The owner is very excited about how 'bendy' she is - but I can also see your point about over-bending too.

It'll be great to walk in there Saturday with your critiques already in my mind. I think she's very pretty, but my main question is if we are a good match based on my experience and what I can do w/ her & her temperament and responsiveness to me. I think that my potential horse should present a few challenges to me, but appropriate to my level of riding and nothing unsafe or insurmountable. I want to set myself up to win in the end.
Not a real fan of this horse for anyone who has a problem with very green very hot horses. She has a short neck, but uses it well. she seems a little bit downhill in the photo, but it may be deceptive. She is very green in her jumping and the rider is doing her no favors. She doesn't adjust her stride at all (or wasn't asked to). She needs significant training.

About her tail. It has a problem, it seems. She has a fake tail, and her real tail looks very thin and short. I raise this because there are horses who rub their tails and do a lot of damage to them. Some from mites, fungus, boredom or allergies. I have a student whose pony has rubbed ALL of the hair off and the dock is bare due to severe allergies. I would inquire and ask for a photo without the fake tail. It can really impact the value if you are going hunters. Eventing? not so much.
fake tail?! I've never heard of that, but I did notice particularly in the dressage video, part of her tail was very short and it was a little unusual. Actually now that I look at the flat video she does not have the fake tail in and you can see the true length of her tail. good eye. her mane also looks very short so not sure if it's a problem or just how it is, but i will inquire about it.

very hot and very green huh? I don't love that opinion but I appreciate it. I did notice her willingness to jump and be forward, but on the flat video she looked more contained and fine. The owner's description and opinion also seemed to indicate she was a little more calm (of course we all know to take the owner's thoughts with a grain of salt ;) )
Yes-she definitely needs a new hairdresser. Bad extensions.
I am not so much of a H/J person anymore, but she does look strong over fences for sure. One of mine was like that, and I found it hard to correct. Because of that I would also not think she would be suitable for you to learn to jump on. Make sure you take your trainer. I think this horse may just be to much for you. Sorry.
---
Signature undergoing edits. Please standby.......
LA OC... lol... bet they are asking at least 8grand probably more like 15 G for her.
the prices are usually very high in the OC
LOL, I kept getting distracted by that horrible fake tail
.
Anyway, she seems like a sweet, inexperienced horse. She's definitely a handful on the jumping course and would need pretty significant re-training to be suitable for an advanced beginner (if she ever would be). There are other things in her training that need work too, starting with the evading problem on the flat.
Because of the need for professional re-training, I would want her price to be relatively low since you're going to have to put money on training as soon as you get her. But, as for actual price, I won't even venture a guess because the horse market here is very different. Not much market at all for an English horse.
---
Always remember that feeling of looking at a big, open country over the ears of a good horse, seeing a new trail unwind ahead of you, and that ever-spectacular view from the top of the ridge!!! Follow my training blog:
http://robertsontraining.blogspot.com/
Oh my gosh, her poor tail! I feel like they didn't even try to put it in properly for the dressage video hahaha. I agree, ask about how she got her tail like that- could be medical issues?

I agree with a lot of what has been said already, she seems to have developed some habits that haven't exactly been aided if she's been in training for as long as they said she has been. Her (the horse) jumping is very green and she shouldn't have been schooled that high with her technique, it seemed she barely knew how to get over the jump and I'm surprise there weren't more faults in that round. I'm very concerned with the fact she is schooled 3', it might not seem high, but if she is jumping low jumps that poorly, I would hate to see how she went around something higher.

She defiantly needs a lot of time spent on flatwork and learning to work with the rider instead of against them. I'd expect in that area for her price to be high, but her training and level are probably well below that price. She might excel with more training, but I'm not too fond of how she is put together and how she is naturally taking these jumps (since I wouldn't say much training has been put to change her natural jump). I think with a lot of work she would calm down and do well though- but again, that's a lot of time and training you would need access to.