Picking him up on Sunday for a week trial...
---
We have been considering getting a second horse that both my total beginner husband and 9 yr old step-daughter can ride. I found this horse and am wondering if the price is right. We are going to trial him for a week.
Wondering what you would expect to pay for a horse fitting this description in your area...please remember to give your general location!
14 yr old, AQHA registered gelding, Chilled Champaigne (would love to hear what you think about his lines...I don't know anything about it!)
Palomino, 14.3 hh
Trail ridden for 5 years by total beginner husband, goes through everything.
Used as lesson horse for past year, western and english
Neck reins, responds to leg pressure and bit pressure.
WTC, small jumps
Did well at recent dressage show
Barefoot
No illness/injury in past 5-6 yrs (since she has had him)
Very respectful of rider
Perfect ground manners
Assuming he has decent confo, hard to tell from photos
Watched a video of a 4 yr old riding him...he was very gentle!
And handsome too!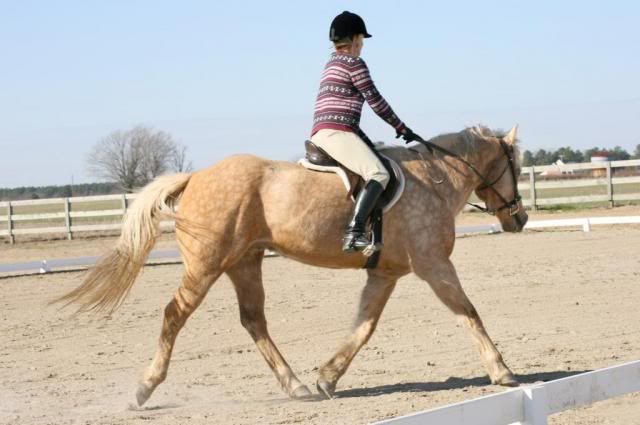 I really like him. He is so cute. His colouring is gorgeous and he seems to have a nice build, although his back looked long to me in that last picture. He seems to be at a perfect weight and he has nice extension in his legs. Cannon bones a bit short? 14 years old, that is a really nice age for a beginner horse. He seems like a well-rounded guy with nice manners. Very happy looking and friendly with his ears forward. If you don't mind me asking, how much are they asking for him?
---
"'For I know the plans I have for you,' declares the Lord. 'Plans to prosper you and not to harm you, plans to give you a hope and a future'" ~ Jeremiah 29:11
That is a great age and size for an "anyone can ride" horse. Beautiful color and head, his back may be a little long. It's hard to see the rest but I would buy him. Due to poor selling prices down south and with winter coming, I would value him at about $1,500 (that is retail, if I was going to resell him I couldn't pay more then $800).

The only negative thing I see is that his riders wear funny things on their faces.
---
I'm not arguing with you, I'm just explaining why I'm right.

Nothing sucks more than that moment during an argument when you realize you're wrong.

It's not always what you say but what they hear.

JB, I wanted to see what everyone else thought before I tell how much they are offering! You'll find out!

IRide, it is odd that those riders are wearing silly masks!
I hadn't even thought of the fact that people are trying to get rid of horses before winter will drive prices down. Thanks for bringing that up!
Completely depends on your area. Around here you could get about $4000-$5000 for a horse like that! A beginner friendly trail/dressage/jumping horse is worth its weight in gold, especially if its cute. I don't know if they board or keep their horses on their place, but most people who board don't care about winter coming. Board prices generally stay the same year round. In fact, with the show people around here the market goes way up in the fall with the end of the show season (everyone's selling their horses at the end of the year and looking for the new horse for the next season)
Upnover, I totally agree it depends on the area. I am just wondering what he could get in the different areas we have represented here on the board. He is currently owned by someone who runs their own horse farm, so I am sure feeding him over the winter might be a concern...but I do understand about boarders not caring about feeding for winter. That would be me!
a packer like that would easily go for $2500-4500 in Georgia...more if it were springtime - and close to show season.
---
kickshaw
Justin (qh/tb)
Boo (asb)
Well, he is in central North Carolina and is selling for 2500. I tried to compare his age and experience on equine.com but couldn't find any local horses with similar stats....so not sure how accurately he is priced. I am inclined to think though if he is everything I am told, he is worth the 2500 though. I have got to say, I am super excited!
I'd be excited too. He sounds like a real steady eddy plus it will be nice that your husband will be riding too.
Sorry can't help you out on price. Been too long since I was in the market. He looks sweet though
---

"Until one has loved an animal, part of one's soul remains unawakened..."
- Anatole France
Vida, I realllllly hope he is as sweet as he looks! I will know soon!