Registered Appaloosas (in Missouri) need homes...
---
By default, I have been given the difficult task of rehoming 20 Appaloosas. Long story short, a friend passed away recently, leaving behind her once-famous (seriously) herd of horses. Sadly, they've fallen into somewhat of poor condition in the past few years. Her widowed husband wants to dispense with many of them, but wants to find them good homes.
Some are for sale at very reasonable prices, and others will be free to good homes. All are well-bred, ApHC registered (except, of course, the mule and a half-Percheron PMU mare), and average to superior in the conformation department.
What I have:
Two teenage ApHC stallions, very well-bred, supposedly broke to ride but not handled in years, nice horses who have produced well--for sale at $1000 each, probably OBO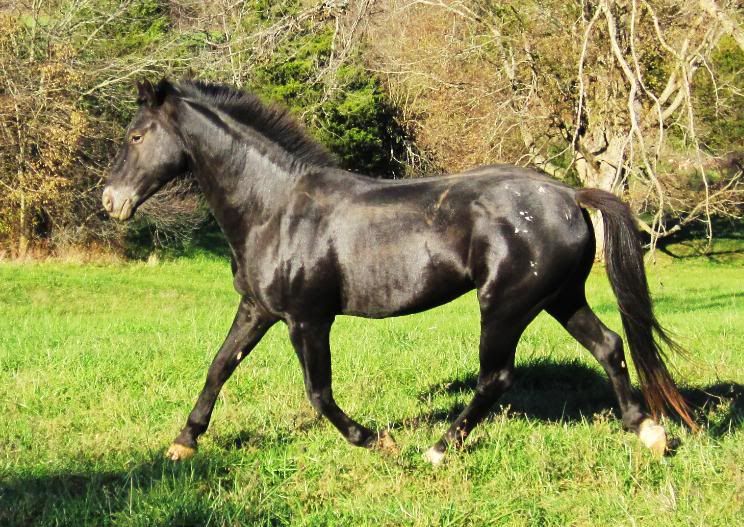 An Appaloosa mule gelding, about 14hh, 16 years old, broke to ride, FAT, SMART, escape artist extraordinaire, needs a few come-to-Jesus lessons, free to good home
A 5-year-old varnish roan mare, pretty, excellent conformation, green broke to ride, gentle and spook-proof under saddle, dangerous pulling-back behavior on the ground that will need an experienced and confident handler, price very negotiable to someone willing to deal with her
A 9yo fewspot gelding, tall, pretty, well broke, dressage/jumper potential, great conformation, official price $1750 but can come down significantly
A 7yo spotted/roan mare, big, attractive, very fat, sound, clean mover, well broke but needs finishing, could be a good trail horse or jill of all trades, price $1500, again very much OBO
A 6yo fewspot gelding, ugly but good enough conformation, very smart, playful, willing, broke but needs finishing, funny but very smooth mover, could be nice gymkhana horse, price $800 OBO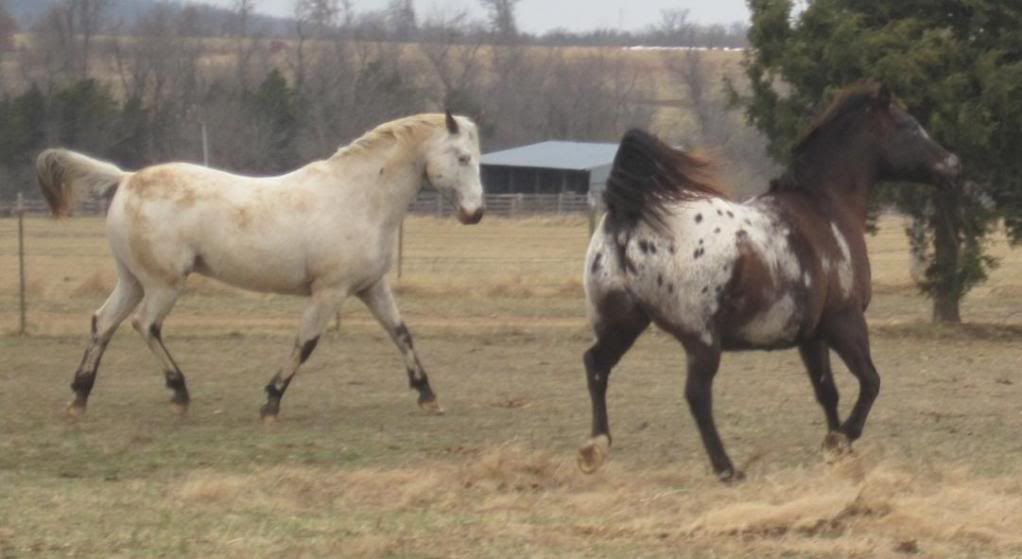 A 9yo bay w/ characteristics mare, has had a foal, sound, very fat, good mover, broke but needs some finishing, could be a cute English horse, price $1200 OBO
An assortment of previously-foundered but
currently
(perfectly to serviceably) sound horses, ranging in age from 10-19, used for giving lessons, very gentle, extremely overweight, all colored Apps with very good conformation, some Araloosas but all ApHC registered, some proven broodmares, one is going blind from uveitis, could be lesson horses or trail horses again with veterinary work (and maintenance) and a short refresher course in riding, some actually do ride quite nicely (responsive, smooth, gentle) but will need a strict diet and the care given a laminitis-prone horse, and could use more "life experience" and exposure to new things before being kids/trail horses--priced cheap to "free to good home"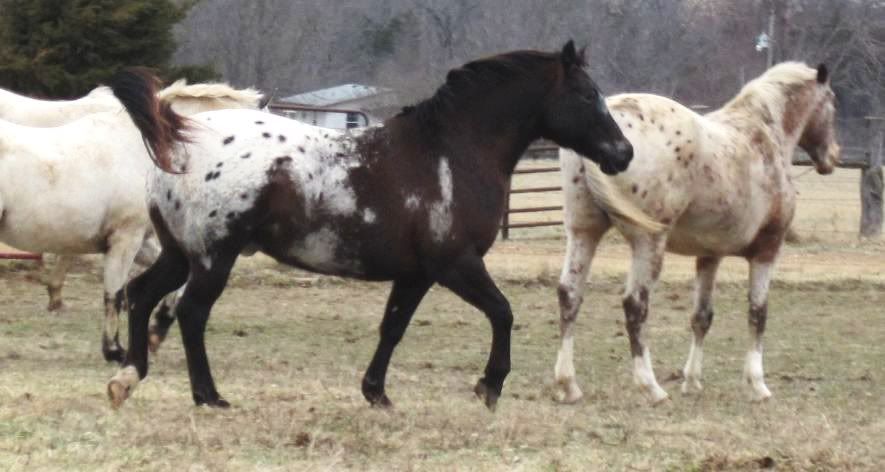 A few broke but currently lame horses who may or may not return to useable soundness with veterinary/farrier care. Some foundered, one with an old tendon bow that was never treated. Need special homes, obviously they will be free to "adopters."
I don't want to post actual pedigrees/contact information/videos on the main forum for reasons of the owner's privacy, but will gladly answer any PM inquiries.
Pictures, videos, and lineage for all of these horses will be available.
They are located in SW MO.
That 9 year old few spot would fit right in here, nice prospect, I'm glad that you are so far away or I would be seriously trying to make some room here
I'm drooling over that one black stallion. Unfortunately, I'm looking for a young eventing prospect, but my is he gorgeous.
---
"The art of riding is keeping a *horse* between you and the ground."
Wow! Now those are some very nice horses. I agree that it is a good thing that you are so far away. I would be pleading with FD for that black Stud...who would have to lose something to stay with me anyways. Oh and the big white few spot fella...I've tried very hard to tell myself there must be a flaw in his conformation...I haven't seen one yet. Even the 'ugly' guy is beautiful!
The ugly guy is ugly A) because I don't like Appaloosa eyes / pink skin and B) because he ran headfirst into a fence (or something--don't think he got kicked as he was turned out by himself) and did a very good job of bashing his face in. There's a giant divot between his eyes. Doesn't affect anything beyond aesthetics, of course, but it's most unappealing.

You won't find many conformation flaws among many of these horses. They're just fat and in a semi-neglected state. Proper care and conditioning could bring many of them back.
One of the school horses, 12yo gelding, 16+ hands.
How far from Agusta GA. Please tell me.
---
live for the moment.
Looks like about 800 miles, depending on route.
Just got an email saying the mule needs to go, like, yesterday. He's been with the horses for years, and I believe he's been out with the mares while they were foaling (but I'd have to check) and he's great with them. He will defend the herd. You'll need a very strong fence, though. Anyone know anybody who might be interested?
I don't usually go for Appy's but my oh my is that one stunning school horse.

I wish I could give the mule a place to stay. He sounds to have typical mule behavior...lol