Thoroughbred Mare, All Around English Prospect | Near Calgary, Alberta
---
Popping into the ol' forum to advertise for a friend. If you or anyone you know is seriously interested, please give this lovely mare a chance! Feel free to ask me questions and I will answer as much as I am sure of, but please inquire via phone to Cerissa.
— 2004 bay off-track thoroughbred mare, standing at 16.2hh, seeks condfident and quiet rider to bring to full potential. Chinnook Wind possesses a willingness to work and is enjoyable to be around. She has been lightly started over fences, and her flatwork is developing nicely. She shows potential for eventing, hunter/jumper, or a good all around horse. Chinnook is physically sound, stands well for the farrier and vet, bathes and trailers problem free, and exhibits no vices. She possesses an intelligent mind, a willingness to learn, and a good work ethic. Chinnook has been stalled but prefers living outside in a herd environment. Chinnook is well bred with good conformation and could be considered for breeding, now or in the future. Selling due to owner's time constraints.
Asking $4000, or best offer.
Inquires MUST be made via phone, as owner does not have an email.
Serious inquiries only, contact Cerissa: 403-949-4478
Pedigree:
http://www.pedigreequery.com/chinnook+wind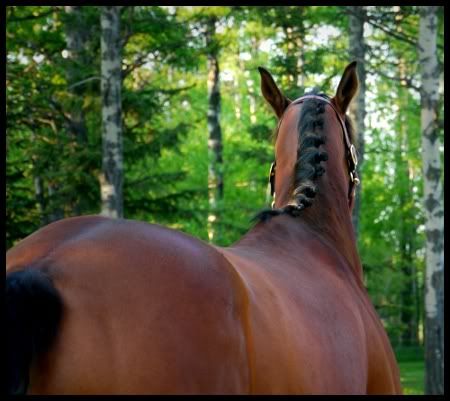 ---
Last edited by dressagexlee; 08-10-2011 at

02:37 AM

.
Wow this mare is absolutely gorgeous! Wish I lived closer, but with the comformation this mare has and for the price she is being offered at..you should NO problem finding a great home for her.
Beautiful girl, sadly out of my league at the moment.

I have to say though, as a potential buyer, I read the words and think that she is quiet and easy to handle, and then I look at the pictures and once I have admired how nice she is I thin start wondering why she is pictured with a chain over her nose, that starts ringing alarm bells for me.
I cannot say that I know Chinnook as well as her owner or rider, but I have worked with her a few times and she is still green. I did not write the ad, but from my personal perspective (which I'm not sure has a meritable place here), she is very sweet and quiet, but she still has a young mind and does need further training on the ground.
I am the photographer, and I did take these pictures. My sister and I spent a couple of hours cleaning her up and she was, understandably, a little frazzled with us fussing over her. Having good experience with chains on off-trackers in the past, we popped one on her and just having it there calmed her down (for track-babies, it's almost like a security blanket). I see now it is a bit of a turn-off, and it's our mistake for not thinking clearly. Thank you for pointing it out - any perspectives and opinions are really helpful for marketing this horse and any that we market in the future. ~

I think I will take new photos when I next get the chance. She looks a little silly in the third photo anyways!