It's not frizzy, just unbelievably thick, but I'll try it after I shower tonight haha
My show helmet is just a little big, maybe a size or two. That way I can do like Jumper12 said comfertably :p It's not like I'll get a whole lot of protection anyway with my hair all up in there :/ I've always hated that rule - comprimises safety!! Anywho, I have like, the thickest hair alive ... So try that :p Of course, my schooling helmet fits perfectly :)
---
~ When I Die, Remember Me By My Horses ~
* Because They Are Responsible *
.: For Letting Me Live :. (c) xJumperx
I have very long hair, too.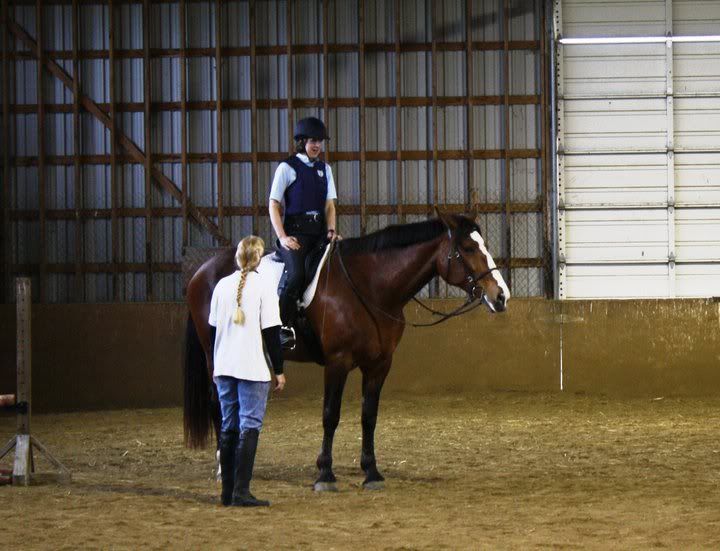 I braid it tightly, then take the end and put it on the top of my head. I pull my helmet on over the braid (my helmet is a half size big...not so much as to be a sloppy fit). It may have a small loop at the back of the helmet, which looks kind of like a bun, but neater. Sorry, I don't stand in front of a camera much, so don't have a pic of how it looks.
I just cut my hair really short soley for the purpose of being able to pile my hair under my helmet. I'm also getting a Charles Owen helmet soon, and when I got fitted for it, they made it so that it would work with all of my hair.

It's rather ridiculous, and personally I think that the whole putting the hair over the top of your ears thing is ridiculous and tacky. But, hey, whatever's trending, right? xD
---
Never underestimate the power of human stupidity. – Robert A. Heinlein
Well I can't get a new helmet and mine fits with my hair out not in so I have to find some way to work with it I guess!
Posted via Mobile Device
Helmets weren't designed to have your hair piled up on top of your head. The fit isn't correct.

I french braid my hair, cover it with a hairnet to keep the wisps that always escape in. The braid is done up like a hunter braid with a clip/net combo like you posted. It's not this bun that hangs down my back, but looks like a little button under the back of my helmet.

Your appearance needs to be neat, but it should also be safe. As long as you don't look disheveled or have a ponytail hanging out the back you should fall within the guidelines.
---
If your horse says no, you either asked the wrong question or asked the question wrong

And God took a handful of southerly wind, blew His breath over it and created the horse
when i got my helmet i found one that fit with my hair in it, and it still fits great, really snug but not to the point where my head is being squeezed to death or anything. im not a fan of the getting one a few sizes too big to have room to stuff your hair into it. then its not necessarily going to fit right and if you usually wear your hair down it will be too loose most of the time. i just got mine fit for how i intended to ride in it, with my hair up.
i used to do the braid thing where you just have your hair in a french braid and fold it up but now i do the more "hunter" type hairstyle i described before and it seems to work well. i dont have super long hair though, like shoulder length and average thickness.
---
My mare= My life <3
Yeah I agree, the braid is the way to go. If a little damp when you braid it won't be all fly away when you take off your hat in between classes. ;)
Couple pics of my hair to give you an idea...I'm on the left in the group photo...
Posted via Mobile Device
---
"The times when you have seen only one set of footprints in the sand, is when I carried you..."
Hmmm don't think those pics went through lol
Posted via Mobile Device