What kind of headset?
---
Okay, so I have been doing the jumpers when I show, and I haven't looked at doing the hunters in 7 years now. I own my own horse now and haven't been taking lessons with a trainer (my friend has been helping me out who does the eq and hunters), but I want to know what kind of headset I need for my horse in the hunters? Like low and flat, hunched over and awkward, etc? Pictures will help me the best!! (This included hunter hack)
-
If you were wondering why I'm switching from the dark side(jumpers) over to the hunters, it's because my horse cant handle the stress of high jumps in the jumper ring. When I bring him down in the hunters, he can relax a little more, but I'm just afraid the judges won't like him.
I only switched to the jumpers for one reason, time is more fair than a judge.
Give me ALL your input please, I haven't shown in anything but the jumpers in 6 years. I'm glad to switch over and continue showing with my Appaloosa.
---
One day, I said you would be mine... And I was right.
I would personally get these two books:
Geoff Teall on Riding Hunters, Jumpers, and Equitation: Develop a Winning Style, and
The Complete Guide to Hunter Seat Training, Showing, and Judging: On the Flat and Over Fences
.
For my capstone I chose to train my Jumper mare to do Hunters and these two books helped a lot in getting her to the desired Hunt Seat horse look. The judges like seeing a horse that has an effortless look about him, they don't like seeing horses heads low to the ground, so their topline should be level (meaning their poll must be level with their neck which must be level with their back and croup)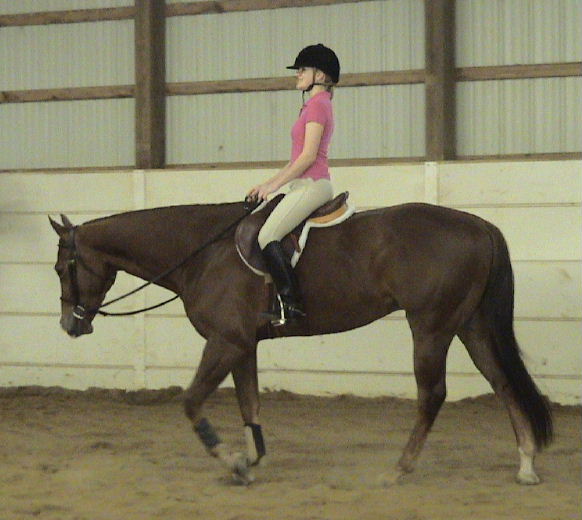 Other exercises you could look into are; getting your horse long and low (helps lower their head set but also stretch through the back and use their hindquarters more), stretching and collecting (like half halts etc). Doing Dressage exercises will help a lot too.
Here's a before and after video of my mare when I got her to lower her head and stretch:
https://www.youtube.com/watch?v=LYbi...ature=youtu.be
Hunters are amazing! Have Fun!
If you're thinking of doing USEF style hunters, I wouldn't worry about or aim for a specific "head set". I saw that you noted having an Appy, so if you're thinking of breed show hunters that's a bit different. For the USEF hunters, I've shown at AA shows all over the country and there is variability in how the horses carry themselves, based on conformation, how they're ridden to best show off their gaits, etc. I've never focused on where my horse's head is. What you do want is a horse that is reaching into light contact, loose through his back and driving from behind. Hunters often have a similar frame to a training level dressage horse. The very low heads that you see on stock breed horses wouldn't be rewarded at USEF shows.