What is your desktop BG?
---
Post your desktop BGs here!
I think all you have to do is hit print screen, go to paint and paste it.
Twilightarabians made it for me!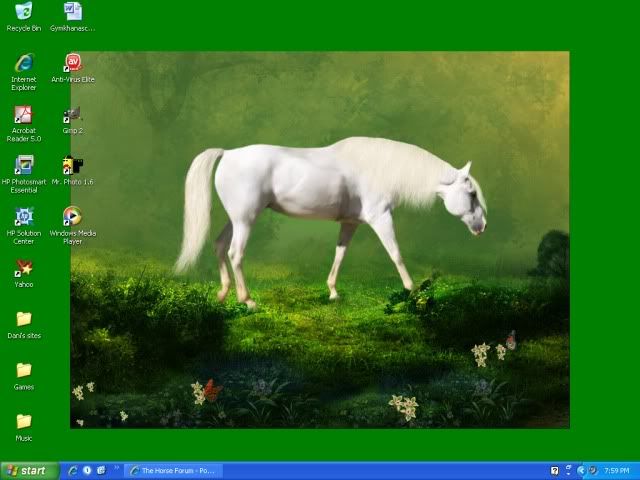 ---
RIP Minnie, 1981-January 15, 2010
RIP Maggie Mae I miss you
This is my trainer's baby that was born this morning. He is soo cute.
I have Windows 7 and use a desktop slideshow =D
I have tons and tons of pictures of my horse that shuffle every 30 seconds. I love it! Sometimes I just sit and watch it for awhile and think "God, he's handsome!"
Hehe
its me and my man :)
---
This rather nice artwork of Atlantis from Stargate Atlantis
---
"Did I not just use the word 'puzzling'?"

I am in the middle of another Rafe kick so here is my darling.
He looks almost like a full grown horse in this pic.
---
Always remember that feeling of looking at a big, open country over the ears of a good horse, seeing a new trail unwind ahead of you, and that ever-spectacular view from the top of the ridge!!! Follow my training blog:
http://robertsontraining.blogspot.com/
my granddaughter
---
I am concerned for the security of our great Nation; not so much because of any threat from without, but because of the insidious forces working from within.
Douglas MacArthur
Banned
Join Date: Jul 2009
Location: In a land far far away, or so I wish.
Posts: 12,825
• Horses: 0
Quote:
Post your desktop BGs here!
BG? Not sure what that means.
Quote:
BG? Not sure what that means.
BG...background
Here's mine...I'm not smart enough to do it your way so I'm post posting the pic here lol.
---
To see the wind's power, the rain's cleansing, and the sun's radiant life, one need only to look at the horse.
A field view with a horse and a cow from a farm of one of my relatives.
---
"On hyviä vuosia, kauniita muistoja, mutta kuitenkaan, en saata unohtaa,
Että koskaan en ole yksin, varjo seuraa onneain.
Vaikka myrsky hetkeksi tyyntyykin, varjo seuraa onneain.
Ja pian taas uusin hönkäyksin, varjo seuraa onneain.
Hei tuu mun luo, pieneksi hetkeksi. Puhutaan, varjoni, valkoiseksi enkeliksi."
Pelle Miljoona - Varjo seuraa onneain