Beau and I - Video from WWRC Show
---
Edit: trying to figure this out.. how do you post a youtube video? x.o
---
Fly Without Wings
---
Last edited by Ne0n Zero; 09-22-2009 at

04:57 PM

.
You copy and paste the URL into the text box. :) Hope to see that video soon!!!
---
You can never take a Thoroughbred away from a horse crazy girl.
Lol no, I mean post it so that you don't have to follow a link..
---
Fly Without Wings
Oh well okay, this works too I suppose.
Beau and I doing Gambler's Choice at the WWRC Show. For those of you who don't know, Gambler's Choice is where each jump is worth a certain amount of points and you hit as many jumps as you can, as fast as you can. The jump at the very end is called the Joker, and it was 3 inches higher. You aren't allowed to hit that in your round until the end. It was also raining almost all day so the arena was super muddy.. we didn't go nearly as fast as he could, but his safety is much more important than a ribbon.
We ended up placing 4th in this. (: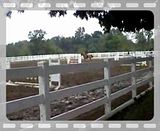 ---
Fly Without Wings
---
Last edited by Ne0n Zero; 09-23-2009 at

11:28 AM

.
Not showing up, atleast for me.
---
"The ideal horseman has the courage of a lion, the patience of a saint, and the hands of a woman..."