Lol. I have been told that i have the same face expression as my horse!!!
---
Showjumping Rules. I love my little Pony Ladhi
I just about died with the rambo rider thing!
---
~Horses aren't a hobby, they are a lifestyle.
Website
hahah mines not jumping but we were doing a spanish thing where you have to canter under the thing you can see in front of me and use a stick to get a ribbon thats hanging down slightly and furia decided to say no and did a very swift u turn hahah i dont know how i stayed on!!!
ooops sorry i thought you could see the poles in this pic must be another one hah but anyway its two big poles and a piece of wire covered in hose pipe with the ribbons wraped around it lol
Green Broke
Join Date: Oct 2009
Location: Witbank, South Africa
Posts: 2,681
• Horses:
2
---
Every girl wants their own LOVE STORY, I found mine... :)
Weanling
Join Date: Feb 2010
Location: Bunbury, Western Australia
Posts: 323
• Horses:
1
this is after my horse had 1 month off coz i was really sick and then he was lame and then we got out there and i was thinking "what is wrong with me, i should be doing a higher grade, bigger speed bumps" an probally saying the whole way around "woooo,crap, wooooooo, crap"
1718_1124_6213.jpg
this one is "thank god he jumped it"
1890_0046_0062.jpg
---
:::THIRD TIME A CHARM:::
Elly ::: Diam ::: Ozzie
~~~Introducing Barney~~~
Quote:
Not my face...but Danni's face is FULL of concentration here!!! Lol!!!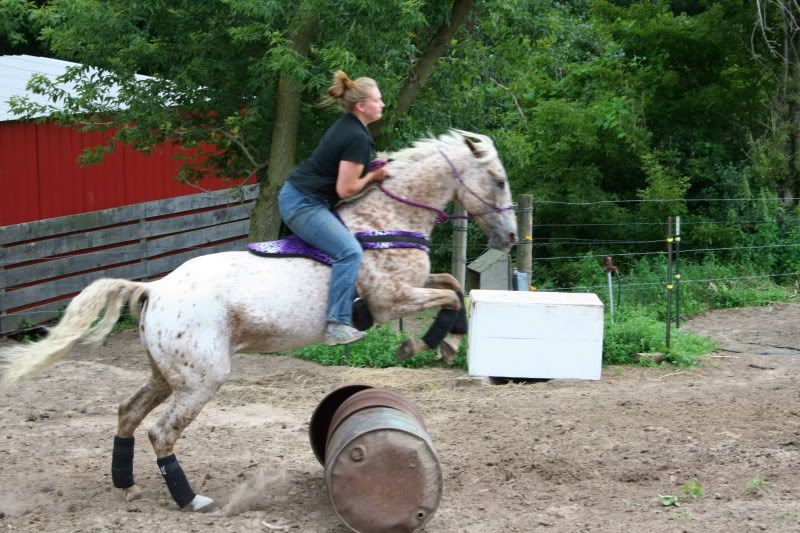 OH MY GOODNESS! I LOVE your bareback pad!
---
If you love something, set it free
If it comes back it's yours
If it doesn't, it never was