Can she jump atleast 2 ft?
---
Well my trainer is a certified trainer in dressage and jumping. Anyways,I bring Gidget to my lessons sometimes and I was wondering if I could jump Gidget atleast 2 ft. I was wondering what the jumpers thought on this forum but in the end I guess it all depends on the vet perpective.
Gidget is calf kneed....here is a confo shot..yes,she is tech. an extra large pony and I know she won't be jumping super tall jumps but I just want to practice with her. My little arab filly won't be broke till she is 3 yrs old. She has decent confo and nice legs and will jump her for fun when she is older and endurance....thoughts?
this is the most recent picture i have
Last summer...see her knees..they are like..backwards..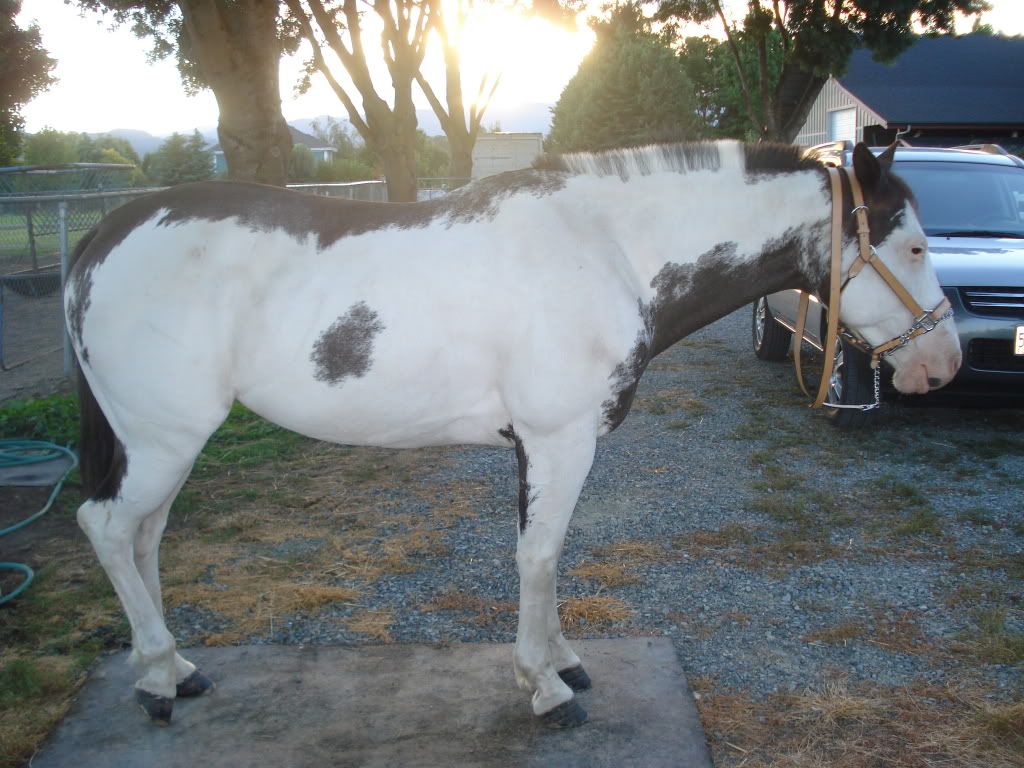 i think so, shes built very similar to my paint. And he jumps 3'6" in competitions.
I am trying to ignore that they are colored similar as well, but they could be twins conformationaly. Except my jut has turned out front legs and a tiny head.

who is the sire of your horse? and does she have brown eyes?
i cant find any other medicine cap paints with brown eyes.
Any happy, healthy and well trained horse can jump as high as they'd like. So of course she can!
Green Broke
Join Date: Aug 2010
Location: Southwestern Ontario, Canada
Posts: 3,324
• Horses: 0
Two feet really isn't that high at all. Its 2 rulers.

I would be more concerned about where she might top out at, rather then the starting height.
Posted via Mobile Device
My cat can jump 2'. Up until 3', jumping is pretty much cake for most horses. She's got a nice shoulder but short legs, so it's anyone's guess where her max is.
---
You just have to see your distance...you don't have to like it.
lol,yes,she short legs. She's not exactly someone's ideal jumping horse :P

I board over with my mom and she has some really nice jumps so I set them up to 8 inches today to see if she was willing to trot over them and she did so I cantered her and she tucked her legs up nicely my mom said..now...I don't know about my position. I do know when I do half seat my horse puts her head down...anyone know why?..it's not like down down but a little past level.


I actually have no clue who her sire is =( I've been looking and searching for who he might be. She has brown eyes :)
Almost any sound, sane horse should be able to jump 2' with ease.
Just as a grammatical (spelling?) point: at least is two words ;)
Posted via Mobile Device
Oh okay so if I get comfortable with 2 ft eventually do you think higher jumps will be fine? I was just worried about her being calf kneed. She has no hesitations jumping over the little ones I set up. She seemed to enjoy it atleast for the most part..something new :)
almost any horse can jump, if they are sound, and they trust you enough. before you jump your horse, you want to do a lot of ground work with trotting poles. once your horse is okay with them, make a very small crossrail, and just walk the horse over it a couple of times to make sure the horse isnt scared of it. once the horse is okay with the jump, start off with a very slow collected trot, and see if the horse will jump it. make sure to use pretty looose rein, so the horse will learn to stretch his/her neck over fences. once you are set with crossrails, (w/t/c over crossrails, and courses of crossrails) then raise the jump every time you ride the horse little by little. it all depends on the horse. some horses hate jumps, and some have problems in their joints and cant jump. just make sure not to jump the horse to high all the time, because it is bad on a horses legs. give her a break from jumping if she is doing well with training. make sure you are advanced enough to teaach the horse how to jump!

beautiful horse by the way!
Thank you =D

I have a trainer who will be helping me with learning to jump and teach her as well. I played around with trotting poles and cross poles and she does fine with those. If she feels insecure about something I slowly introduce her to it and when she feels comfortable with it then we will be ready.I won't push her to do something that is scary at first as it will be a bad experience for her and may result in an accident.