Clover jumping
---
My mare jumping on Sunday over excited in the warm up but after alot of work!! She did a lovely steady double clear in the British novice not fast enough for a placing but thats not a bad thing as it meens longer in the class..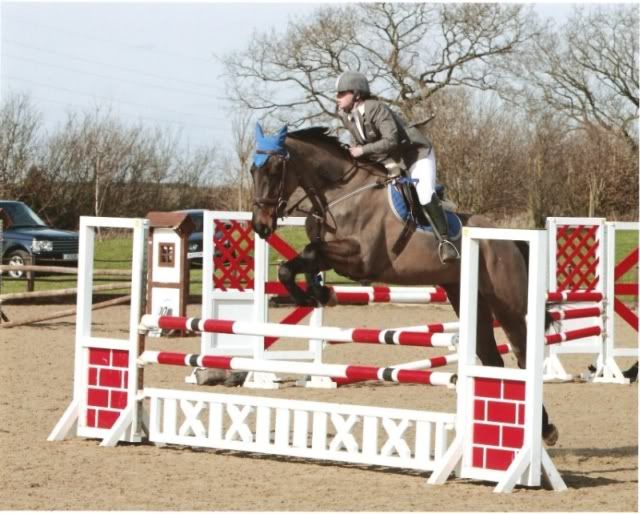 Also from 2 weeks ago at Addington had one down in the jump off as she set off into fence 11 too fast!!
Opinions welcome.. planning to jump her in the Discovery next show which is 1.00m in the 1st round and 1.10m in the jump off..
Green Broke
Join Date: Apr 2009
Location: Queensland, Australia.
Posts: 4,488
• Horses:
1
Aww you to look good together
I love the blue!
---
Sir Success. Eventer.
2000 - 2013,

brilliant pictures, shes a pretty girl
---
Keep your feet on the ground when your head's in the clouds.
Weanling
Join Date: Apr 2009
Location: Childers Queensland Australia
Posts: 531
• Horses:
4
great pics
---
Crystal paint QH ASH Arab mare. Angel bay Brumby mare, Clyde bay clydie cross gelding, Gerry white welshie gelding.
Awesome pics and looks like a lot of fun
.
---
"On hyviä vuosia, kauniita muistoja, mutta kuitenkaan, en saata unohtaa,
Että koskaan en ole yksin, varjo seuraa onneain.
Vaikka myrsky hetkeksi tyyntyykin, varjo seuraa onneain.
Ja pian taas uusin hönkäyksin, varjo seuraa onneain.
Hei tuu mun luo, pieneksi hetkeksi. Puhutaan, varjoni, valkoiseksi enkeliksi."
Pelle Miljoona - Varjo seuraa onneain

Lovely horse and lovely riding. :)
Posted via Mobile Device
Aw great job the two of you :) She's beautiful