Conformation wise, could he jump?
---
I have someone interested in leasing Yankee but they want to jump him. He's got the heart for it, he's such an honest horse but what I want to know is conformationally, could he do it without risking injury? I know he's got pretty steep back legs but I don't know how that would affect a horses jumping ability...I know NOTHING about jumping. He has put on quite a bit of weight since these pictures were taken and has been building muscle. Thanks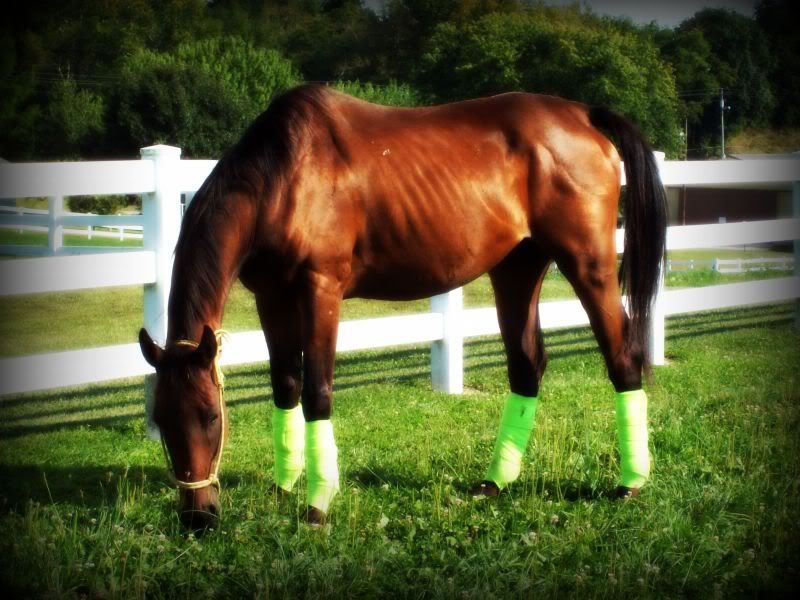 Green Broke
Join Date: Apr 2009
Location: Queensland, Australia.
Posts: 4,488
• Horses:
1
I can't see the pictures.
---
Sir Success. Eventer.
2000 - 2013,

do you have pictures of him straight from the back? a picture of the hocks would help. and his head up too.
Green Broke
Join Date: Jun 2009
Location: Brokenheartsville, just north of Styxtown :)
Posts: 2,577
• Horses:
1
I personally don't see why not...?
---
Most people are like Slinkies; they serve no real purpose, but they bring a smile to your face when you push them down the stairs.
When you come to the end of your rope, tie a knot and hang on for dear life.
With the angles critique is a little difficult, it would be easier to say if he was squared up with his neck up. From what I can see:
-he has long thin pasterns especially in the front, be careful with applying stress here.
-his hind angle is rather steep/straight.
-he appears to have a downhill build.
-straight shoulder.
-possibly over the knee in the front.
-he will need more top line muscle and weight prior to jumping.
From looking at him, I would guess he could jump 2-3 feet with ease in competition as long as you take the necessary precautions (that come with jumping any horse) to keep things safe and fun.
---
"The trouble with the world is that the stupid are certain and the intelligent are full of doubt"
-Bertrand Russel
---
Last edited by roro; 11-08-2009 at

07:55 PM

.
I would try to fatten him up first.Then work on some muscle.
He has put on alot of weight. These pictures were taken in Aug. He has been building up muscle too.
Started
Join Date: Mar 2009
Location: Middle-of-Nowhere, Illinois
Posts: 2,225
• Horses:
1
I don't see why not.

I would be more interested in the rider's ability to jump. Make sure he or she knows what they're doing. An unskilled/careless rider can hurt any horse while jumping.
---
"A musician must make music, an artist must paint, a poet must write, if he is ultimately to be at peace with himself.
What a man can be, he must be." Abraham Maslow, 1968