I use PVC poles but they get picked up by wind easy so I stack up my tires on their side, and stand a tyre up the right way on top on each side and put the pole in it. It can still fall out if it gets hit, but the wind can't fly it off towards bubbles and I and scare the crap outta her (has happened before and she though it would be the greatest game to run backwards into a 3 wire electric fence)

Thank goodness dad has a lot of tyres lying around haha i can make a sj course out them on their own cause we have silage pits, so hundreds of tyres :L
---
R.I.P ~ Bubbles - 25yo tb mare - 13.04.2011 ~ 8:30am ~ passed away naturally and peacefully in my arms
Sorry to be a party pooper here; but it is very easy to construct unsafe and dangerous "home-made" fences. A lot of the photos posted on this forum of home made fences and backyard jumping frankly terrify me.

So before you start scrounging around for materials to build home made jumps, please keep a couple of things in mind:

- jumps need clear ground lines in order for the horse to correctly judge height and distance. A single rail is *never* a safe fence unless you're an advanced rider on a made horse with excellent control over pace, balance and direction.

- jumps need to have substance and depth for the same reason. If you've built a 2' vertical, and added ground lines on both sides, now fill in the airy vertical with brush, a barrel, the mounting block, something to make it appear substantial.

- jump materials need to be heavy enough to fall straight down when struck, not fly up and interfere with the horse, catch a hind leg or strike him as he attempts to land. Broom handles are a bad idea for this reason, as is PVC pipe.

- if you use barrels or anything else that can roll, make sure they're chocked or held in place with a rail.

- without a jump standard and cup, most homemade fences should only be jumped in one direction; the direction in which the rail will fall but not pull down what's holding it up and create a hazard. Learn to tell which way a fence is "set" by a quick glance, and don't jump it in the wrong direction.

What makes a good, safe homemade fence? Hay bales. Logs. Landscape timbers. Spare fence rails. Barrels, if chocked or secured. GROUND LINES.

And one last pet peeve/safety concern: If you've never jumped your horse before, the *worst* thing to do is set up a single airy vertical without standards. Start with trot poles, and add a little pyramid of poles at the end, then change the pyramid to a crossrail, then a vertical.
I have to agree with Maura. I started out jumping with little logs I could find, I used tires and planks, as well as barrels and stuff to make jumps. I was always putting my pvc poles that I had after that under the fence and I can tell you now, that was so stupid of me. Now I have wood poles and use my pvc poles as ground lines, and trot poles. The wood poles are so much better and my horse and I are much happier. ;)
Maura, I use PVC pipes and have never had a problem with them (as of yet) but i do block off the ends and fill them with sand to make them heavier. I don't have access to proper wooden jump poles just yet so this is as close as i can get lol. but they have never flown up on me. except once, before i realised it would be better to fill them with sand.
---
R.I.P ~ Bubbles - 25yo tb mare - 13.04.2011 ~ 8:30am ~ passed away naturally and peacefully in my arms
As for materials, most of the Home Depot stores I go to have a cart in the lumber area that has some cut pieces of wood that are rather inexpensive. Also, the paint department often has returned colored paint for cheap prices (quarts for a dollar or so and a gallon for $5.) Lowe's also has the "Oops" paint but I rarely see cut wood for sale there. Wal-Mart has returned paint as well but it is more expensive.
Here are some examples. These solids were made with scraps I bought at Home Depot....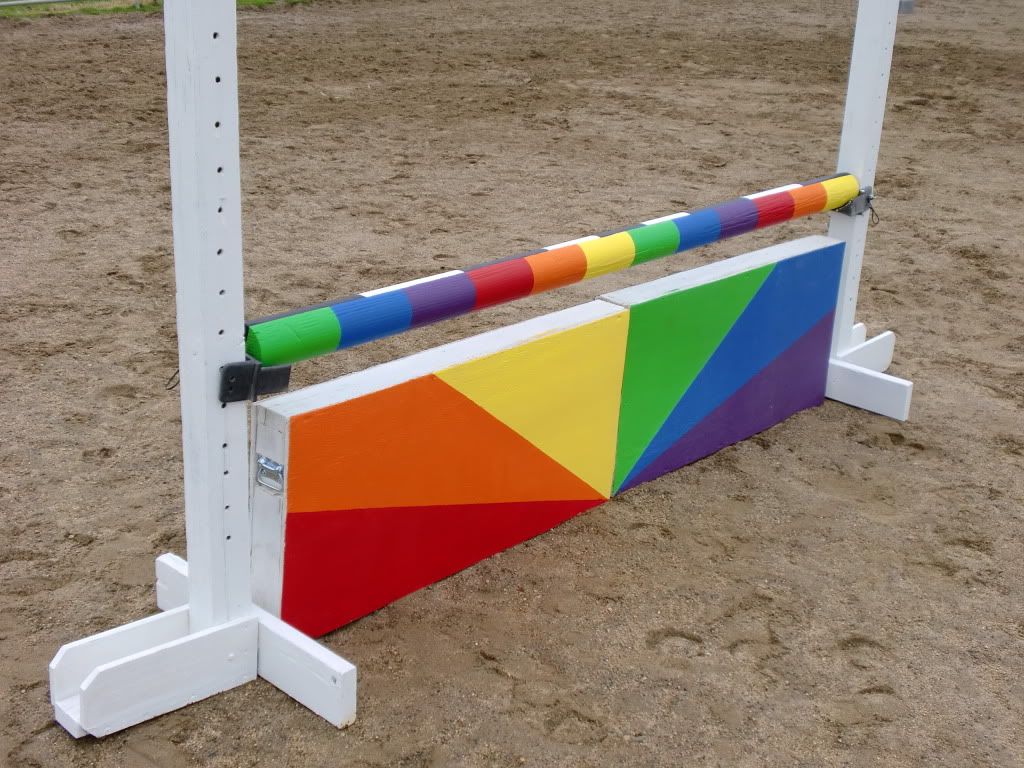 ---
Last edited by CarrotMan; 09-30-2010 at

01:02 AM

.
Personally, I have to use tires and milk crates with wooden poles. This is because it's all I have available. I greatly dislike using tires though, found a redback crawling on when when I was barefoot and using it as a mounting block.
---
your the best thing thats ever been mine

[x] Mr. Lopez, Quarter Horse [x]

Yearling
Join Date: Jun 2010
Location: On my horse's back! Obviously!
Posts: 925
• Horses:
2
CarrotMan- I love your brightly colored jumps! What a great way to utilize extra wood and returned paint!
Quote:
Here are some examples. These solids were made with scraps I bought at Home Depot....
WOW!!
That is incredible! That's very inspiring for one day building my own jumps!
I love that each side is painted differently!
Very well done!
I did the brush, trees, logs jumping on the farm... couple of times jumping the retaining fences at a construction side, as well as lumber there. I always did want to make my own jumps; I got a book on how to do it, but as I don't have land currently, I don't have anywhere to put them. But one day I will!
I hope you don't mind if I borrow your idea carrotman...
Those are beautiful, Carrot Man!

Holly Bubbles, filling PVC pipe with sand is a great idea and will make them safer to use.

I'm sorry, though, I have to comment on your avatar photo, as it's a good example of an unsafe home made fence.

1.) You're jumping it backwards of the way it's set. Hitting the top pole will pull the whole construction down. If you have standards with pegs on one side, the fence should only be jumped in one direction, with the pegs facing away.

2.) The poles are way too thin, whether they are filled with sand of not. Too difficult for the horse to see, and too light. Use a 2 - 4" diameter PVC pipe.

2.) If you're going to use a ground line, use it correctly - roll it out from the base of the fence an appropriate distance. Placing it directly under the fence invites the horse to get in too close, as your horse has done in the photo.