Was she a steeplechaser in a past life? LoL.
---
"The greatest pleasure of a dog is that you may make a fool of yourself with
him and not only will he not scold you, but he will make a fool of himself too."
-Samuel Butler
Yes please do rest up! Don't want an complications
And This helped alot on my horse that I ride. I have trained with other horses like this in the past and i have found that this trick always seams work out. Hope it works, Please keep me posted, I'd love to find out how your horse turns out. Take Care and rest up, Katerina
---
Your Life can be saved with one Horse...
Who said horses are stupid? They are smarter than me!
It's really has a lot to do with her spots... When she gets a long spot she doesn't hale mary fling herself over the fence, just extends her legs. I would start setting up poles to get the correct striding and start teaching her eye. She looks like she has some scope to her. She's a bit loose below her knees but she jacks them way up to compensate and is clean behind. Combine the grid work with balancing (once you're cleared to ride more than a w/t) and I think her form will vastly improve. Personally... I rather like her.
---
If your horse says no, you either asked the wrong question or asked the question wrong

And God took a handful of southerly wind, blew His breath over it and created the horse
Lol, we always call that 'superman' jumping.

A horse I rode last year, actually, does that almost exclusively (or did, rather) over large fences. Not quite to the extent your mare does, but it was just his odd jumping style. Never touched a rail when he did it though and he was a super efficient, scopey jumper.

TBH, I don't care what a horse looks like over fences (I suppose unless it's a HUS class) as long as it leaves the rails in the cups and doesn't land like a banshee.
---
"Always be yourself. Unless you can be a unicorn. Then, always be a unicorn."

I must say, I was laughing extremely hard as I scrolled through those photos, haha
As some have suggested, I would do bounces when free lunging her. That way, she will most likely get the correct form if she has to land, and immidiatly jump again. I dont know if its possible to land and immidiatly jump again with her front legs like that... Maybe she can, though! Personally, I think that would help a ton! Anyway, thanks for the pictures, she looks hilarious!
I dont see anything immensly wrong with her jumping, and in most of the clips in that video, it looks actually very good. I don't know if you could necessarily blame her jumping on being green though, its just... her... in my opinion at least. A TON of green horses do NOT jump like that... she just has her own odd way.
But, yeah, I think bounces would help a ton! Canter bounces, one stride (about 10-12 feet apart) depending on how big the horses canter strides are, and... 1.5 - 2 feet high.
Tia Jumping 5/10/2012 - YouTube
She is doing much better. Only gets the 'superman' look when she takes a long spot (which is hardly ever) she is moving really fast in the video above. She just had her alfalfa intake upped so she's got a bit more 'get up and go'. She does settle into it later on (when she gets tired) lol.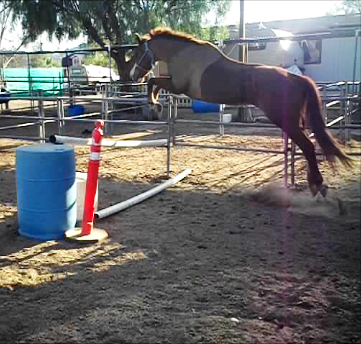 ---
"Horses are the best medicine for the soul"
!~*~Horses4Healing~*~!
I have nothing productive to say, but your horse is adorable!! She looks like she's having the time of her life and will make a heck of a jumper.
Posted via Mobile Device