Green Broke
Join Date: Jun 2009
Location: Was in Ocala, Fl Now In West Union SC!
Posts: 3,175
• Horses:
1
4'3" but that was years ago when I was in shape and I had horses that could take me that high(I worked for a broker.) now sona and I jump about 2'9". WHO SAYS HALTER HORSES CAN'T JUMP!!! lol
Yearling
Join Date: Jun 2010
Location: On my horse's back! Obviously!
Posts: 925
• Horses:
2
I've only done 2'6" with my horse. My horse has done 4' and the person who jumped him 4' thinks he can go 5'6". However, he has mild arthritis, so we'll only go 3', 3'6" max.
Green Broke
Join Date: Mar 2009
Location: Kansas in the summer, Kentucky most of the time
Posts: 3,028
• Horses:
3
I've done 4'3" in a lesson
---
Look like a SUPERSTAR, Ride like a FOUR STAR, Win like a ROCKSTAR
Eventers: Making BAD Dressage look GOOD!
Pfft, I have you all beat. Please! You are no competition for me!
I've jumped the Grand Canyon!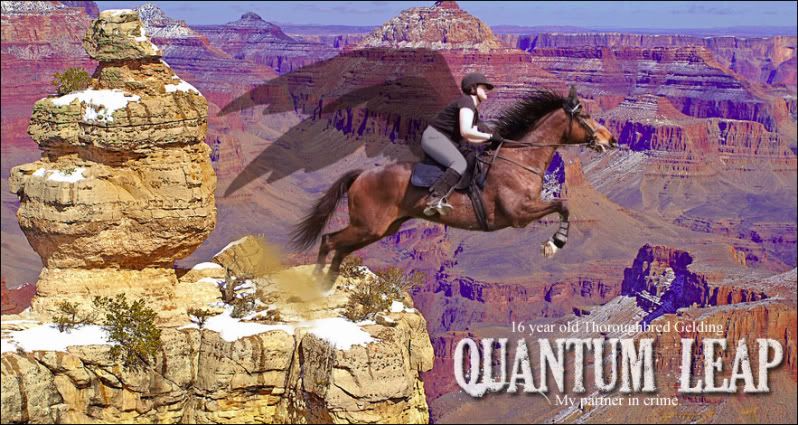 Beat that ya Beeeootches! :P PHTPPTHHPTHPTPHT
---
Hmmm...

My first horse was an old hunter/jumper champ, retired from lessons when he got sour and cranky with kids riding him all the time, so when I got him he was pretty surly. Anyway, he was basically my trail horse, and after a bad storm a series of logs were across the trail, and he jumped them, there was no stopping him! All in a western saddle with me as a pretty green rider still, but I stayed on just fine. I hear he's a wonderful jumper, but I wouldn't know anything about form. That was probably 3.5 feet.

The other was on my qh/mustang cross, and it was more of a drop than a jump, but he bolted up the wheelchair ramp we used to help disabled people onto the horses, about 6 feet tall, and leapt off! I was lucky he didn't break a leg or kill us both, nope, he hits the ground and kept galloping. So he probably cleared a good 7 feet, haha.
Posted via Mobile Device
I've never jumped, besides ditches and creeks... :(
---
"May your trails be crooked, winding, crooked, dangerous, leading to the most amazing view" -Edward Abbey
Love you jumping the grand canyon! Thats just ace!!
I recently entered a xc where they said the max was 3ft3, this brush fence was 3ft3 at the pole and with the added brush was approx 3ft 6!!!!!!
And this cart was 3ft...
---
RIP Cocoa - 05.10.2010, RIP Magic - 30.04.2010, RIP Bess - August 2009, RIP Sherry 24.12.2008
Well I can *never* outdo MIE but.. but.. but.. PLPTHHHHHHH anyway!
This one was about 1.10m/1.15m (3'8/3'10) and it's not the highest I've jumped but the first time I've been able to jump that high without being completely terrified so I think that counts
---
Thinks her father has realised she will never outgrow horses for boys
NEENER NEENER! (_!_) (_/_) (_\_) (_!_) (_/_) (_\_) *Shakes booty*
---
Hmm, I'm routinely doing 3'3" oxers, but I'm not sure if I've gone higher than that or not. My trainer wants me to show in the 3'3" division at a show, and the only reason why I know I've gone that high is I finally asked when she told me what class to enter. I thought those fences at home were about 2'6" or 2'9" (my brain trying to calm my nerves - she couldn't have really put them up that high, could she?). I think she has sneaked them up higher than that on me. One of the horses I ride will go 4', and I know we haven't gone that high, though.