I've jumped about 4'3", but that was a while ago and it was only a few times. I was working an Oldenburg gelding and he really was a nutter at smaller fences, just because he didn't respect them. After the jumps topped 3'3" he'd settle down really nicely and behave himself (mostly). One of our regular exercises was trotting a 3'6" vertical. It really made him think about how he was jumping and where he was putting his legs.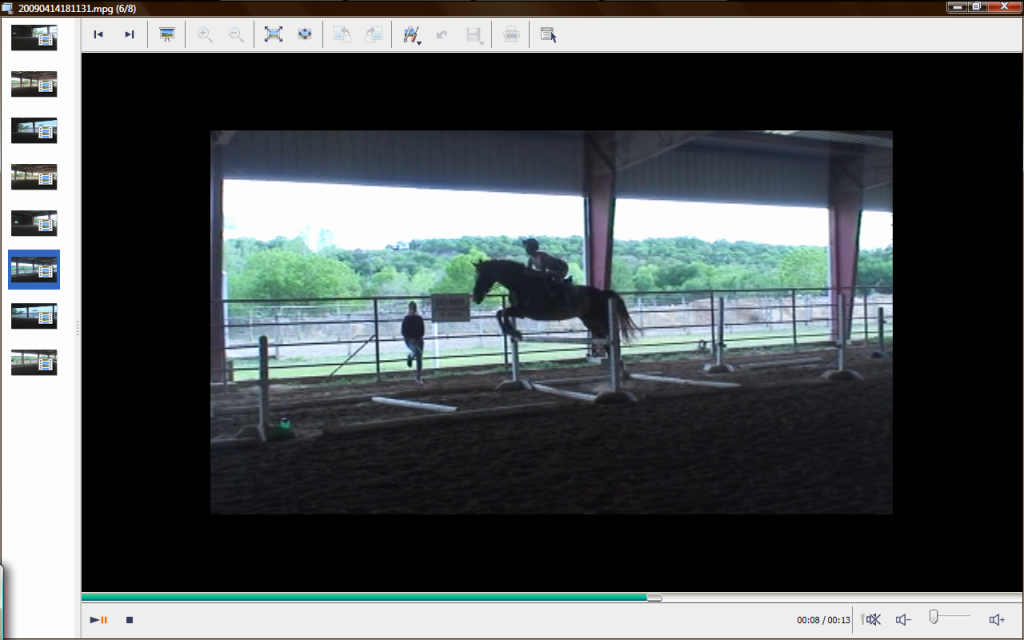 That's a video screenshot of us trotting 3'6". It doesn't look that big...mostly because Donald is like 17.3 hh, lol.
---
"Always be yourself. Unless you can be a unicorn. Then, always be a unicorn."

---
Last edited by Strange; 10-31-2010 at

11:28 PM

.
Yearling
Join Date: Aug 2010
Location: Gold Coast, Queensland, Australia
Posts: 926
• Horses:
3
Dont have pics but ive jumped 1mtr 30 on a 14hh pony! =) i was proud! Its the same height as the world cup (just not as wide)
---
The Perfect Day-
Going to bed with a Dream
and waking up with a Purpose!
i have jumped 1.30m on my 13.3 1.2 hh pony.
and stayed on
---
Cross Country- The act of hurling yourself and your equine partner at a stationary object with poise and grace while attempting to survive...

ive jumped 2.9ft
I know its not very high but hey lol x
There was a point in time that 4'6" was no big deal. To top it off it was a 14.3HH Breeding Stock QH. Different horse, different time. Now I'm all excited when I do 3'. I <3 my greenie.
I did 5' in Junior Jumpers back in the 70s, probably higher schooling at home. That was when we did two rounds of jump offs, raising the fences each round -- the second round was timed.

Classes from 1976 horse show:
Equitation over fences, 11 and under -- 2'9"
Equitation over fences, 12-14 -- 3'
Equitation over fences, 15 - 17 -- 3'6"
Green Working Hunter -- 3'6"
Regular Working Hunter -- 4'
Junior Jumper (first round) -- 4'
Open Jumper (first round) -- 4'6"