How old is too old?
---
I'm just wondering how old is too old to start a horse on jumping? I think my horse is around 24-25 or maybe 16-17. I have to figure out who he is first! But is 25 too old to start jumping. My horse looks about 6, and is in very good shape, other than he needs to be conditioned. Okay, now I'll take opinions!
If he's 25 that may be a bit hard on him...since they are more prone to arthritus.
But...if he's in good shape, I don't see why not.
Just be careful. LOL that's good he doesn't look/act his age. Shows how well you care for him. :)
---
Ride more, worry less.
Yeah, if he gets in better shape, I'm sure he could handle 1 foot jumps. I won't try to push him any higher unless I was sure he could handle it.
your horse will be the first to tell you ;)

12 inch crossrails shouldn't be a problem on an occasional basis:)
---
kickshaw
Justin (qh/tb)
Boo (asb)
Yeah, just take it slow.
---
Ride more, worry less.
Yeah, here's a picture of him: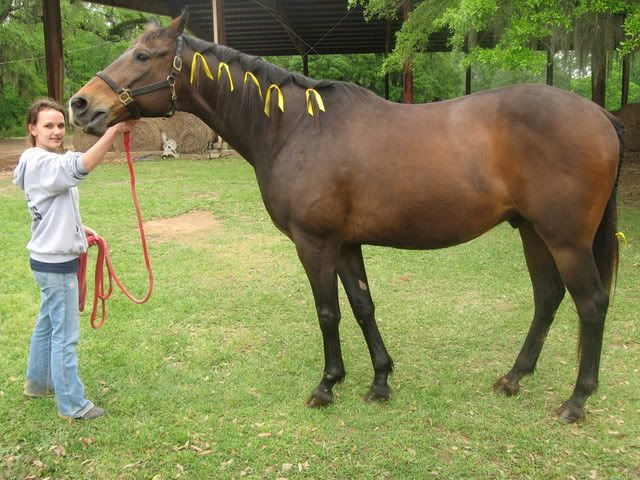 I think he can handle it. He's jumped about 10 inches before and he did great. He just needs work.
He deff. doesn't look that old- nice barrel too, haha! :P
---
Ride more, worry less.
Oh I know, his barrel's pretty huge! He really doesn't have much fat, he just needs to be worked more. As you can see, he doesn't have much muscle tone!
It really depends on the horse but I started Doc last year on jumping and he is twenty five and he is fine. if anything it is good for him because he is in shape. but your horse could be different like I said but if he is in good shape than you could probably do it and be fine.