Banned
Join Date: Dec 2008
Location: At my house, or stable, duh!(Michigan)
Posts: 2,479
• Horses:
3
i would say blue and white that is what color my dad made mine
oh i plan to have other things there but the colors are for me :) haha i want to see cute as i go twds it haha
---
:: Karley ::
Tucker WB/TB- 11 yr
Speedy QH/TB- 22 yr
I know i'm a little late because Christmas is already over but if they aren't painted yet, hot pink and bright green sound good-those are the colors of my bedroom! Anyways, whatever you do go BRIGHT because my barn had bright orange and bright pink and it looked really nice.
They are white right now till it stops raining and then we will paint them :)
---
:: Karley ::
Tucker WB/TB- 11 yr
Speedy QH/TB- 22 yr
Started
Join Date: Jan 2009
Location: USDF Region 1, USEA Area 2, USEF Zone 3 - Maryland
Posts: 1,903
• Horses:
3
i always jump judge at horse trials and the jumps i see the most refusals at are the white and natural (just wood).
here are the standards and polls that he made ... they are plain right now but when it gets to be better weather, we will pain them :)
There are three polls like this, they are amazing ... so light and dont get water logged!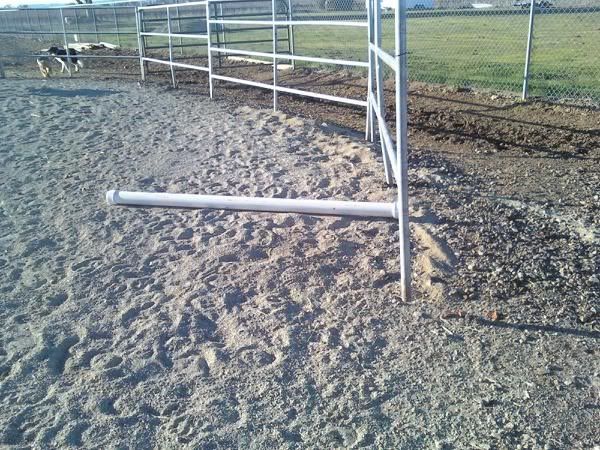 ---
:: Karley ::
Tucker WB/TB- 11 yr
Speedy QH/TB- 22 yr
I have heard that they see blue VERY well, and in my experiences, I've been run out with at more blue jumps than other colors. (Maybe that's because I had this story in the back of my head?) But yes, as far as despooking, we've even gone so far as to put old Christmas trees under jumps when we were done with them to change it up a bit, lol
---
"Keep a leg on each side and your mind in the middle"
One of my horses is/was TERRIFIED of yellow. So, I got yellow poles/jumps, yellow flowers, yellow banners, yellow EVERYTHING until he finally overcame his fear of the ever so scary color, yellow.