Improvement?
---
These are pictures of my mare. The first is from July 2010, the second is from November 2011. The jumps are both about 2'3". Have we improved?!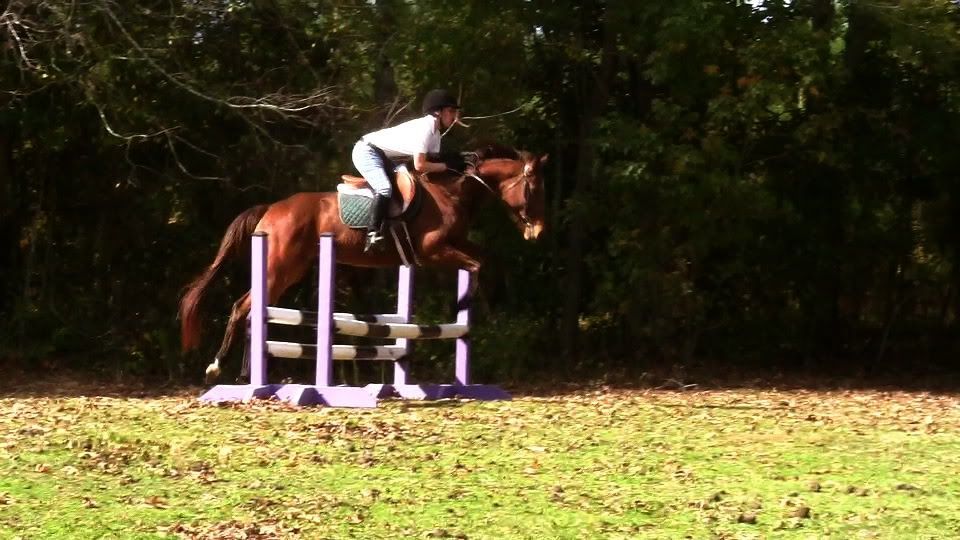 I know that I slipped back in this one. The saddle is a bit too big, but I think my leathers may be a hole too long. I don't know, but I fit better in a 15-15.5 than I do in my 16.5!
I'd love y'alls input!
i think you look great! i definitly see improvement. you look a lot more independent and stable in the second photo. you are not so much up on your horses neck! super cute horse though(:
Very pretty horse! I see room for improvement. I'd try being more dependent on your posture and leaning down instead of relying on her neck so much :) It might help if you took your stirrups up a notch or two!
---
Every great creator is near the edge because the greatest form of art is falling <3
you are jumping ahead in the first pic and not in the second so that is a good improvement! just a side note, the back rail of your oxer looks lower than the front which can be dangerous, it may just be the angle of the picture but its definitely something to think about!
Thank you for the critique! I've gotten even stronger since these pictures (:
And Jumper12, the back rail was lower, I started jumping it from the correct side and changed directions without even thinking. I didn't even notice it until afterwards haha. But thank you for pointing that out!
Similar Threads
Thread
Thread Starter
Forum
Replies
Last Post
Any improvement?

justjump

Horse Riding Critique

3

03-08-2011

07:17 AM

Improvement??

RedTree

Horse Riding Critique

6

09-25-2010

09:53 AM

Any improvement?

juniormylove

Horse Riding Critique

15

07-02-2010

09:34 PM

improvement much?

madisonfriday

Horse Pictures

3

09-11-2009

01:24 PM

Improvement Much?

NordicJuniper

Horse Riding Critique

5

08-05-2009

04:31 AM