Ive forgotten how to jump =[
---
help me haha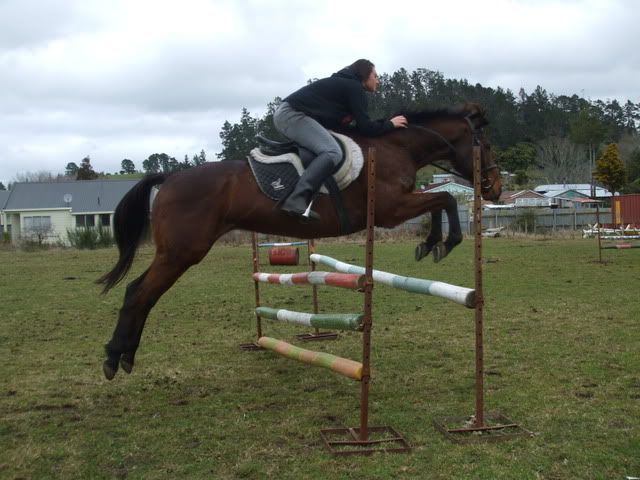 You look pretty **** good to me.

If I was half that secure in my seat (sigh).....
---
Only As Old As You Feel - Sometimes I Feel VERY Old
thanks, But I know that im grippin g bad with my knee and my leg is slipping back way bad =[ there is probs worse things that i cant see that im doing
Have to do the squeeze, squeeze, hold thing. If you haven't done jumping for a while, it's muscle strength as well.
---
Only As Old As You Feel - Sometimes I Feel VERY Old
your pretty good and i dont no how you feel when your jumping but it looks like you need to relax a bit and go with him
Ok, firstly you need to push your weight down into your heels, this should help prevent your leg sliding back. You need to keep your entire leg in contact with his sides, rather than just grabbing with your knees.
If you still find it difficult, raise your stirrups a hole or two, that always helps.
Apart from that you seem to be leaning on his neck with your forearms rather than supporting your weight, but once you have a secure lower leg you'll be able to hold yourself instead of tipping forward as your leg slips back.
Sorry for the book :) Good luck (and I'll pretend I didn't see the missing helmet
)
---
Thinks her father has realised she will never outgrow horses for boys
I don't think you need to shorten your stirrups, I believe they are a good length. I think the problem you are feeling is the pinching with your knees. Concentrate more on your lower leg (calf) wrapping itself around the horse. Concentrate on using your whole leg.

Do a lot of two-point work in the Trot & Canter, until your legs feel like jello. Do it often, as well. And while your doing, concentrate on not pinching with your knee. Let your heel sink down and your leg relax and wrap around the horse. If you can't feel your lower leg (calf) on the horse, then you are pinching with the knee. You should be able to feel it.
Try a lot of no stirrup work at the trot as well. Alternating between Posting & Two-Point. It will help you to feel the difference between when you are pinching and when you aren't, and will then better help you to fix it once you know what the difference feels like. KWIM?

Fingers closed. That is a big thing. I do think you threw a lot of your upper body weight on his neck and are holding yourself there with your hands on his neck, but I think this is largely due to your knees pinching and throwing your leg off. I think once you gather a stronger more solid lower leg you will find you no longer have to use such upper body.

Your release is good, I find it is a good release for this size jump.

Your back has roached slightly, and your shoulders have slumped. While you are working in two-point, and on no stirrup work, think about rolling your shoulders back and sitting up very tall. It may even feel like you are leaning back slightly, but you aren't. You want a nice straight back, and shoulders open. This could also be a reason why your weight is thrown off in these pictures. Once you open up your chest and fix your lower leg, it will put you in a better position to stay solid.

:) Hope it helps!
---
...he's so kissable, huggable, loveable, unbelievable...
Yeah, you didn't forget how to jump, your legs did. Once you get stronger, stop gripping with just your knees, and can keep them at the girth, the rest of your seat will follow. Stirrup length looks a hole short, but the angle of your leg should open up a tad once your lower leg is in the right spot.
Thanks heaps guys, were jsut coming out of winter, as you aussies will know, and so i havnt reall jumped much at all this winter. lots of 2 point then...joy!