Jumpers and our Colors :) Any Ideas for finding bright horse wear?
---
So for every one here that is a show jumper and maybe even goes cross country every now and then that loves bright colors as much as me, can you give me ideas on finding this stuff? I ride a dark grey thoroughbred and he looks stunning in neon colors :) as most dark horses do. Lately I've been really wanting to put him in coral (yeah I know its a girly color, but I'm sure he won't mind...). I've searched a few sites and can only find light pastel type corals and I would like to try neon corals. For an example type in "china glaze flip flop fantasy" into google and the nail color is spot on to what I am looking for. Have you seen any in this shade or do you think I should just try dying a white set?

So even if you don't know where I can find these, what are your favorite colors to show off out in the jumper ring or on a cross country course? Pictures would be great if ya have any! :) <<sorry for the long question btw
---
~ When I Die, Remember Me By My Horses ~
* Because They Are Responsible *
.: For Letting Me Live :. (c) xJumperx
---
~ When I Die, Remember Me By My Horses ~
* Because They Are Responsible *
.: For Letting Me Live :. (c) xJumperx
Ahhh! I am in love with some of those, but especially the blue and purple zebra print saddle pads! I've never seen those before! Thanks for all the links too, I'll have lots of fun looking through those from now on :p
For show jumping and schooling, I make my own polo wraps. I just go get polo fleece from the fabric store in whatever color or pattern I want and cut it for a good polo wrap length then sew on Velcro strips. My favorite are the rubber duckie polo wraps I made for a friend's birthday. Because they are polo fleece, they don't do well for cross country. Hope this helps.
---
"Horses are the best medicine for the soul"
!~*~Horses4Healing~*~!
Looove my bright colors!
eBay is always great for looking, or honestly, just about anywhere. you just gotta look. i'm a member of a couple tack/horse/stuff sale groups on facebook, n you can find a ton of cool stuff there, too.
and just cause i love to show off my silly tb... some pictures!
DSCN1408.jpg
email.jpg
You're horse is gorgeous!! but those colors...I think I'm in love. :P You gave me a good idea tho! I'm gonna try searching through some fb pages for more colors in saddle pads and polos
i <3 saddle pads and polos/boots. i have probably 15 different saddle pads and matching leg wear for each. :) and i have the blue happy mouth. and tons of petty ear nets.

if you're looking for tie-dye stuff, you can make your own. that's what i do sometimes. i buy white stuff and dye it. i'm sure you can buy neon colored dyes, too. so you can have solid colored stuff in your exact choice of color.
Sarah rides Jumpers in an Ed Hardy pattern and a red shirt,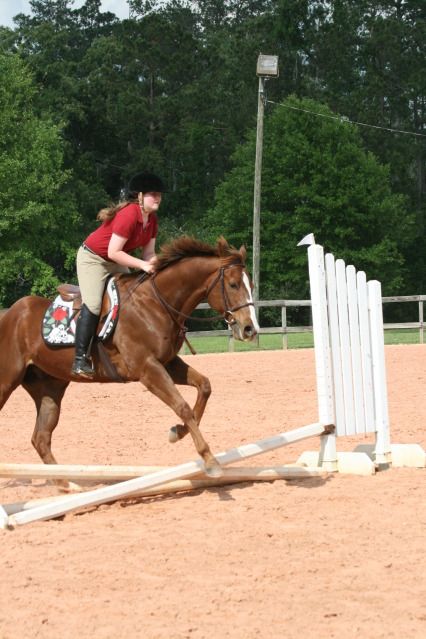 Posted via Mobile Device
Just a few more pictures of some of my 'fun' colored things. ;)
Halloween polos (I have a matching saddle pad, but was schooling at a show, so didn't use it):
halloween.jpg
At a hunter pace:
pretty.jpg