These are great! I need to find some from my younger days. It's either one of two faces, stone cold/mad or giant equitation smile.
---
Life is like a camera. Focus on what's important, Capture the good times, Develop from the negatives and if things don't work out, Take another shot.
I don't seem to make terribly funny faces, or at least that I have pictures of. I know I have made some "holy cow" faces or "how the??" but here is what I have currently of me.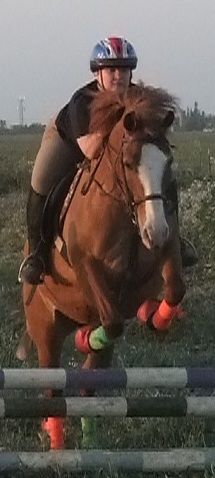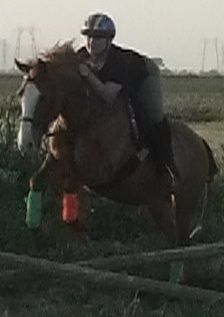 And this last picture is not of me, nor is it a funny face. I do however love the determination on her face so I figured I'd post it.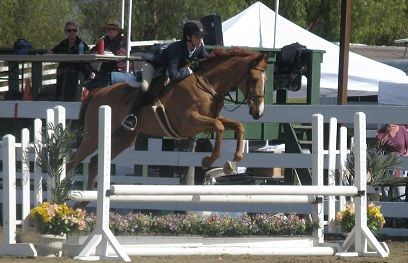 ---
"Horses are the best medicine for the soul"
!~*~Horses4Healing~*~!
These are awesome! xD I don't have any at the moment but I'll take some soon!
Right before a bank... :P
I've heard I look like a grandpa...
But my pony looks cute!
So my quarter horse jumper has some serious scope over fences that kinda throws me off sometimes but I LOVE IT! <3
---
When riding horses we borrow freedom<3
|Prancer
- 7 yr old Quarter Horse|
Spirit
- 12 yr old Bay Morgan/Welsh|
Bonnie
-7 yr old Grey TB/Connemara|
Oh some of these are great!!!
I don't have my own pictures to share....
But I know my mouth keeps opening when I jump so I think I kinda look like this ->
either that or a frog lol. But I think faces are fine, they provide entertainment for everybody.
When I jump I am told that I either have the biggest smile on my face or my eyes bug out and i look like im in pain (I have my first jumping class @ fair lets hope that i smile)
---
Horses are my life, if theyre wasnt such a thing life would suck!
It's been years since I've ridden a horse that could jump and I only went to one jumping show, but my expression when I'm concentrating (jumping or otherwise) seems to be
"My god, I'm doing awful!"
I do have one picture from that show where I remembered that DH was taking pictures so I should smile!
omg I make the WORST faces when I'm jumping HAHAH!! This is actually one of my BETTER faces, I look constipated in most of them!!
Wish I could look as cute as my horse does! Doesn't help that my eyes are always half shut and all squinty because it's usually bright out in that arena when we're showing and dusty too!
---
"The times when you have seen only one set of footprints in the sand, is when I carried you..."
I always bite my lip. Anytime I'm showing. All of the pictures that are up in my house of me showing, I'm biting my lip haha. I have a friend who does the same time, but her tongue is like almost out of her mouth! It's too funny lol
Similar Threads
Thread
Thread Starter
Forum
Replies
Last Post
Muddy faces?

SMCLeenie

Horse Grooming

8

03-23-2011

02:06 AM

faces!

Regan7312

English Riding

0

07-11-2010

09:48 PM

Best Faces when jumping :P

upsidedown

Jumping

126

02-24-2010

09:30 PM

Faces

midwestgirl89

Horse Artwork

6

10-19-2009

09:51 PM