Jumping an older horse?
---
I am looking to get my own horse in the future and when I have been looking, I always skipped over the older horses (16+). But now I am realizing that there are plenty of older horses that are still jumping and there ads say they want a job and can continue to jump for several more years. So my question is that if they are very sound and vetted clean of course, could an older guy continue to jump say 3 ft for a few years! The older ones have a much more appealing price tag too... I also found an ad on dream horse advertising an 18 year old warmblood that is still jumping 3'6. So what are your opinions???
---
Never give up on a dream you can't stop thinking about for a day...
I know some older horses who are jumping a decent height and if they can still do it comfortably and remains sound, great. Often a horse will tell you when he's no longer able to do it. Starting to stop at fences or show signs of soreness after jumping are the most obvious signs but things like missing lead changes behind, always chipping in instead if leaving long, getting more short strided, bucking or pinning ears, etc are signs that their bodies are getting older and that it's time to lower the fences. I believe strongly in taking care of an older jumping horse with whatever you can afford, injections, adequan, legend, supplements, wraps, boots, packing feet. Etc etc. there are lots of things that can help your horse stay sounder longer but it is important as a responsible horse owner to know when to lower the jumps or stop jumping altogether.
Posted via Mobile Device
---
Older horses generally have more experience at jumping so they know usually know what they are doing. Dancer is 15 - she can still jump 3' + so don't be put off too much, but as they get older their ability for height (of jump) will decrease.
---
My life-long leaders :
horses
i evented my gelding at novice til he was 18 with no issues. a random injury forced me to retire him, but he still jumps up to 2'6" at age 24 with ease.
---
Gypsy & Scout <3
Everybody is a genius. But if you judge a fish by its ability to climb a tree it will live its whole life believing that it is stupid. ~Albert Einstein
Getting an older horse can be great as far as price goes because you get a horse with all of that experience without paying a boat load. but buying an older horse means that whatever level he is at when you buy him is possibly as far as they can go, but if that isn't a big deal for you then an older horse can be great to maybe take you up a few levels with a been there done that guy. When buying an older horse i don't see there being an issue as long as everything looks great as far as the horses ability to jump goes. However, the reason older horses go for cheaper also is because once you are done they will have no re-sale value. I personally wouldn't buy a horse that is to old because once you are done competing them it may be impossible to sell them, so if you need the sale money to get a new horse after this one you can be in a bit of trouble. But again if that isn't something your worried about then go for it! I personally would never buy a horse older than 15 that im not prepared to keep until they die. but we bought my mom an older guy at 16 knowing full and well we would never be able sell him or even give him away later on, they had a great few years but then you will be stuck with a retired one. so yes, they can still jump and win when their old, so the only issue i could see would be a finical one.
my friends 20 year old OTTB/ex-steeplechaser was jumping 4 ft at hunter paces and foxhunts with ease last year.

my 16 year old horse clear 3'6 easy with scope to go higher and zero intention of slowing down anytime soon(KNOCK ON WOOD)

but then we also have a 15 year old gelding that has retired from jumping because it seemed to be hurting him.

depends on the horse, but dont rule one out just based on age!
Older horses are fabulous, but they take a lot of extra attention. Depending on what kind of work they've done throughout their life, they may be a little more stiff, a little slower to warm up and cool down, and sometimes more prone to injury if you want to be doing a lot of jumping at any significant height.
That being said, there are so many older horses that really love their job and are still quite sound. I leased a 26 year old Thoroughbred (retired upper level event horse) for a year and we were jumping around 3'9" - 4'0" courses when I left and competing at about 3'7". He required a little bit of maintenance and I ALWAYS gave him a lot of extra attention when it came to keeping an eye on his legs, wrapping him after shows, etc. but he was incredibly sound and really, really loved his job. I kept him on a really good joint and tendon supplement, he got electrolytes, and his diet was very well thought out (he had some trouble keeping weight on). I also had a very specific warm up for him to help him loosen up and get ready for harder work.
Here's a picture of Ace, the 26 y/o and I.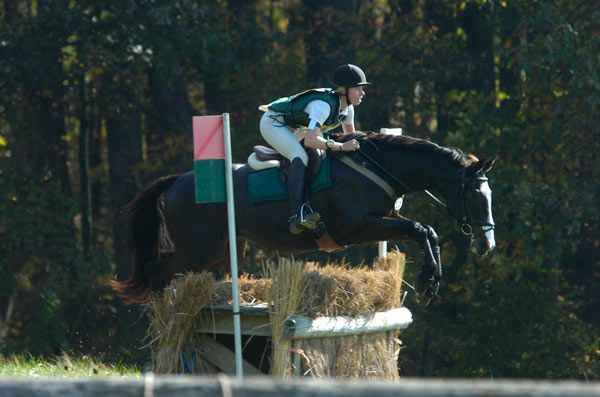 ---
"Always be yourself. Unless you can be a unicorn. Then, always be a unicorn."

Thanks for your replies guys! I will definitely consider an older horse if they seem right : )
---
Never give up on a dream you can't stop thinking about for a day...
Keep in mind that a vet check is more important the older the horse & more strenuous your expectations. While you might go with a basic exam for a young horse intended for pleasure riding, you'd probably want to get an exam plus x-rays for an older horse that you want to show 3'+

If the conformation is good and the horse hasn't been pushed too hard, he can jump well into his late teens or twenties. I used to lease a 9 y/o that had already been retired from jumping and had to be put on pasture rest for 6 months because he had been pushed too far beyond his capabilities. He was still perfectly sound for flat work, but wasn't allowed to jump anymore.
I have a couple of things to add to this excellent, informative thread.

Chipping in is usually a sign of soreness or incipient lameness in front, resistance to going to a deep spot and a preference for wearing their fences long is usually a sign of hind end problems, usually hock and stifle. Often another subtle sign is a horse's jumping arc getting flatter/more inverted as they find really rocking back on their hind end and cracking their back is more difficult. That's a sign that the horse may need to back down in height or difficulty and get a little more TLC.

All that said, I've known some fabulous older horses that were terrific jumpers and wonderful teachers. You just need to really *observe* them, listen to what they're telling you and do what's necessary to keep them comfortable.

Increased turnout, or even free choice turnout is often the best maintenence practice for an older horse with low level arthritis; combining that with joint supplements, injections and careful prep and maintenence will keep an older horse jumping well into their teens and early twenties.