Sandie looks great in the green and awesome over those fences! My mum uses green on our little buckskin boy too :)
I have a few pictures of me jumping Drake. Some are really bad quality, others excellent. One of my best barn friends is a very good professional photographer with a 1600 $ camera... :] she likes to shoot me. lol

yesterday. back equitation! I know. :] my jumping eq is coming along... slowly.

today! bad phone picture quality. i like this picture. :]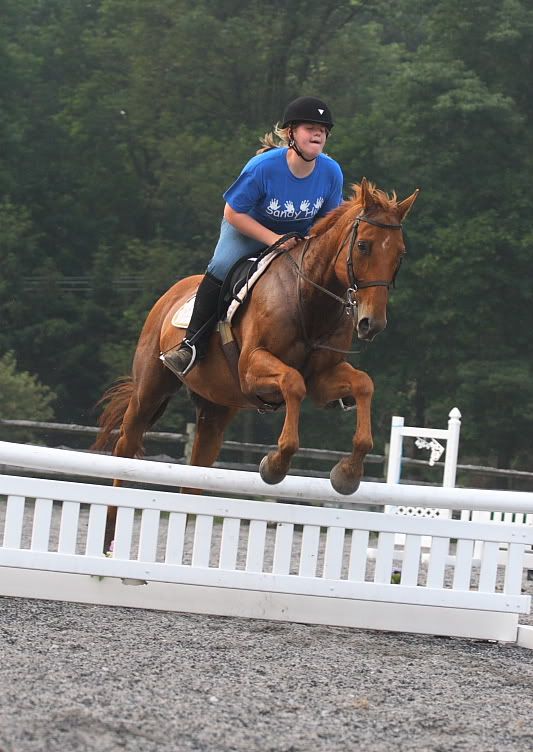 I don't know if anyone else has a bad "Face" when they jump, but mine is HORRIBLE! LOL i always have the same dooffus face.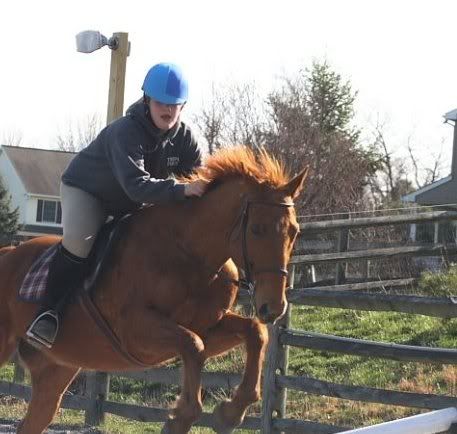 during the winter. we didn't jump quite as high then... :] its all good
---
All I pay my psychiatrist is the cost of feed and hay, and he'll listen to me any day. ~Author Unknown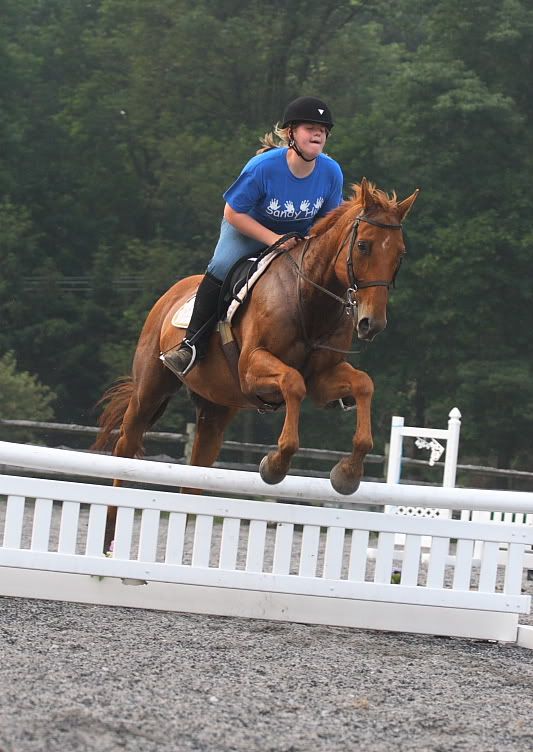 LOL! That one belongs in the best faces thread. Looks like you are trying to toot as you get over the fence.
"I must toot to aid with impulsion"
---
Quote:
Sorry MIE, I must have missed it. I use a flocked Wintec CC like this, but mines black, der haha
Wintec | Showjumping, Cross Country & Hunter/Jumper Saddles
My sister has the Wintec Pro Jump with cair but I don't like the knee rolls or the equisuede finish, plus the cair hasn't got me sold either.
LOL! I missed your post too PintoPony. I was like "why isn't she responding?" ROFL!
I've been told that the Wintec CC has more of an arch shape to it's body in compeareson to the Wintec AP/Event saddle that I have and the Wintec 2000. I think they both have A/P Tree's which makes sense.
Can you do me a huge flavor? Can you get pics of your Wintec for me? I want to see the panels, and the arch of the saddle. You don't have to do it in this thread, I've been meaning to start a new one about saddle searching for Boo.
The CAIR - yeah - I was told that I have to get a saddle with wool flocking to accomodate Nelsons back. The CAIR makes the panels gusseted without forming to the horses back, where wool will eventually merge with Nelsons back. So if I get a wintec, it has to be without CAIR.
Makes sense, beacuse then I can have a saddle maker/fitter shape the wool to make the panels non gusseted.
---
Started
Join Date: Jan 2009
Location: USDF Region 1, USEA Area 2, USEF Zone 3 - Maryland
Posts: 1,903
• Horses:
3
This one is from a jumper show when Beau was 4 (2004):
n698968427_682288_2538.jpg
First USEA horsetrial in 2005
This is from one of our horsetrials in 2006... I think
Schooling. Not really sure when
Beau was pretty sure this jump was going to eat him
I'll get on my computer at home and put some more up later :)
---
-Melanie
Mom to 3 bays: Beau, Daisy & Cavalina
this is one of me jumping my friend's mare, Diva. This was taken in 2007 I think. Its one of my favorite lol:
Great jumping pics everyone!!
Ok, now I have another few faves from my lesson today! (and yes, I was wearing shades LOL - it was bright outside!)
---
"The times when you have seen only one set of footprints in the sand, is when I carried you..."
My best friend is a professional photographer and i'm very thankful for that, because everyone else i know is very electronically challenged and i can never get anyone to take pictures for me unless she's there.
This picture will always be my favorite, because she totally saved my butt over that jump.
And i just find this one very cool for some reason.
cool loooks fun and pretty horse!!!!!