Jumping ponies...
---
So I've been looking around on line lately and noticed pony hunters go for a pretty penny. I currently have 3 ponies right now (2 smalls and a medium) who I'd like to teach to jump. Problem is, I don't know how to jump and am not too fond of it, but I know they would do awesome at it.
So where do I start? I know one of them is ready to start jumper training, as he walk trot canters fine and willingly. He is five and has a ton of potential. The other two mares are iffy. They are both green and only go at the walk trot but I figure I can start out with poles with those two.
So, where do I begin, and does anyone have any good exercises or easy, low key courses to start on with them?
Any suggestions would be greatly appreciated.
Also, here are some pictures of the ponies I plan on jumping:
First is Joker. He would be ready to start training over fences right now if I wanted to do it. He is 5 and walk trot canters excellent. I've jumped him a couple times (just for fun). Do you think he has potential? (Don't critique rider. It was a spur of the moment thing)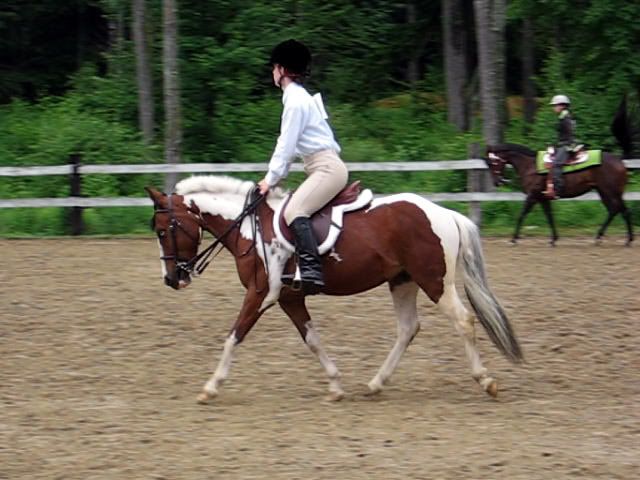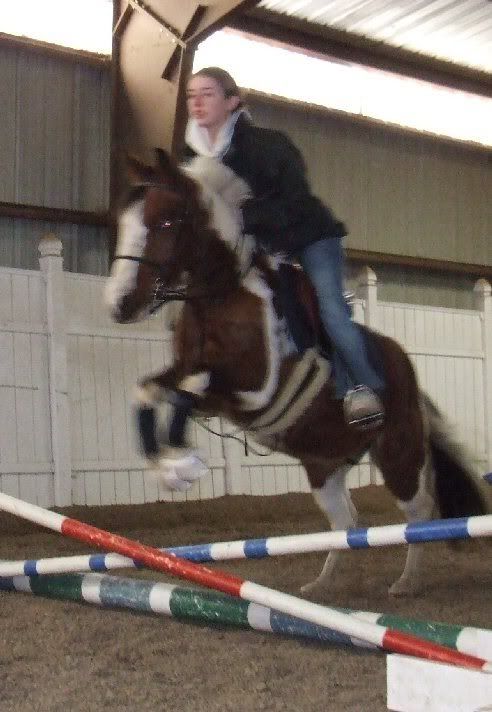 Next is Gracie. She is about 10, I bought her last November. She is pretty good at walk trot, and we are working toward the canter. Here are some of her movement.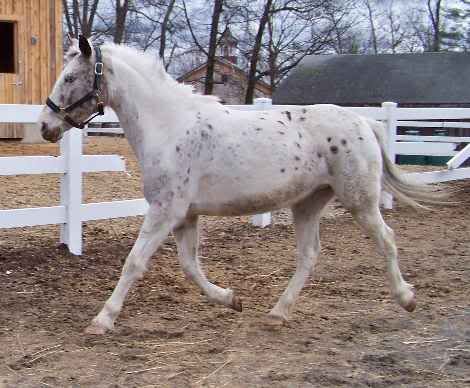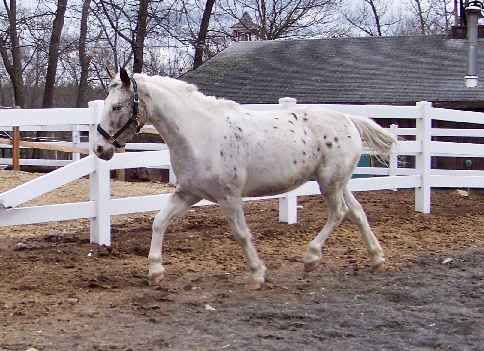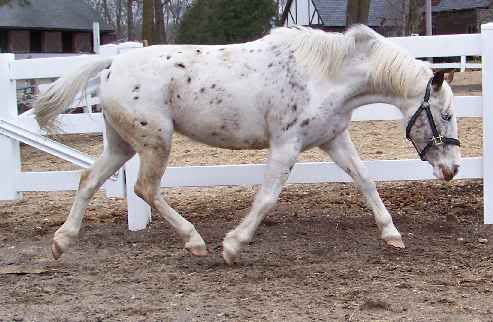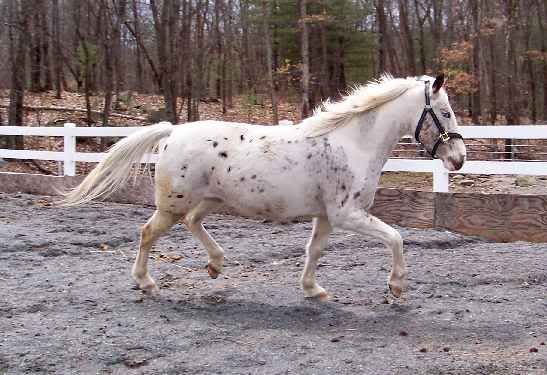 Last is Frostie. She's three. I BARELY ever ride her, maybe once every two months, just because she is so small and still developing. I want to get a headstart on how to start her though. She walks and does a little trotting under saddle. (Don't critique the rider in the pics please)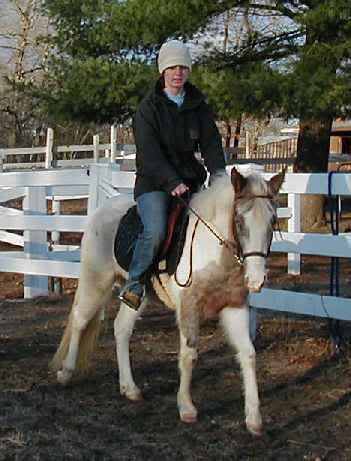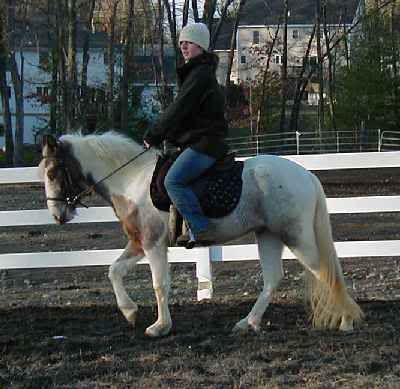 Constructive criticism would be greatly appreciated. Critique the ponies, their movement, confo. etc, anything. Also, you can critique the rider's equ. if you really want but don't bash the lack of helmet and boots. I already understand that is a problem for many people.
first off, Joker is going to be a Grade A pony. He's a fancy little thing and even with no training, he has great form over jumps. Try gymnastics. Set up a few small jumps with about a stride or two in between. It helps the horse because they don't have to worry about distances. Always make sure to give over the jump. if you yank them, they will HATE jumping. He seems to really like jumping already, his ear are so perky and adorable.

The key with ponies is making them light and easy to ride. it's important with horses too, but at least with a horse an experienced adult can ride them, with ponies, almost always it will be a kid. Joker is really adorable, keep up the good work.

with Gracie, I would work on really keeping her slow and balanced. She's not the fanciest and is still green despite her age. I could see her as an awesome horse for kids to learn on. Maybe 4-h stuff or games on horseback. She looks sweet and she has naturally good movement. Really make sure she is very very balanced before she jumps. but definately make poles a regular part of her routine. make them mean nothing to her and then jumping will be easy when she's ready.

Frostie is a baby baby, but adorable. What you have been doing with her is perfect. Work slow. Does she lunge? I would lunge her about 3-4 times a week. Get her balanced and slow on the ground and it will be much easier to ride her regularly when the time comes. Make poles a regular part of her routine, whether on her, on the lungeline or even when your handwalking her. In hand, make her walk and trot over the poles. make it a game so she thinks they are fun. She seems really soft and relaxed under saddle which is amazing. the biggest mistake people make with baby ponies is not having them relax immediately. I believe that a nervous, stressed or anxious pony is more dangerous than a horse.

I hope this helps. i have been training ponies for too long and you have been doing a great job.

p.s. when Joker gets good at jumping courses, if he's easy to handle, guaranteed you will get a pretty penny for him. He's flashy and catches the eye well.
Best bet is to get some lessons with a reputable trainer. All it takes is one accident and you have a horse who is terrified of jumping and a rider in a body cast. On that note, get a helmet. Ponies are wiley little buggers, and accidents can happen, especially when jumping.

As it stands, both you and your pony seem to have some natural talent. For you, I'd do lots and lots of practice two-pointing on the flat and over ground poles. Try trotting and cantering some low jumps, just to get a feel of the horse's thrust. Work in gymnastic exercises, lines and turns.

As for selling ponies as hunter ponies, you're going to have to put in a lot of work. $$$$ hunter ponies have several things in common. 1. They have a great jump. 2. They have good, consistent, clean lead changes. 3. They keep a steady rhythm around the course. 4. They are safe and easy enough for children to ride.
---
Take chances, make mistakes, get messy.~ Ms Frizzle, Magic School Bus
It would be in your best interest to find a trainer that does hunter/jumpers. I think the 1sy one could probably be a local circuit pony. He isn't built for the conformation part of the pony hunters, but he does put his knees in the right place (over a crossrail anyway). The other two you should just keep doing what you are doing. They need to get their foundation built first (meaning flatwork) before you throw jumps at them. Trot poles are fine to do, but I would definitely wait on the jumps for a little while. Walk trot qwork for the three year old is perfect for right now. I would try to get the canter going on the second one before you try jumping. Like I said, get the basics down first and then move on. But I think some help from a trainer would be your best bet if you are looking to get these ponies going well enough to sell. Good luck!
Jumping is really fun! Try it and you might grow to like it.
Joker looks like he'd be good at it but start with poles, cavaletties, ect and remember to move slowly with him!! (:
The other two? Don't start now. You don't need them to jump now. Once they're trained, think about it.
If the issue here is you want them worth something.. you could always teach them to jump and then not jump them if you dont like it; so if you sold them, it wouldn't matter to a buyer. You'd just say, "They've been trained to jump but are out of practice" or something. ; )
---
Green Broke
Join Date: Mar 2009
Location: Kansas in the summer, Kentucky most of the time
Posts: 3,028
• Horses:
3
I can't tell much about the other ponies because they aren't jumping, but the first pony is very cute! He will make an adorable little children's hunter!
---
Look like a SUPERSTAR, Ride like a FOUR STAR, Win like a ROCKSTAR
Eventers: Making BAD Dressage look GOOD!
There are a lot of factors that go into the cost of a hunter pony. And yes, the good ones are worth A LOT! But not every pony will sell for a lot. For someone looking to show it must have the right movement -long and low, big stride, floaty, with very little knee action. Even if it doesn't show in any rated pony divisions where it will be required to jog/model its conformation should be decent. it must be able to jump well, get a certain number of strides in the lines, and do it's job as 'teacher' for the kids who are learning to ride. I think someone already mentioned but since it's primarily children that ride ponies I'd add in lots of desensitizing to your training. You want something as easy and simple to ride as possible, and bombproof to all the crazy things that kids do.

The first pony you posted is very cute! Flashy and eye catching. The timing the camera caught his stride doesn't show if he's a good mover or not. If you post a video of it moving I can let you know. Is there a reason he's being ridden with a pelham? Trainers might be weary of a pony that must go in a bit like that (1. it's a little harsher 2. not every kid can ride well with 2 reins and lots of trainers hate rein converters). If he can be ridden in a snaffle I'd start there. He looks very cute over the little crossbars. IMHO, he's the only one you should be thinking about jumping right now.

If you want my brutal and honest opinion, the 2nd and 3rd ponies don't have the traditional look of a hunter show pony. BUT at the lower levels often it's consistency and steadiness that can win a round, not pure fancy-ness. From the looks of how high they both pick up their knees I'm going to venture a guess that they aren't good movers. But again, consistency! last week I did a flat class with a horse that is a terrible mover. We were the worst movers in the class but got 2nd because we were the only ones who trotted when the judge said trot, picked up the correct leads, didn't freak out, etc! Before you begin any kind of jumping a horse must have a solid w/t/c, be very comfortable at the canter (able to execute a nice simple change) be balanced, be able to move off your leg, and change gaits easily. I'd work on getting those nailed down with the 10 y/o. With the 3 y/o you have lots of time! So work on the same things, but at a slower easier pace.

If you dont know how to jump and aren't fond of it, I would HIGHLY suggest you work with a trainer! It is very easy to make some pretty significant errors when teaching a horse to jump that can affect them for the rest of their careers (if they even get to a point where they have a jumping career). I know people on here have done it (and this won't make me popular by saying it) but I don't believe in people learning to jump by teaching their horse to jump. I've seen too many horses have major jumping issues because of it and it's not the safest option out there. Out of curiosity, why would you want to teach a horse to jump if you don't like to jump?
---
Last edited by upnover; 06-29-2009 at

05:30 PM

.
Upnover, I love showing ponies that aren't the fanciest, it's always so funny when the expensive ponies lose because they're stupid. I used to show a small for my friend. He had terrible conformation and basically looked like a backyard pony, but he was the best jumper and mover i've ever ridden. We always got first over fences and on flat, even at the higher shows, because he always did clean changes, always got the distances, and framed up like a doll. We never tried an in-hand class because there was nothing pretty about him standing still :)
I agree that the first pony looks like your perfect hunter pony but I have a pony who doesn't have amazxing conformation or movement (he also has an overbite) and at first i thought we had to ditch jumping but with a bit more training he got his confidence and now he is getting a lot better with take off, landing, and preparing for the next jump. Anyways, I personally really like the second pony, but all of them are cute. A ood exercies to start with is poutting out about 3-4 poles one trot stride apart each and then after the last pole put a low x jump. Trot your pony through this and it would be really good if he/she landed in a canter and cantered off. If it is the wrong canter lead just slow back down to the trot and pick up the right canter lead again and let him/her canter for a bit (not over the jump). This teaches the pony to get a balanced tak off as well as getting the proper numbe rof strides before a jump. When he is able to easliy canter away from the jump you could put another low x jump after the first one in this exercise and the pony should go over it no problem. Obviously my pony didn't but after some tries we got it.
If you can't jump yet do some pole work. An exercise for this could be setting up a course made up of ground poles and you could trot over this.
Similar Threads
Thread
Thread Starter
Forum
Replies
Last Post
New Ponies!

Gillian

Horse Pictures

15

08-27-2008

03:33 AM

some of the ponies

rockydq

Horse Pictures

4

08-04-2008

04:11 PM

Ponies and GR

FGRanch

Horse Pictures

17

08-04-2008

01:05 AM

Ponies.

LoveXMyXHorse

Horse Breeds

46

07-07-2008

11:58 AM

My Ponies!

FGRanch

Horse Pictures

18

02-11-2008

06:03 PM